ER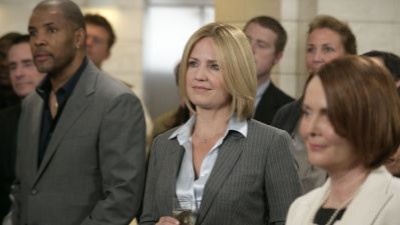 #1 - And in the End 8.87
Season 15 - Episode 22
Gates works on a young teen brought in with alcohol poisoning after playing a deadly drinking game with friends. Dr. Carter opens a new medical facility for the underprivileged in Chicago and some old friends from County General all come to show their support. It's Sam's birthday and Alex and Gates surprise her with a special gift. Meanwhile, Carter works with an intern to save a mother in labor with twins.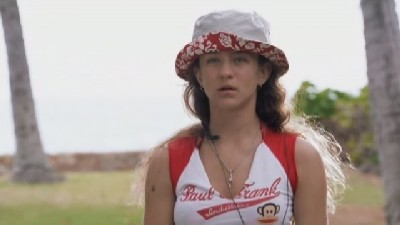 #2 - On the Beach 8.82
Season 8 - Episode 21
Mark decides to use his remaining time to help "fix" Rachel and takes her to Hawaii to show her where he grew up. He teaches her how to surf, and how to drive a stick shift. Mark catches her chasing one of his Vicodin with a shot of vodka and confronts her about wasting her life. One day after surfing, he has a seizure, and Elizabeth arrives with Ella in tow. She wants to take him home, but he refuses. Early in the morning, he dies. After the funeral, Rachel tells Elizabeth she'd like to visit Ella, and Elizabeth agrees.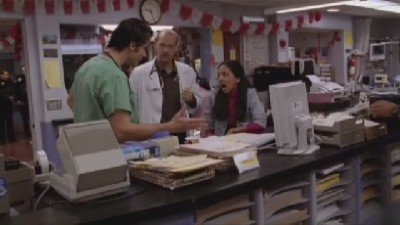 #3 - All in the Family 8.60
Season 6 - Episode 14
Weaver discovers Carter and Lucy. As police begin to arrive, Benton rushes between the two, being the only surgical resident on duty. Greene and Corday are paged to return to the hospital. Carter almost loses his kidney, but with quick thinking by Anspaugh, Benton is able to save it and Carter will be okay. On the other hand, Lucy has her chest cracked because her heart stops but she is stabilized. In the OR waiting room, while waiting for emergency surgery to fix a life-threatening blood clot, Lucy flatlines. Romano and Corday desperately try to save her life but she dies and the staff receives the news. Meanwhile, Paul Sobriki is found running naked down Michigan Avenue and is brought in. His wife arrives at the ER; incapable of believing her husband would be capable of such a violent act. And while Benton is busy with Carter, Cleo is forced to crack a man's chest open to save his life, resulting in Benton's ire.
#4 - Freefall 8.55
Season 10 - Episode 8
A helicopter crashes on the roof, falling into the ambulance bay where it lands on Romano and causes a huge explosion. Pratt and Morris are pretty lucky: Romano had just fired Pratt and caught Morris smoking weed in the ambulance bay. Susan worries that Chuck was onboard, although it turns out he wasn't, even though he does have some internal injuries. He'll be fine though. Abby daydreams about what Carter's up to in Africa. Luka enjoys Thanksgiving dinner with Sam and her son Alex.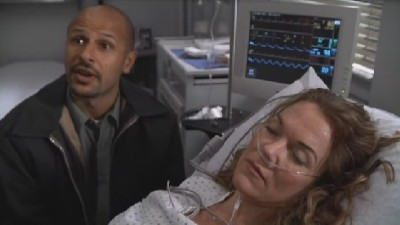 #5 - Orion in the Sky 8.50
Season 8 - Episode 18
Mark serves his final day in the ER overseeing the first day of Gregory Pratt, a cocky yet eager new intern. Through observing his patients, he decides to forego chemotherapy, and spend his remaining days in peace. He also meets with his ex-wife, tells Weaver to live a little and leaves, never to return. Meanwhile, Abby plans to move back into her apartment when her landlord lets her know that Brian's moved out. (That's all that happened, really!)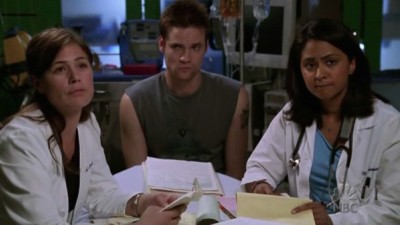 #6 - The Show Must Go On 8.47
Season 11 - Episode 22
Carter's last day at County General is marked by the "surprise" party being thrown for him. Ray takes charge when a balcony collapses at a party that he's attending. With all of the attendings at Carter's party, he talks Abby into taking 4 trauma patients while the hospital is closed to trauma. Pratt briefly visits his dad. Upset that Sam won't let him visit Steve (since he's in jail), Alex steals her credit cards and hitches a ride out of town.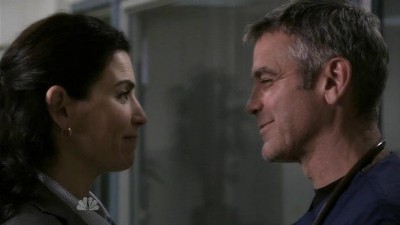 #7 - Old Times 8.44
Season 15 - Episode 19
Neela and Sam are shocked when they arrive back to the airport with transplant organs only to find that their plane has left them. Dr. Carter gets a surprise visit from an old friend while waiting for his kidney transplant. Dr. Banfield bonds with an abandoned baby boy that is left at the ER.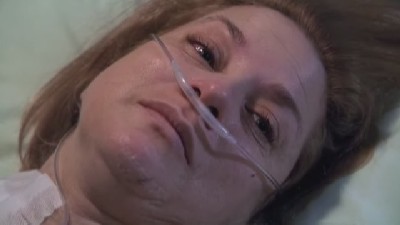 #8 - Drive 8.39
Season 10 - Episode 22
Good samaritan Luka stops to help a woman with a flat tire, and watches her get hit by a reckless driver. Abby discovers that she passed her boards. Pratt is concerned about Chen when she comes to work with a black eye. Neela withdraws from her residency program at the University of Michigan: Ann Arbor, knowing that she can't be licensed without an internship. When Steve announces his intentions to stay in Chicago, Sam decides to leave town. The custody battle for Henry Lopez goes before a judge. While Pratt drives Elgin Gibbs home en route to dinner with Chen, the three are shot at by an irritated driver.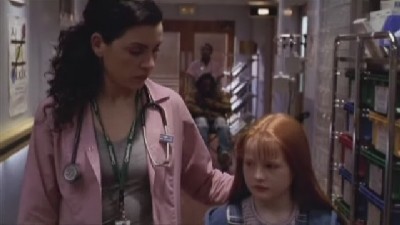 #9 - Such Sweet Sorrow 8.37
Season 6 - Episode 21
Carol resuscitates a terminal cancer DNR to say goodbye to her family, and realizes that life is too short. She runs out of the hospital after saying a quick goodbye to Luka and Mark and hops on a plane to Seattle to see Doug. Carter's mental status is dissipating rapidly to the point where he almost kills a woman. Chen notices and tells Mark her concern that Carter is bipolar. Weaver goes on the warpath after noticing ER staff taking shortcuts in their work, including Abby, who discharges a woman prematurely without running extra tests. Corday offers Malucci a sobering assessment of his performance. Mark prepares to bury his father and enjoys his daughter's company.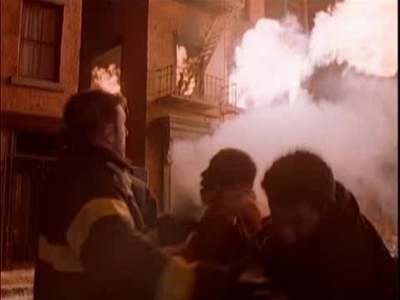 #10 - The Healers 8.34
Season 2 - Episode 16
Shep and Raul respond to a massive fire without proper equipment, risking their lives to save addicts and their children. Shep will be okay, but Raul has third-degree burns covering his body; it's only a matter of time. The ER is flooded with burn victims. Chloe returns to Chicago. Doug is stood up by his father for a basketball game.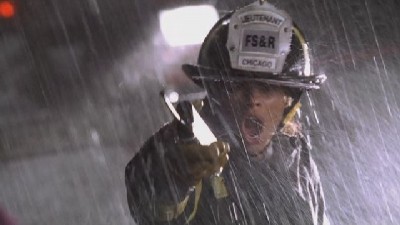 #11 - Partly Cloudy, Chance of Rain 8.34
Season 8 - Episode 8
An enormous rainstorm pelts Chicago. Cleo's last day at County is interrupted by the arrival of Benton's DNA results: he's not Reese's biological father. Benton meets with his lawyer regarding the trial; she advises him to let Roger see Reese; he refuses. Money from the nurses' secret stash and Frank's Palm Pilot go missing, only to turn up in Nicole's purse. She later tells Luka that she's pregnant. Susan accuses Mark of being grumpy with his patients; he spends the day treating a kid who fell in the river with his younger brother and whose parents blame him. Weaver travels to an accident site, where Pickman's ambulance was rammed by an SUV. She treats a pregnant stab wound, going as far as to give her a C-section in the broken ambulance, with Gallant's help. Carter's grandmother comes in after being involved in a hit-and-run and breaking her hip. She becomes delusional in an MRI machine, calling out for her husband.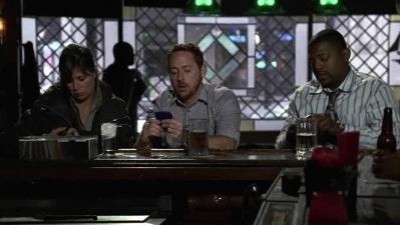 #12 - The War Comes Home 8.33
Season 14 - Episode 1
Season Premiere. Moretti's first day is challenging as the ER is inundated with casualties from the peace rally - including Neela. Dubenko faces a crisis in surgery. Abby, Pratt and Morris conspire about how to deal with a shared problem. A new intern arrives unexpectedly, and Gates is reassigned.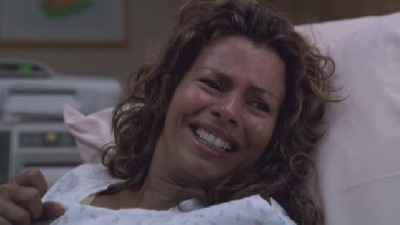 #13 - NICU 8.33
Season 10 - Episode 12
Abby and Neela spend 21 days on their NICU rotation. Life in the NICU is certainly not fun, what with the sick babies and all. Parents of twins return to China with only their healthy son. Another couple spends 21 days in the NICU before finding out their son will die. Abby and Carter discuss his impending fatherhood. Weaver and Sandy have a baby boy.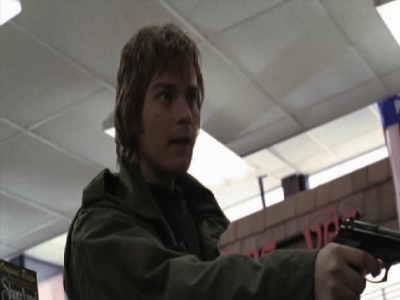 #14 - The Long Way Around 8.33
Season 3 - Episode 15
Carol is held hostage in a bungled convenience store robbery. Her medical skills are put to their toughest test as she works feverishly to save the gravely wounded store owner.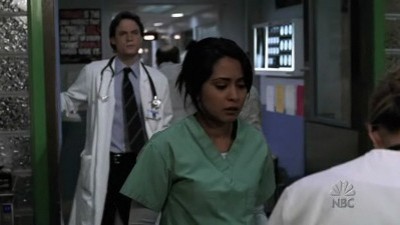 #15 - One for the Road 8.32
Season 11 - Episode 1
Pratt's car crashes into the river. Chen and Pratt's injuries are bad, but they're not as bad as Elgin's--he dies. Abby begins her internship at County, as do Ray Barnett and Howard Ritzke. Alex and Sam crash at a motel, where Alex places a collect call to Luka. Luka comes to find them and asks Sam to return to Chicago with him. The Lopez family gives Weaver full custody of Henry, and will take care of him while Weaver is at work. Carter and Kem scatter their son's ashes. Even Carter's proposal isn't enough to keep Kem in Chicago.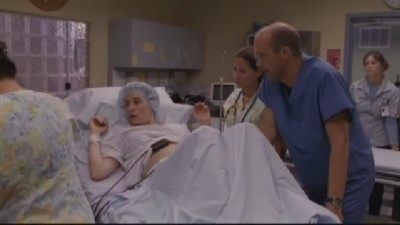 #16 - Great Expectations 8.32
Season 6 - Episode 8
Carol goes into labor on the L. With the help of Luka, she makes it into the ER and delivers one twin, Tess, there. She is then moved to the OB and put in the care of OB nurse Abby Lockhart. Dr. Coburn delivers Kate through an emergency c-section but Carol and both babies turn out to be fine. When Mark has to leave Thanksgiving at her house to be Carol's Lamaze coach, Corday is stuck with his father and Rachel. Dr. Dave helps Carter with a diagnosis of a very rare disease.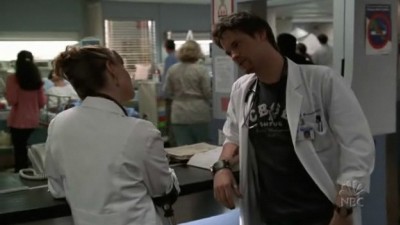 #17 - Damaged 8.32
Season 11 - Episode 2
Carter hasn't been sleeping well, and falls off the wagon. Luka and Sam profess their love for each other, and Luka invites her to move in with him. Neela's parents visit, confused by her choice to drop out of Michigan. The nurses freeze out Abby after a slip of the tongue to Haleh. Weaver advises Barnett to change his appearance. Abby treats a "damage girl."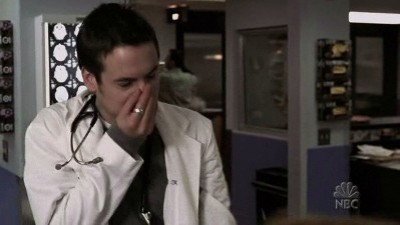 #18 - Just As I Am (a.k.a. Shortness of Breath) 8.30
Season 11 - Episode 14
Weaver is spending the day working in the ER when she meets her birth mother, who has disguised herself as a patient to see Kerry. Her mom is a devout Christian, in town with her choir, and does not understand Weaver's lifestyle "choice." She offers her love, but Weaver just wants acceptance. Jake has been spending every night at Abby's apartment. Abby says it's out of convenience, but Neela thinks otherwise. Jake and Abby have trouble hiding their relationship at work, especially from Weaver. Pratt doesn't want to work with Jane. Ray gets a bedpan to the face during a fight between Carter and a Demerol junkie.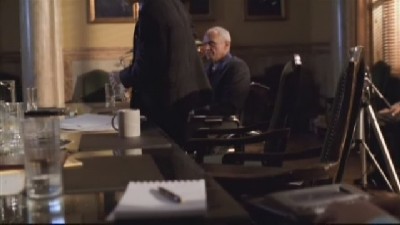 #19 - The Dance We Do 8.29
Season 7 - Episode 8
Abby wakes up with Luka in his hotel room. At a job interview at a department store, her mother causes a disturbance and later flees town. Benton treats Jesse's girlfriend, who talks to the cops about Jesse's killers and later comes to him for help after a hit is put on her. Corday undergoes a grueling deposition for Mr. Patterson's lawsuit and lies to save her ass. Greene discovers that his tumor is inoperable and later has a seizure. He finally decides to tell Corday about his condition.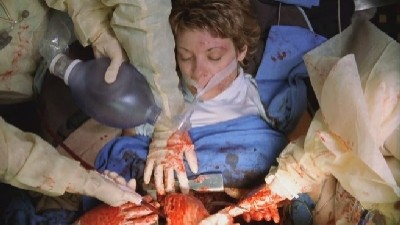 #20 - First Snowfall 8.28
Season 9 - Episode 8
Abby's family nightmare continues as she and her mother Maggie search for Abby's missing brother Eric, who Abby suspects is suffering from serious mental problems. The two women go to a Midwestern air force base, hoping to prevent Eric from being court-martialed for being absent without leave. Carter struggles to get out of Chicago to join Abby. Meanwhile, Corday treats a family of patients who, while building a snowman, were severely injured after being struck by a truck driver. She must help the father, Stuart, make a life-or-death decision. Corday also sympathizes with troubled surgical resident Paul Nathan as he struggles with the increasing symptoms of his physical handicap.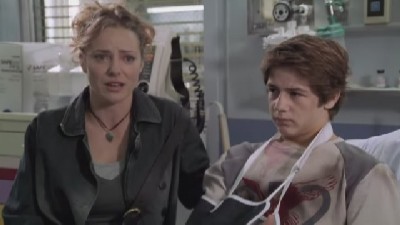 #21 - The Greater Good 8.28
Season 10 - Episode 6
Since his return to County, Luka has become obsessed with treating and streeting patients as quickly as possible. He argues with Pratt over the treatment of a pregnant woman who doesn't want her premature baby, as well as with Romano, who wants more tests ordered on patients so that the hospital can make some money. Abby is still on her surgical rotation and Romano is still riding her hard. Coop flirts with Chen. Susan has been reading to Ben Hollander in her spare time; he seems to have developed a crush on her. Luka meets Sam's son Alex in the new JumboMart (which has replaced the fire-damaged Doc Magoo's).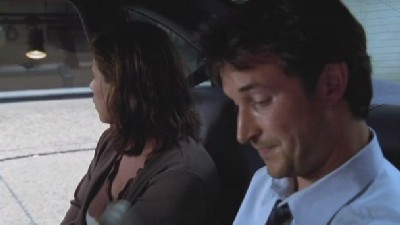 #22 - Blood, Sugar, Sex, Magic 8.28
Season 8 - Episode 3
Carter is having back problems that aren't helped when Abby asks him to help move a new fish tank into Luka's apartment to replace the one she accidentally broke while moving out. Benton encounters problems finding a sitter for Reese when Jackie decides that she can't do it. Chen is having trouble with Weaver "helping" her with patients; she treats an abandoned infant with a birthmark in the shape of the sign of the Virgin Mary. Cleo's HIV test results come back negative. Rachel Greene shows up at the hospital; she ran away from Jenn and wants to stay with Mark for a while. Corday falls asleep in surgery. Malucci is stuck in an elevator with a cute female paramedic and a guy vomiting blood. After saving the guy's life, Dr. Dave is caught "celebrating" with the paramedic in the back of an ambulance by Weaver, who promptly fires him. Appealing unsuccessfully to Mark, Dave and Weaver finally have it out at the end of the day. He begs her not to fire him because he needs the money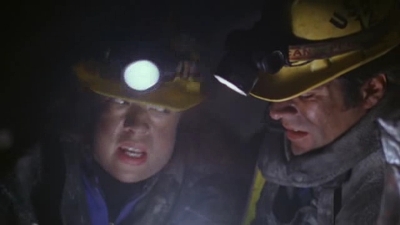 #23 - Exodus 8.28
Season 4 - Episode 15
The ER must be evacuated when several workers at a chemical plant track benzine all over the floors. After Weaver is felled by the poison, Carter takes over, directing the evacuation. Dr. Corday does a ride-along with EMTs and rescues a man trapped under a building. Doug and Carol are trapped in the elevator with a sick child.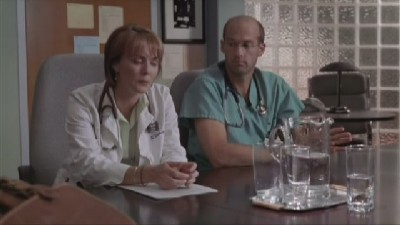 #24 - Sand and Water 8.27
Season 7 - Episode 2
Domestic troubles cause problems for Greene and Corday. Later in the day, however, Mark shows Elizabeth their spacious new digs and proposes to her. Chen tells Weaver about her pregnancy; she is 22 weeks along. Carter sees Abby at an AA meeting and she tells him she was an alcoholic 5 years ago, later John asks her to be his sponsor. He also meets with Greene and Weaver about coming back to work. Abby, down from OB, helps a young couple whose baby was born much too early. Benton and Romano clash over an obnoxious homeless man who once again requires extensive treatment resulting from his chronic disdain for maintaining his dialysis appointments. Weaver and Kovac are helpless to assist a severely comatose woman whose longtime life partner is not legally empowered to make decisions on her care.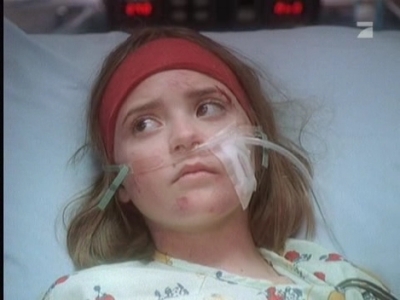 #25 - Hell and High Water 8.26
Season 2 - Episode 7
In the middle of a torrential rainstorm, Dr. Ross stumbles across a child trapped in a drainage pipe rapidly filling with water. Doug does everything possible to save the boy, Ben Larkin. Harper develops a bond with a young girl with separated parents.