Dragon Ball
#1 - Enter King Piccolo
Season 4 - Episode 1
Krillin is dead! As Goku sets out on a quest for revenge, his friends attempt to learn the identity of Krllin's killer. All clues lead to Master Roshi's past an evil, that could destroy the world!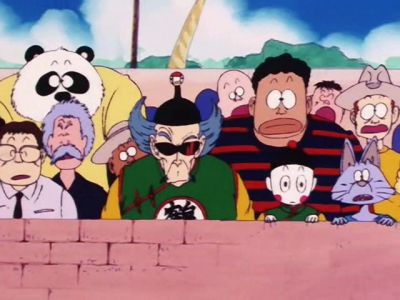 #2 - Final Match: Goku vs. Tien Shinhan
Season 3 - Episode 44
The final match in the 22nd World Martial Arts Tournament is about to begin! Goku faces Tien Shinhan in a climactic battle to see who will become the next Master of Martial Arts! However, if Tien has his way, this will be Goku's final match, period!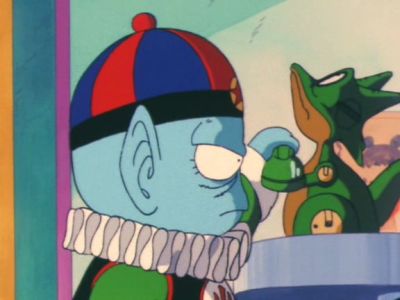 #3 - The Nimbus Cloud of Roshi
Season 1 - Episode 3
On their way to the sea, Goku and Bulma run into a Bear Thief that tries to eat the turtle. Goku makes short work of him, and they continue on their way. When they arrive at the shore, the turtle tells them to wait for him. When he comes back, a man is riding on his back. The man is Master Roshi, and as a reward for helping his turtle, he gives Goku his flying Nimbus Cloud. Roshi himself can't ride the cloud, because only good and pure people can. Bulma can't ride it either, but Goku can. Roshi also gives Bulma the three-star Dragon Ball, not knowing what it is. When Master Roshi returns to his island, he finds Emperor Pilaf and his two henchmen searching his house for the Dragon Ball. After he tells them that he gave it away, the three leave his island.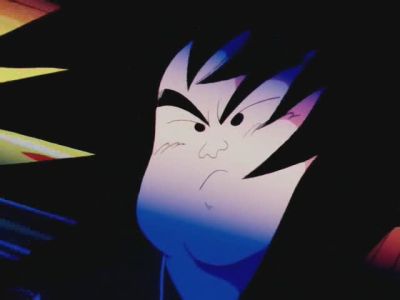 #4 - Here comes Yajirobe
Season 4 - Episode 4
The stranger tells Goku that he stole his Breakfast. Goku says that can he prove it was his fish. The stranger tells Goku that he was cooking that fish. Goku sees that the stranger has a dragonball hanging on his neck as a bracelet. Goku then thinks that he works with Tambourine and they start fightingn him. After they are done fighting Goku asks the stranger`s name. The stranger says his name is Yajirobe and Goku tells his own name. Goku asks where Yajirobe got the dragonball. Yajirobe says that he found it 3 years ago in the jungle. Goku realizes that the whole fight was a misunderstanding. Then Cymbal comes asking for the dragonball. Goku relaizes that Cymbal works with Tambourine. Yajirobe doesn`t give up his dragonball and fights him. Right when Cymbal was going to use his killer attack Yajirobe grabs his sword and cuts Cymbal in half. King Piccolo finds out about Cymbal`s death telephatically linked and starts to have a killer headacke.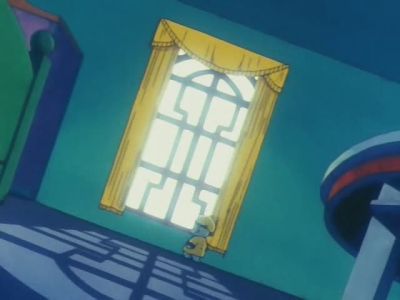 #5 - Pilaf and The Mystery Force
Season 2 - Episode 2
Goku stops at a lake for a swim. When he gets out, he finds that the dragon radar has been stolen. He picks up on the thief's scent and follows it to its source. The thief tells him that he sold the radar to an antique salesman in a nearby town. Goku locates the shop and finds his dragon radar there. He picks up a signal coming from the shop, so he turns around and sees Emperor Pilaf and Mai holding the four-star ball, having just bought it from this store. They are able to escape on their ship, but Goku follows them on the Nimbus Cloud. Back at the antique store, a mysterious military force has arrived looking for a Dragon Ball. The salesman gives them a four-star ball, but they recognize it as a fake. Pilaf's four-star ball was also a fake, but Goku doesn't yet know. The signal he picked up on was the six-star ball in a nest above the shop. A bird then flies away with the ball in its talons.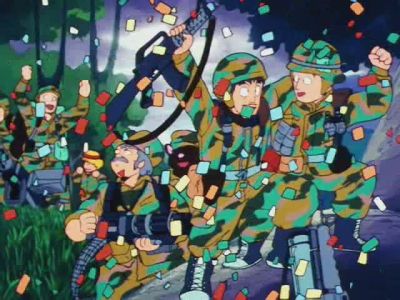 #6 - Lost and Found
Season 5 - Episode 1
With Piccolo's reign of terror at an end, Goku has time to mend his wounds. As he heals he learns that there may be a way to revive his lost friends - a face to face meeting with the creator of the Dragonballs! The only problem is that the only way to get to the mysterious Kami is by using his Power Pole, and it's gone missing!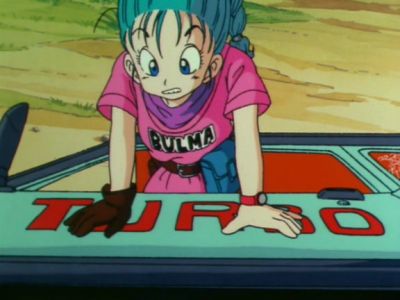 #7 - Secret of the Dragon Balls
Season 1 - Episode 1
Goku, an orphan living in the mountains, is out fishing when he meets Bulma, a young girl searching for the seven Dragon Balls, which, when gathered together, grant a wish. Goku's grandpa gave him the four-star Dragon Ball before he died. Needing this ball for her collection, already possessing two balls, Bulma decides to let Goku join her search. They take off on a motorcycle, but Bulma is suddenly grabbed by a giant flying dinosaur. Goku hits the monster with his power pole and rescues Bulma.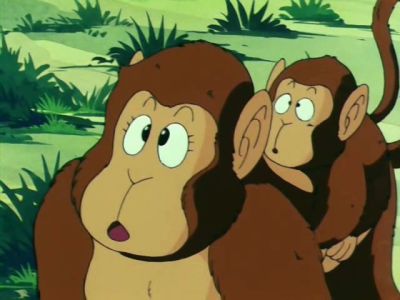 #8 - The Legend of a Dragon
Season 2 - Episode 5
Goku calls the Nimbus Cloud to save him just before the flying fortress explodes. Then he heads off towards the nearest signal on the dragon radar. Back at Kame House, Master Roshi tells Krillin and Launch the legend of the Dragon Balls. Long ago, the seven balls were one, but evil forces tried to steal it. The ball split itself into seven useless parts, but when combined, they summon the eternal dragon who will grant one wish. Goku follows the radar to a forest where he finds the Red Ribbon Army also in search of the ball. The army is burning down the forest, so Goku tries to stop them. Suddenly, a monkey runs by holding the five-star ball. Colonel Silver shoots at it, causing the monkey to fly over the edge of a cliff. Goku grabs it, but the monkey drops the ball into a river.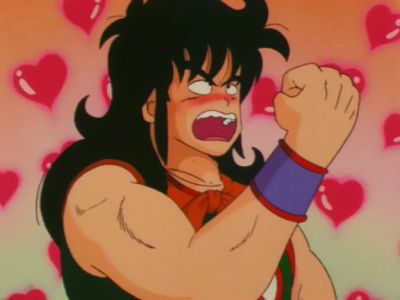 #9 - Keep an Eye on the Dragon Balls
Season 1 - Episode 6
While Bulma, Goku and Oolong recover from the ordeal of acquiring five Dragon Balls, Yamcha and Puar try to steal them out from under their noses so that Yamcha can obtain his own grandiose goal. But they're not the only ones after the Dragon Balls! Oolong wouldn't mind having the Dragon Balls, and Emperor Pilaf's henchmen are closing in as well.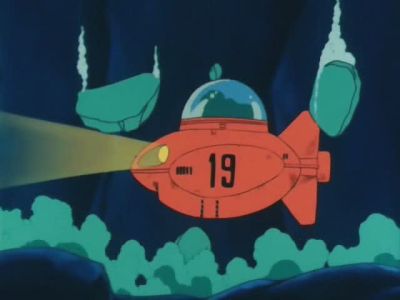 #10 - Escape From Pirate Cave
Season 3 - Episode 1
Goku makes it to the getaway submarine in the nick of time still carrying the mouse in his mouth. As the trio escape, rocks collapse and hit the sub and it soon runs out of fuel. Goku manages to launch the sub to the surface with a Kamehameha Wave. Bulma has managed to take one diamond with her. General Blue also reaches the surface. In the Blue Sector HQ Goku fiddles with the radio. As the trio make their way to Master Roshi's, General Blue follows. As Roshi gets the diamond, he is forced to hand it to aggressive Launch who makes off with it. General Blue lands on the island preparing for revenge.
#11 - Cruel General Red
Season 2 - Episode 6
While the Red Ribbon Army is searching the river for the five-star ball, Goku follows the dragon radar downstream and finds it. Before he can escape, Colonel Silver destroys the flying Nimbus. Angry, Goku easily defeats him. He finds some dyno caps in a nearby building and throws them. One is a robot, and the other is a plane. The robot flies the plane for Goku as he follows the nearest signal on the dragon radar. Goku instructs the robot to land the plane, but the robot's circuits freeze up in the extreme cold, so the plane crashes. Goku, frozen solid, is dragged away by a mysterious young girl.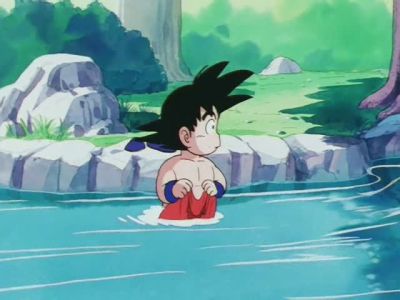 #12 - Secret of the Woods
Season 5 - Episode 6
Continuing his training, Goku follows Popo's instruction and enters the deep, dark woods. While searching for a worthy sparring partner, Goku stumbles across a surprising discovery hidden deep within the secluded labyrinth and finds help a most unexpected way!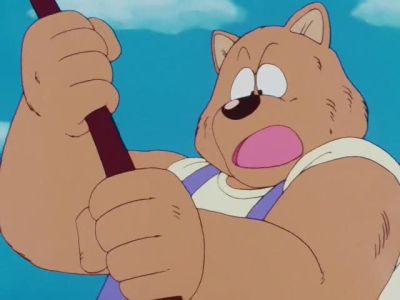 #13 - Terrible Tambourine
Season 4 - Episode 5
Tambourine continues his seek-and-slaughter campagign of Martial Artists as he sets his sight on victom number eight! Yamcha! Master Roshi takes Tien and Chiaotzu on a cross-country race for the Dragon Balls. As they try to stay ahead of the competion, King Piccolo and his dastardly horde. Meanwhile Goku attempts to persuade mountain-boy Yajirobe to hand over his Dragon Ball to help save Krillin!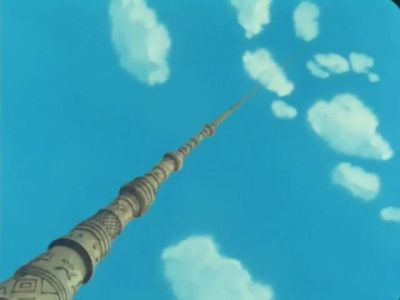 #14 - The Land of Korin
Season 3 - Episode 5
In the Land of Korin, Captain Yellow is looking for another dragonball. They find the ball in the crater of a volcano. Near a massive tower that reaches the sky Bora and his son Upa are fishing. As Captain Yellow's men retrieve the dragonball, the volcano erupts. Bora gets hold of the dragonball. As Yellow and his men land, Bora demands they leave. When they see him carrying the dragonball they attack him but Bora resists. Bora kills a grenadier who comes from behind him and beats down Yellow's men. Yellow kidnaps Upa to blackmail Bora. Goku arrives in time to defeat Yellow and save Upa (who is able to ride the Nimbus). The dragonball Bora has is the very one Goku was looking for. Meanwhile the guards of the RR base hardly recognize General Blue on his arrival. Commander Red has summoned the infamous Mercenary Tao.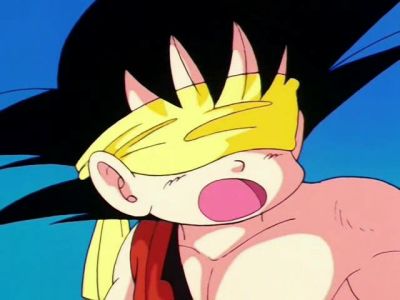 #15 - Quicker Than Lightning
Season 5 - Episode 5
Goku's first task under his new teacher is a death-defying mission to the top of Mount Rumble to fetch the legendary Sacred Crown. But the mystical artifact has a deadly secret! Goku will have to be quicker than lightning to accomplish this task alive!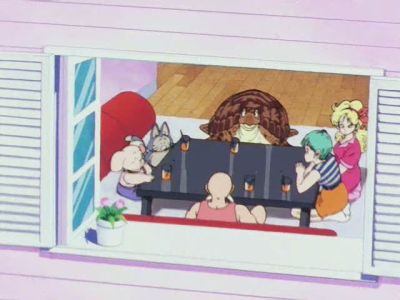 #16 - The Time Room
Season 5 - Episode 7
Goku journeys through time, where he meets a young Master Roshi! But Roshi has a problem of his own his arch rival, Shen! While the two rivals battle for the affections of the same girl, Goku attempts a new power with the help of Master Mutaito.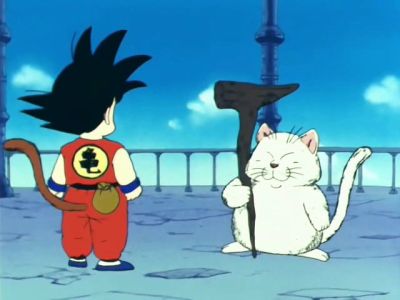 #17 - Korin Tower
Season 3 - Episode 8
Goku reaches the summit of Korin's tower. He sees visions of the past, present and future. Goku goes upstairs to meet Korin (who is nothing more than a blind cat). Korin is not about to hand the sacred water to Goku. An assassin fails to kill Mercenary Tao as he heads to his usual luxurious hotel to take a boiling hot bath. Korin seems to be deceitful not letting Goku take the bottle of sacred water. After a long hard attempt trying to get the sacred water, Korin reveals that Master Roshi was the first to climb the tower and it took him three years to get the water.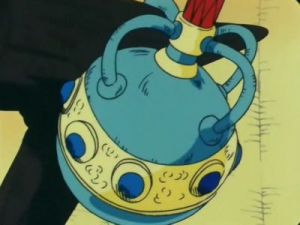 #18 - Sacred Water
Season 3 - Episode 9
Goku attempts to snatch the sacred water from Korin with his After Image technique which is no surprise to Korin. The next day Korin gives Goku a Sensu Bean to last Goku's apetite and energy for ten days. Korin throws Goku's dragonball out of the tower forcing Goku to run down and up the tower again. Goku attempts to take the sacred water in Korin's sleep, but thinks better of it. Goku tries long and hard for the next two days to get the sacred water. Mercenary Tao realises how he wasn't able to kill Goku. Goku attempts to read Korin by mimicking his every move. The very next day, Goku finally manages to get the sacred water. To his disappointment it doesn't strengthen him, but all that exercise did him good. Tao kills the tailor who made his outfit before leaving. Goku also makes his leave.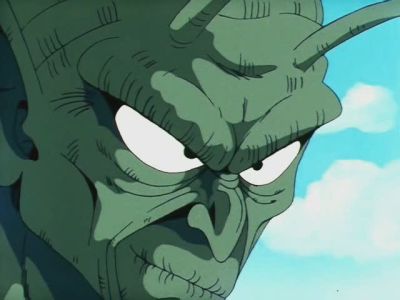 #19 - Roshi's Gambit
Season 4 - Episode 10
Global destruction is one wish away if King Piccolo succeeds in calling forth the Eternal Dragon. Master Roshi answers the call for a hero by placing himself between the creature and the remaining Dragon Balls. However, in his attempt to save the world, he may pay the ultimate price.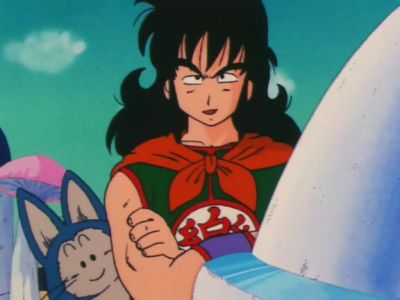 #20 - Boss Rabbit's Magic Touch
Season 1 - Episode 9
Bulma and Goku's search for the Dragon Balls takes them to a remote village that is being terrorized by a villainous gang, the Rabbits. Before long, Goku and the Dragon Ball Team come face to face with two of the Rabbits, and Goku must fight to protect his friends. Can he protect them from the surprises Monster Carrot has in store for them?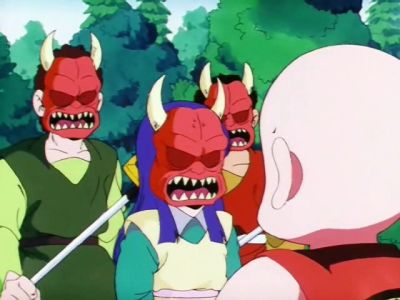 #21 - Walking Their Own Ways
Season 5 - Episode 9
Preparing for the World Martial Arts Tournament, Goku gets some important training tips from Mr. Popo. Meanwhile, Tien, Yamcha, Chaiotzu and Krillin make their way to Korin's Tower for some training of their own. Unfortunately they are sidetracked by a village celebrating a mysterious festival to their mountain spirit. Once the mountain erupts it's up to our heroes to put a lid on the active volcano!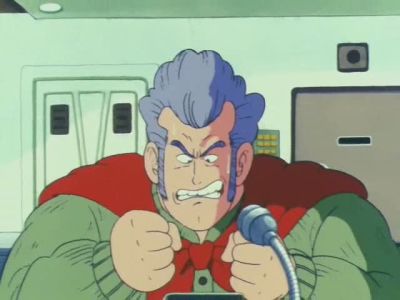 #22 - Five Murasakis
Season 2 - Episode 10
Goku recovers from his injury and begins to chase Murasaki. The ninja then and Goku cross a pirahna infested lake. Murasaki decides to use his ultimate technique and seemingly splits into five. The five Murasakis nearly overwhelm Goku. They reveal that they are actually quindruplet brothers, not five parts of one person. Goku takes them out one by one. He chases the last Murasaki brother up to a cage. The ninja releases the monster within, Android 8.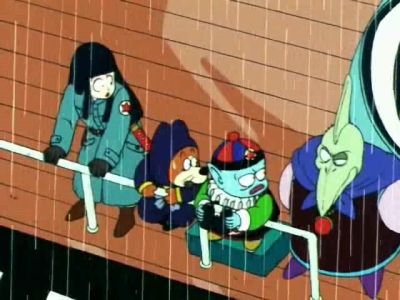 #23 - Piccolo Closes In
Season 4 - Episode 9
Exhausted, bruised and alone, Goku makes a final stand against the seemingly indestructable King Piccolo. As Master Roshi and the others continue their pursuit of the Dragon Balls, it becomes clear that the trail leads to the dark forces of Piccolo and judgement day for our heros.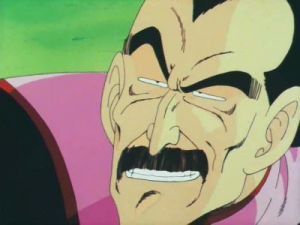 #24 - The Return of Goku
Season 3 - Episode 10
Tao arrives and bullies Upa. Goku arrives to save him and rounds on Tao. After a small talk, Goku demonstrates his speed and strength on Tao. Tao also happens to know the legend of Korin's tower and the sacred water. Goku blocks most attacks from Tao to Upa's surprise. Meanwhile Bulma is working on a new scout plane to assist Goku. Goku beats Tao a lot. Tao's Dodon Wave only singes Goku's hands. Tao resorts to wielding a sword on Goku, but Upa fetches Goku his power pole and Goku breaks Tao's sword. Tao kicks a stone, missing Upa and destroying the teepee. Tao decides to climb the tower to get the sacred water.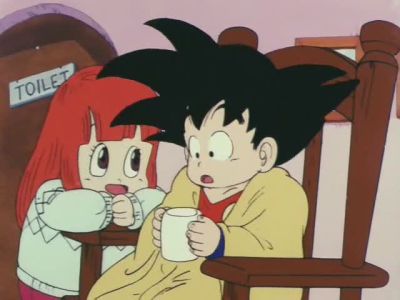 #25 - Cold Reception
Season 2 - Episode 7
The girl called Snow, takes Goku back to her house to recover. She and her mother explain that the Red Ribbon Army has taken their village chief hostage and are forcing the men to help them look for the Dragon Ball. The chief is being held in a fortress called Muscle Tower. Two soldiers break in, just as Goku is in the bathroom but Goku beats them. Snow gives Goku warm clothes to wear outside. Goku arrives at Muscle Tower and makes short work of the guards waiting outside. He uses his power pole to vault up onto the first level.