Dirty Jobs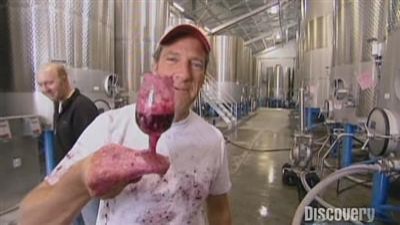 #1 - Wine Maker 9.00
Season 3 - Episode 7
Mike first heads off to Napa Valley to learn how to make wine. Mike then gets dirty at a Kansas Cattle Ranch learning about the cattle business.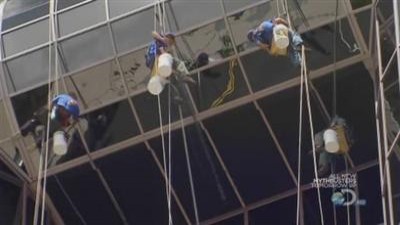 #2 - High-Rise Window Washer 8.75
Season 5 - Episode 12
High-rise window washer, viewer mail: brine tank cleaner (Shark Reef at Mandalay Bay)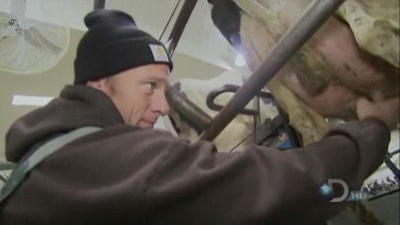 #3 - Dairy Cow Midwife 8.61
Season 4 - Episode 9
Inside an Indiana dairy farm, Mike learns how to milk a cow and use a blow torch to clean her udders. Then, Mike gets the inside scoop on how to inseminate a cow. Finally, he gets an up-close look at fatherhood as he helps deliver baby calves.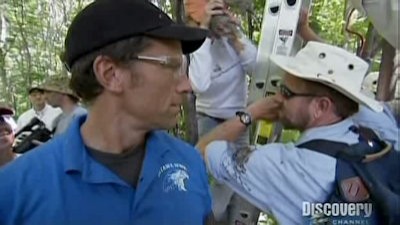 #4 - Vomit Island Workers 8.60
Season 3 - Episode 13
Mike Rowe gets dirty as he braves the untamed world of Vomit Island, a place where few have ever been and even fewer would ever want to go. Mike's mission is to help band and count newly hatched herons on the poo covered island.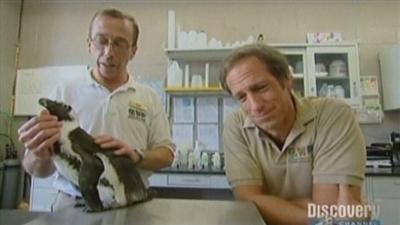 #5 - Penguin Keeper 8.60
Season 2 - Episode 18
Even though Mike has worked with concrete before in Dallas, he visits concrete workers in California today to learn the art of concrete stamping. Then he goes to New Orleans to care for penguins. Finally, he gets in the mud to hunt bloodworms in Maine.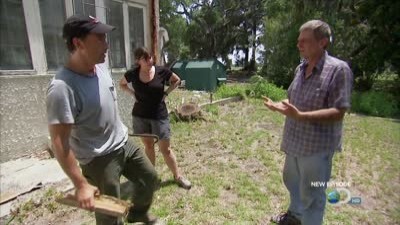 #6 - Termite Researcher 8.58
Season 7 - Episode 9
Mike visits with long-time fans Marilyn and Carolyn Maedel to look at never-before-seen footage at a crawfish factory in Louisiana. Then, he experiences the many hands-on duties that come with being a termite researcher on Sapolo Island in Georgia.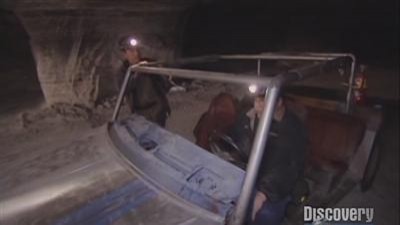 #7 - Salt Miner 8.43
Season 3 - Episode 6
Mike goes underground in Hutchinson, Kansas to learn about mining rock salt. This episode also focuses on the behind the scenes action in filming the show.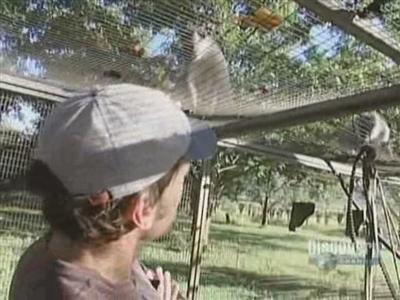 #8 - Monkey Caretaker 8.43
Season 2 - Episode 16
Mike Rowe meets his match when he travels to South Africa to take care of monkeys that are being trained to go back into the wild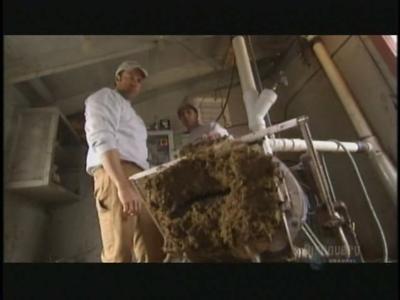 #9 - Poo Pot Maker 8.43
Season 3 - Episode 2
Mike first goes to northern California to count dead salmon. Mike opens up the mail bag and answers a viewer's question about the snake researcher segment. Just when Mike thought he had seen it all, he visits a cow farm in Connecticut that specializes in making gardening pots out of cow manure.
#10 - Mud Mineral Excavator 8.40
Season 4 - Episode 6
Mike Rowe gets dirty in Death Valley, CA preparing for a gem and mineral show. He then helps save injured birds from a nearby salt lake. Finally, he gets dirty working at a rice plantation in South Carolina.
#11 - Snake Researcher 8.40
Season 2 - Episode 17
Mike Rowe wrangles some water snakes, steps into the shoes of hard working bait and lobster fishermen in Maine, and opens the viewer mail bag which results in some seaweed trimming.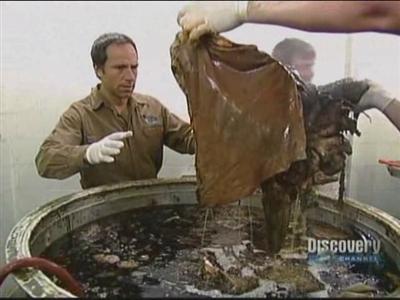 #12 - Skull Cleaner
Season 2 - Episode 10
Mike first goes to Sacramento, CA to help repair railroad tracks. Mike then heads to Louisiana to learn how to make "boudin" (Cajun sausage). Mike then cuts and fry's pig skins to make "cracklin" (pork rinds). Finally, Mike goes to Oklahoma and joins a skull cleaning business to learn how to clean skulls and bones using beetles and maggots, including a whale carcass.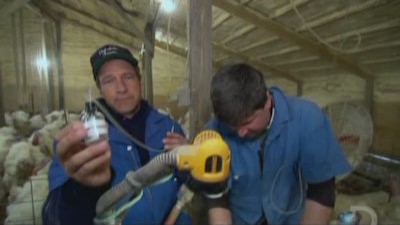 #13 - Turkey Inseminator 8.35
Season 4 - Episode 11
Making a home energy efficient by improving insulation, turkey artificial insemination, viewer mail, car crusher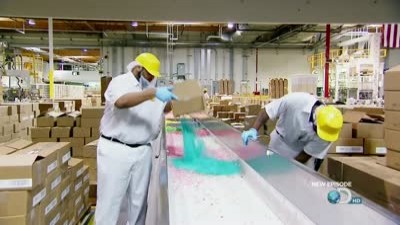 #14 - Blueberry Connoisseur
Season 7 - Episode 6
Mike visits the Jelly Belly Candy Company to concoct a dirty boot flavored jelly bean based on his own sweaty, grimy, filthy pair of work boots. Then he travels to Maine to harvest blueberries and joins the "Pie Ladies" in a pie bakeoff.
#15 - Exotic Nanny
Season 6 - Episode 10
Mike visits a Texas ranch that breeds exotic animals like sloths, lemurs, camels, and bearcats.
#16 - 200 Jobs Look-Back 8.33
Season 5 - Episode 8
Mike takes a look back at his previous jobs, toughest co-workers, and his ongoing encounters with dirt and poo. With additional footage from "Skull Cleaner" and "Turkey Inseminator"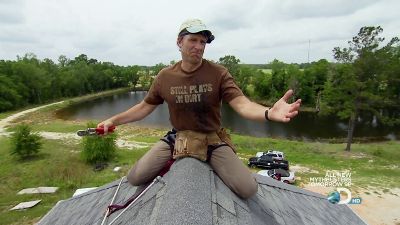 #17 - Concrete Finisher 8.33
Season 6 - Episode 5
Mike creates some concrete counter-tops and fire pits in Moss Landing, California and then reminisces about the scariest job he's ever done.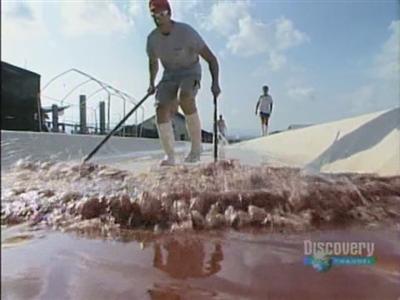 #18 - Micro-Algae Man 8.30
Season 1 - Episode 12
Mike begins by traveling to Palo Alto, CA to learn how to be a pet groomer, from cutting hair to giving baths. Mike then goes to Hawaii to turn happy green algae into unhappy red algae to be used as antioxidant gelcaps for human consumption. Finally, Mike goes to Missouri to learn how to be a charcoal factory worker. Mike ends the day with a barbeque and introduces us to the crew that help make the show.
#19 - Leather Tanner 8.29
Season 3 - Episode 11
Mike goes to Georgia to learn how to make artistic jugs. He then joins Richard Meyer and his sons in upstate New York to learn the ancient trade of tanning leather.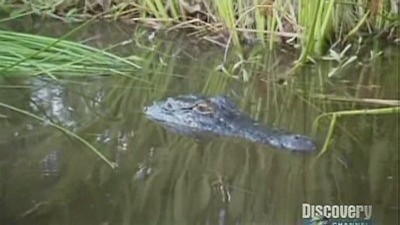 #20 - Alligator Egg Collector 8.25
Season 3 - Episode 14
Mike Rowe gets dirty as he forages the swamps of Louisiana in search of alligator eggs 90,000 of them to be exact. It's a very dirty job that's helping to preserve the population of the American alligator.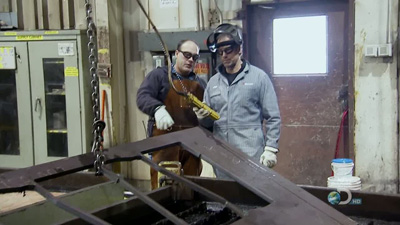 #21 - Locomotive Builder 8.22
Season 5 - Episode 7
Mike heads to MotivePower in Boise, Idaho to build and restore locomotives for his 200th dirty job.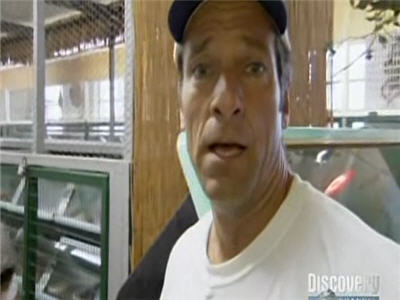 #22 - Snake Wrangler 8.20
Season 3 - Episode 10
Reptile handler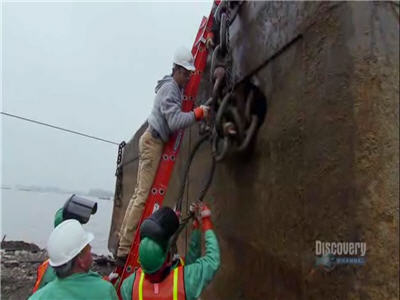 #23 - Steel Mill Worker 8.17
Season 4 - Episode 2
Mike Rowe gets dirty in St. Louis as he works with a river barge demolition team and then melts down the scrap steel into molten metal.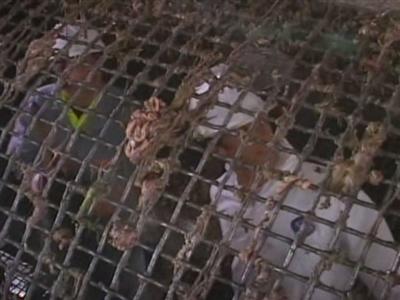 #24 - Garbage Pit Technician 8.17
Season 2 - Episode 9
Mike first heads off to Las Vegas to work at an old fashioned printing press making lithographs of himself for the official Dirty Jobs poster. Mike then goes to Lincoln, CA and helps make large scale terra cotta building sculpture pieces from recycled terra cotta sewer pipes. Finally, Mike visits a garbage processing plant in San Francisco where food and assorted scraps are passed through a rolling cylinder and "digested" to make a methane gas energy supply.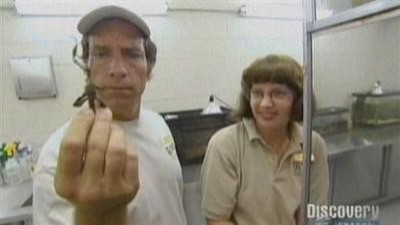 #25 - Bug Breeder 8.12
Season 3 - Episode 1
First Mike helps remove trees and tree stumps in California. Mike then gets himself dirty with some fainting goats in Tennessee. Then he vists a place that breeds exotic insects in New Orleans.