Dharma & Greg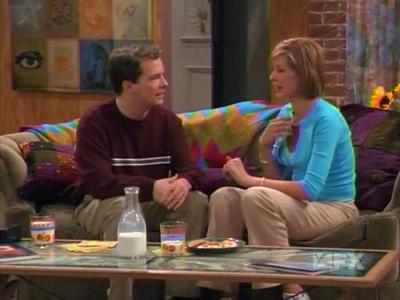 #1 - A Night to Remember 8.53
Season 3 - Episode 18
Much to Greg's horror, Dharma tries to help Donald make a memorable evening of his first sexual experience. Meanwhile, Greg searches for memories from his childhood but decides he would rather remain in the present; and Larry develops temporary powers of recollection.
#2 - The Box 8.52
Season 4 - Episode 11
Dharma begins to come unglued when she can't figure out what Greg has locked away in his box of mementos; and Larry makes a big deal out of finding a little something for Abby.
#3 - Let's Get Fiscal 8.52
Season 4 - Episode 12
Dharma regretfully seeks Edward's business advice when the co-op's slush fund comes up empty, and Greg works with a very successful attorney whom Dharma used to date.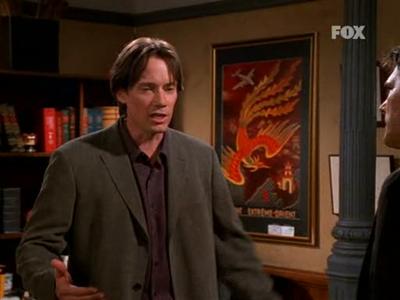 #4 - The End of the Innocence (2) 8.48
Season 4 - Episode 24
After catching Dharma innocently hanging out with her old college tutor---and failed suitor---Charlie, an enraged Greg moves out. Then the misunderstanding turns into a crisis as they both get caught up in the planning of their mutual friends' impending wedding, compelling Greg to seriously reevaluate his own crazy marriage. But when he finally sees the light, it may be too late.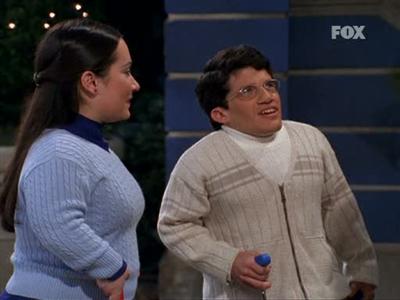 #5 - Pride and Prejudice 8.48
Season 4 - Episode 21
Dharma's paranoia reaches a new height when she discovers her own prejudice against little people.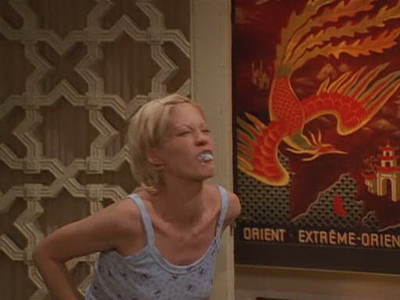 #6 - Dharma Drags Edward Out of Retirement 8.42
Season 2 - Episode 20
When Greg rather reluctantly gives Dharma half of his on-line investment account, she becomes obsessed with profit (even borrowing from her parents), but unwisely follows a tip from a friend of Larry's and sinks everything into a San Francisco company that promptly sinks even further. When she appeals to a recently retired Edward for help, he quickly rejuvenates the business, which happens to merchandize women's fashions for men: edrag.com; but Kitty objects that Edward's golden years were reserved for her.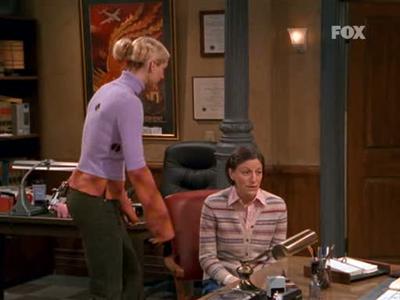 #7 - For Pete's Sake 8.42
Season 4 - Episode 18
In an effort to boost Pete's confidence, Dharma makes the naïve mistake of convincing Greg to leave the practice in Pete's very incapable hands.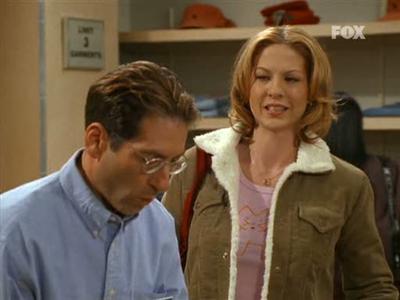 #8 - Judy & Greg 8.41
Season 4 - Episode 16
Fleeing from Kitty's talk on popular restoration of Victoria architecture, Dharma drags Greg into a neighboring high-school reunion for the class of '81, assuming the identities of no-shows Todd and Judy. She is non-plussed to discover that everyone present loathes ""Judy"" for the terrible things she did to them in high school, and decides the universe wants her to make amends by visiting each of Judy's former victims and apologizing. When this doesn't work out, she tracks down the actual Judy for a confrontation. Meanwhile, Larry offers Edward tips on how to revitalize the sexual side of his marriage, and encourages Abby to do the same for Kitty -- but their advice (""let the other make the first move"") leads to stalemate.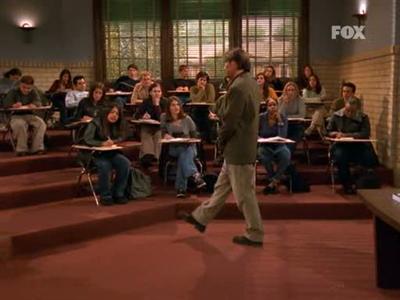 #9 - Educating Dharma (1) 8.39
Season 4 - Episode 13
When Dharma decides to go to college, she meets a professor who stirs some feelings that could disrupt her marriage. (Part 1 of 2)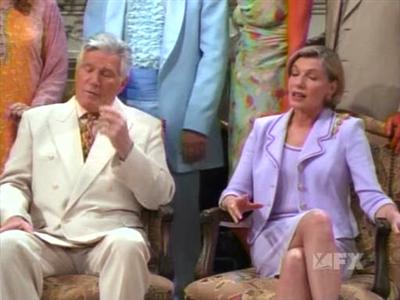 #10 - Be My Baby 8.39
Season 3 - Episode 24
Dharma's vision of a baby sets her and Greg to officially start trying; Pete asks for Greg's help after getting fired; Abby celebrates the onset of menopause.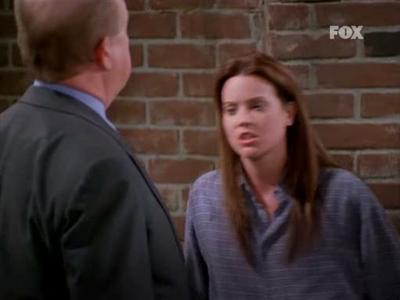 #11 - She's with the Band 8.39
Season 5 - Episode 17
After suddenly joining a rock band that includes the rebellious teenage daughter of one of Greg's clients, Dharma invites the musicians to live with her and Greg.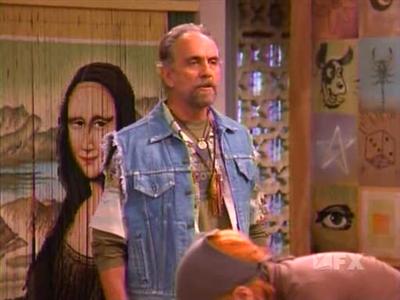 #12 - Tie-Dying the Knot 8.39
Season 3 - Episode 8
Abby and Larry decide to make it official after thirty years of unwedded bliss, provided they can get Kenny Loggins to sing at the ceremony. Meanwhile, Greg comes full circle on his search for tranquility a part-time resident of the local park comes to him with a legal problem.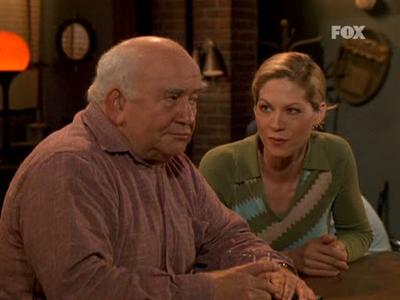 #13 - How This Happened 8.36
Season 4 - Episode 22
A simple garden on Montgomery-owned land triggers a war of the roses (and ladybugs) between Kitty and Dharma's hippie friends. Meanwhile, Dharma gets her hands dirty helping one of Ed's wrongfully terminated employees put his life back together, whether he likes it or not.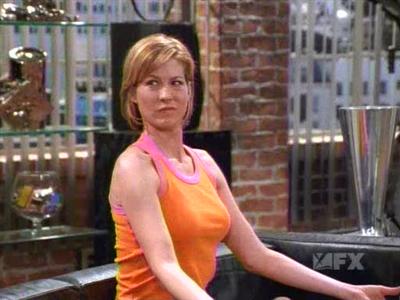 #14 - Your Place or Mine 8.35
Season 3 - Episode 22
After replacing her furniture with Greg's stored bachelor stuff, Dharma is a changed woman. But not necessarily for the better -- she becomes strangely possessed with material ambition. Meanwhile, Edward finally rebels against the fact that even his private den is entirely decorated by Kitty.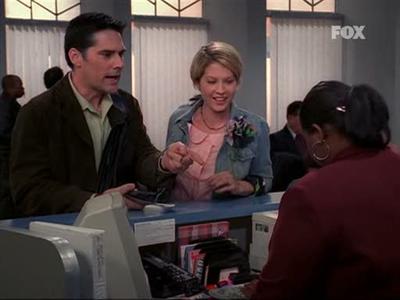 #15 - Wish We Weren't Here 8.35
Season 5 - Episode 9
Bad weather grounds Dharma and Greg's flight in Indiana.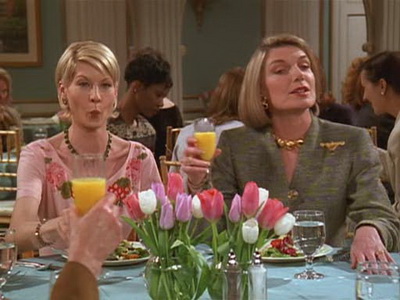 #16 - It Never Happened One Night 8.33
Season 2 - Episode 21
Dharma pushes her mother-in-law's fortitude to the absolute limit when she presents Kitty with an award at a country-club luncheon -- and later wrecks her car.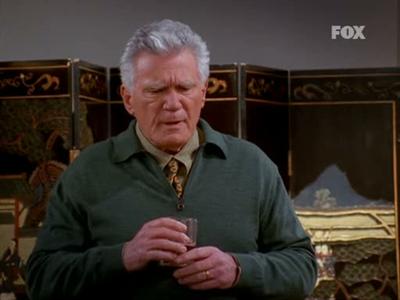 #17 - The Tooth Is Out There 8.32
Season 5 - Episode 20
Dharma encourages Larry to ask his brother George for a loan to buy Larry's favourite conspiracy bookshop; when strange things start to go wrong, Dharma suspects that George is plotting to undermine Larry's success. Her efforts to uncover the plot mean she must undergo multiple dental procedures at George's office, but seem to be justified when the store mysteriously burns down just before the grand re-opening. Meanwhile, Kitty tries to revitalize her love life by making Edward jealous—claiming that her car attendant keeps leaving red roses on the seat for her.
#18 - The Second Coming of Leonard 8.31
Season 1 - Episode 15
When Dharma's charismatic old boyfriend, Leonard, suddenly re-enters her life after a year in India, Greg finds himself extremely uncomfortable around him—especially when it becomes clear that absolutely everyone else, from Greg's parents to even Marlene, absolutely adores Leonard. Weakened by battling a bad cold, Greg is thrown for a loop when Leonard reveals that he has been celibate since he left Dharma and Dharma decides that she and Greg should give abstinence a try as well. Finally, Dharma informs everyone that they should respect Greg's wishes and not see Leonard any more—then everyone simultaneously spots Greg on television enjoying Leonard's company and his benchside basketball tickets.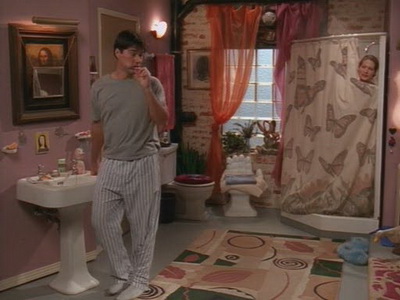 #19 - Daughter of the Bride of Finkelstein 8.31
Season 1 - Episode 18
A plumbing emergency in their apartment forces Dharma and Greg to move in temporarily with his parents, and a situation fraught with tension is made worse when the Finkelsteins decide to contemplate marriage after twenty years of unwed bliss—and Larry moves in with the Montgomerys as well.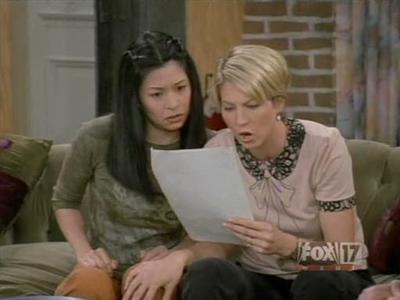 #20 - Used Karma 8.30
Season 5 - Episode 7
When Greg starts to dress and act strangely after driving the used car Dharma recently bought, she worries he's been possessed by the spirit of the car's previous owner, a petty criminal and gambler who met an untimely death. Meanwhile, Edward has Larry set up a security camera at his house to help catch the kid who eggs his house every Halloween, but the ""trick"" is still on him.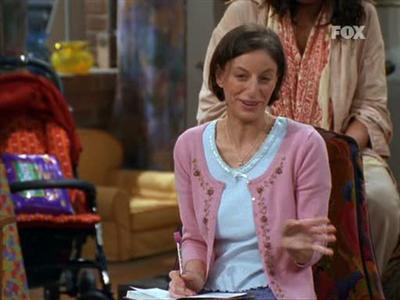 #21 - Hell No, Greg Can't Go 8.30
Season 4 - Episode 4
A small war breaks out as Dharma stages a protest to halt Greg's plans to enlist in the Army. But once he does, the legal eagle's stuffy style has the troops ready to boot him out of boot camp.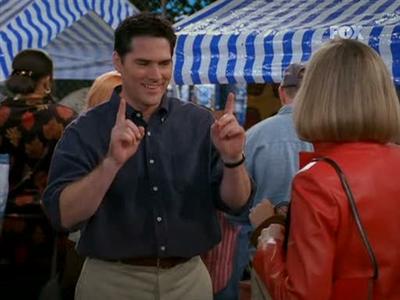 #22 - Previously on Dharma & Greg 8.29
Season 5 - Episode 12
Greg proposing to another woman? Dharma bringing another man home to meet the folks? This landmark flashback episode takes place six months prior to the series pilot and shows Dharma and Greg's lives before they met and married on their first date. Share in Kitty's chagrin as Greg breaks up with his debutante fiancée, and join Larry as he watches Dharma leave a great guy who ""refuses to get a job.""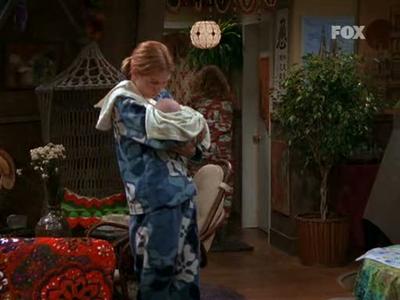 #23 - Sleepless in San Francisco 8.29
Season 4 - Episode 6
Abby turns a blind eye when Dharma goes the extra mile to help care for the new baby in the Finklestein family.
#24 - Invasion of the Buddy Snatcher 8.27
Season 1 - Episode 23
When Greg hosts a poker game, Dharma takes advantage of the occasion to meet his buddies. Petty jealousies surface as she begins befriending the men and privately advising them on personal matters - including bankruptcy, impotence, and a serious crush one of the men has on Greg - and they in turn begin to full uncomfortable around Greg because he won't share his feelings with them. Upset that Dharma has taken over his friends, Greg tries to bluff her by maintaining that he has plans of his own to hang out with Jane; and when Dharma thinks this an ""awesome"" idea, he finds himself involved in a bizarre role-playing game with Jane's very bizarre friends (including the Vulcan-eared Trekkie seen at the end of episode 20). Meanwhile, Kitty and Edward are unhappily afloat in ""duck soup,"" as their swimming pool is invaded by waterfowl. Enter Abby, who is getting a Berkeley degree in ornithological intelligence. (Larry: ""It's the study of bird brains."" Kitty: ""Oh, that must be useful."")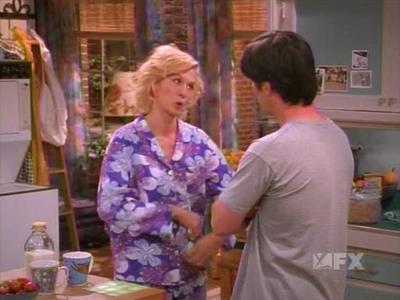 #25 - The Very Grateful Dead 8.26
Season 3 - Episode 6
Dharma becomes convinced that the ghost of a recently deceased neighbor wants to conduct some unfinished business -- and the spirit soon moves Greg in a rather carnal way.