Bob's Burgers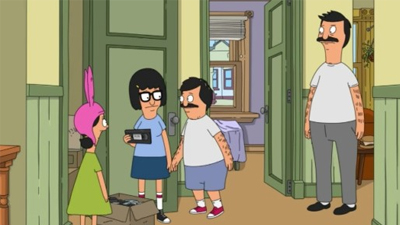 #1 - Broadcast Wagstaff School News 8.23
Season 3 - Episode 12
There is a "Mad Pooper" running wild at the Belcher children's middle school and Tina finds herself on a mission to get to the "bottom" of the situation.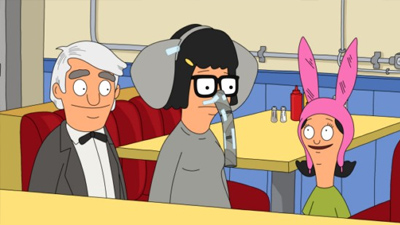 #2 - Topsy 8.18
Season 3 - Episode 16
Louise expects to get a charge out of taking down her Thomas Edison-obsessed science teacher when she re-creates one of the famous inventor's experiments that involved electrocuting an elephant.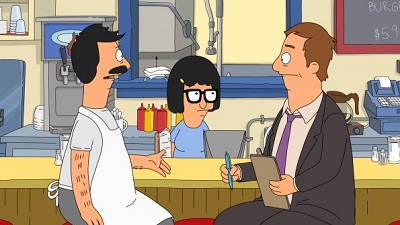 #3 - Tina-rannosaurus Wrecks 8.15
Season 3 - Episode 7
After Tina accidentally wrecks the car, and gets the whole family involved with a slimy insurance agent, she worries that she's a "jinx".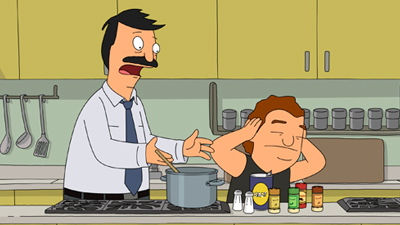 #4 - Bob and Deliver 8.13
Season 4 - Episode 7
Tina is delighted when Bob fills in as substitute home-economics teacher at school and creates a fully operational restaurant in the classroom. Unfortunately, some father-daughter friction develops. Meanwhile, the other Belcher kids take jobs at the school restaurant, leaving Linda to run the burger joint by herself.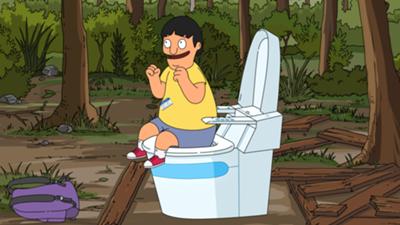 #5 - O.T.: The Outside Toilet 8.13
Season 3 - Episode 15
When Gene finds an expensive talking toilet out in the woods, he and his friends decide to protect it as much as they can while an evil toilet hunter is looking for the toilet.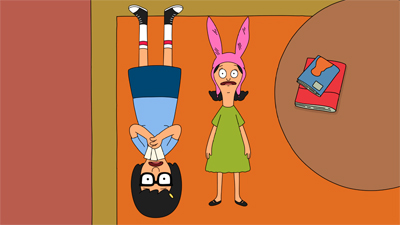 #6 - Boyz 4 Now 8.12
Season 3 - Episode 21
While accompanying Tina to a "Boyz 4 Now" concert, Louise develops a crush on one of the lead singers, Boo Boo - and is in disbelief that she actually likes a boy! Meanwhile, Gene gets creative - and slightly offensive - in a table-setting competition.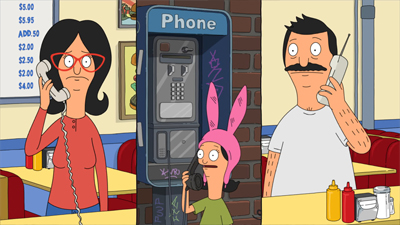 #7 - The Kids Run Away 8.10
Season 4 - Episode 19
Upon learning that she has a cavity and needs a filling, Louise runs away from the dentist's office and seeks refuge at Aunt Gail's. When Louise refuses to go home, Linda sends Tina and Gene to join her and bets her that she won't last the weekend with Aunt Gail's "craziness".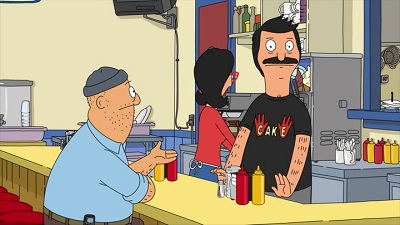 #8 - Bad Tina 8.10
Season 2 - Episode 8
Tina befriends a bad girl in a bid to get closer to Jimmy Junior.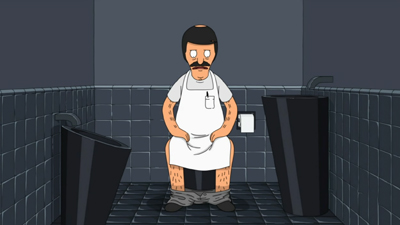 #9 - Glued, Where's My Bob? 8.09
Season 6 - Episode 19
The kids' goop war lands Bob in a sticky situation. The prank happens to occur on the same day that Skip Marooch calls to tell Bob that a journalist is coming to the restaurant to write a profile and the whole town gets involved.
#10 - Ear-sy Rider 8.07
Season 3 - Episode 1
A biker gang sets up shop in the restaurant, where they lament the loss of their beloved leader.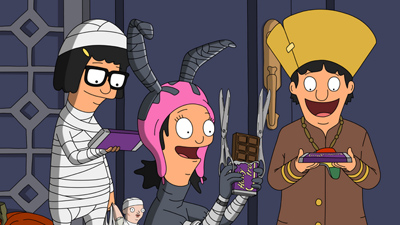 #11 - Full Bars 8.07
Season 3 - Episode 2
The Belcher kids break with a long standing Halloween tradition, veering away from their usual trick or treat trek in favor of a posh neighborhood that's known for its oversize goodies.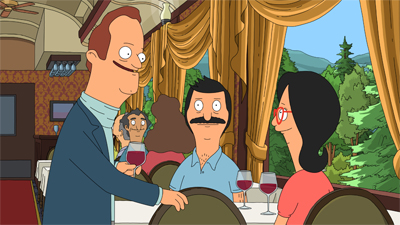 #12 - The Kids Rob a Train 8.05
Season 4 - Episode 15
The Belchers take a trip on a train and, to their dismay, Louise, Gene and Tina are seated in a separate train car. Never one to follow the rules, Louise ropes the children into helping her on her mission to steal the vast chocolate supply from the restaurant car! Meanwhile, Bob and Linda indulge in some wine tasting and have a "taste-off" with a snobby couple.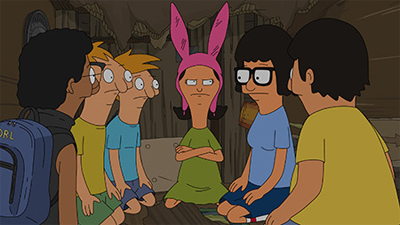 #13 - Fort Night 8.05
Season 4 - Episode 2
Tina, Gene and Louise are filled with the Halloween spirit and head out with their friends for a candy-fueled adventure. However, things take a turn for the worse, when the kids build their own fort and find themselves held hostage by Louise's wacko friend, Millie.
#14 - Burgerboss 8.05
Season 2 - Episode 4
Bob becomes obsessed with an old-school burger-flipping video game after Jimmy Pesto gets the high score and writes "BOB SUX" on the leader board.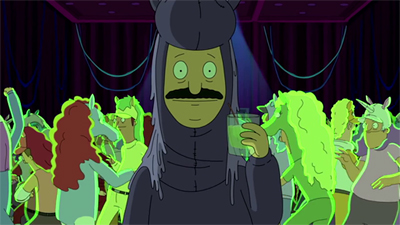 #15 - The Equestranauts 8.04
Season 4 - Episode 17
In an homage to the "Bronies" subculture, Tina attends her first Equestra-con, a convention based on her favorite animated pony show, "The Equestranauts." To her surprise, she finds that the show's fans are middle-aged men (called "Equesticles"). When a powerful super-fan tricks Tina out of her rare toy pony, it's up to Bob to go undercover to get it back.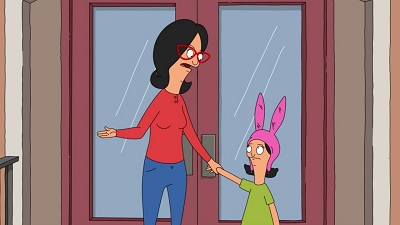 #16 - Mother Daughter Laser Razor 8.03
Season 3 - Episode 10
Linda worries that her relationship with Louise isn't as good as it should be, so, much to Louise's chagrin, she forces the young lady to participate in a mother-daughter seminar. With mom away, Tina turns to Bob for a lesson in shaving her legs.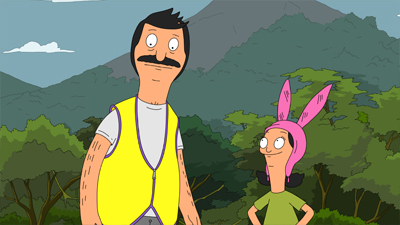 #17 - Carpe Museum 8.02
Season 3 - Episode 22
Bob chaperones a school trip to the museum and experiences some father-daughter bonding with Louise, while Gene and his gang are on the lookout for exhibits with busts, and not the kind that are sculpted out of stone. Later, on the museum steps, Linda offers her distinctive chanting talents to striking workers.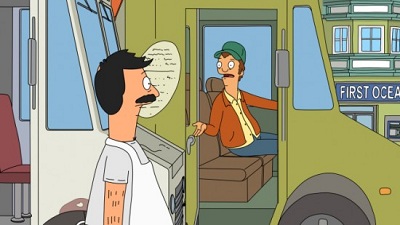 #18 - Food Truckin' 8.02
Season 2 - Episode 5
The Belchers beg Bob to buy a food truck to compete against the ones that are stealing his customers. When the "Lolla-Pa-Foods-A-Festival" comes up, the Belchers bring the truck and the kids decide to cause mischief. Unfortunately, this causes a riot to rise from the other food truckers.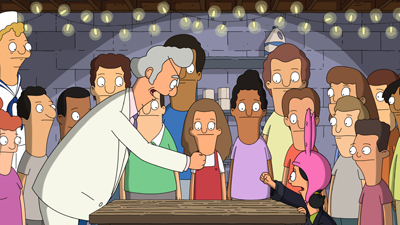 #19 - The Kids Run the Restaurant 8.02
Season 3 - Episode 20
After Bob cuts his finger and faints at the sight of his own blood, Linda brings him to the hospital and leaves the kids home alone. Not ones to waste a golden opportunity, Tina, Gene and Louise transform the basement of the restaurant into a makeshift casino. But they get more than they gamble for when landlord Mr. Fischoeder stops by and catches them in action.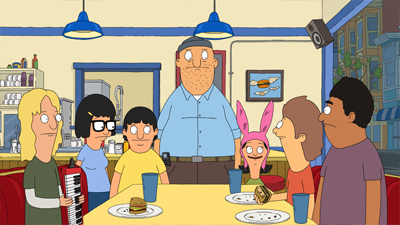 #20 - Uncle Teddy 8.01
Season 4 - Episode 14
When Bob and Linda leave town for a romantic getaway (at a Burger Convention), they ask Teddy to babysit Tina, Gene and Louise. While the 'rents are away, Teddy is eager to earn the coveted title of "Uncle Teddy" and does so by putting Tina's crush in his rightful place after discovering that he was just using her for – gasp – free burgers! Hijinks ensue.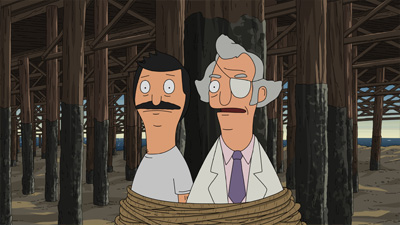 #21 - World Wharf II: The Wharfening (or How Bob Saves/Destroys the Town) (2) 8.01
Season 4 - Episode 22
It's Linda and the kids to the rescue when Felix takes desperate measures, and puts Bob and Mr. Fischoeder in danger.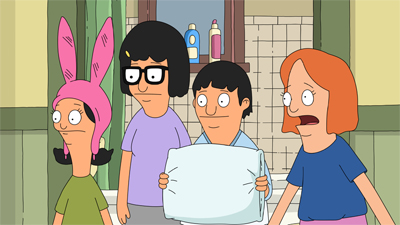 #22 - Slumber Party 8.01
Season 4 - Episode 9
In an effort to help socialize Louise, Linda invites four of her classmates over for a surprise slumber party. Meanwhile, Bob cooks a burger to catch a renegade raccoon.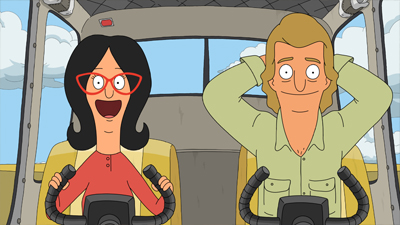 #23 - Seaplane! 8.01
Season 4 - Episode 3
Linda is bored by Bob's tired attempts at Date Night and decides to sign up for flying lessons. When Bob won't join her, she becomes the target of "Upskirt Kurt" the most charming pilot in the air.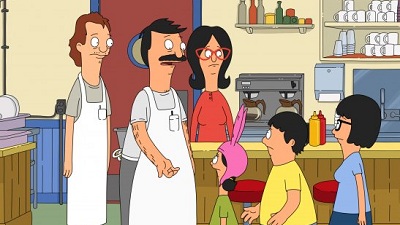 #24 - Bob Fires the Kids 8.00
Season 3 - Episode 3
Worried that his kids are not enjoying summer vacation because he's making them work in the restaurant, Bob fires them. But they soon become bored and take jobs as "weed pickers" for a pair of hippie farmers.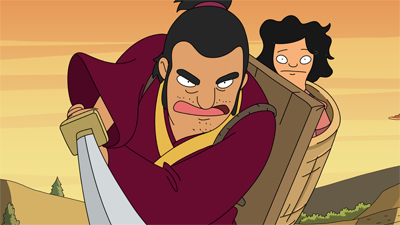 #25 - Hawk & Chick 7.99
Season 5 - Episode 20
Bob and Louise are thrilled when they meet Shinji "Koji" Kojima aka Rising Hawk, the star of their favorite martial arts movies, and are quick to offer help upon learning about his family troubles.