Bleach
#1 - Unseal! The Black Blade, the Miraculous Power 8.97
Season 3 - Episode 17
The fight between Ichigo and Kuchiki Byakuya continues.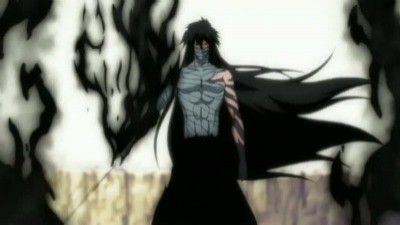 #2 - Fierce Fighting Conclusion! Release, the Final Getsuga Tenshō! 8.92
Season 14 - Episode 44
Battle ensues between Aizen and Ichigo. His nineties-level Kido attack easily deflected, Aizen further evolves to best Ichigo. But Ichigo, now fully aware of why Tensa Zangetsu was reluctant to teach him the Final Getsugatensho, has come to possess amazing powers.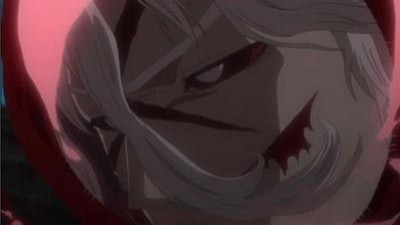 #3 - Changing History, Unchanging Heart 8.91
Season 16 - Episode 24
The battle between Ichigo and Ginjo comes to a close when the latter receives a mortal wound. Just as Ginjo is about to die, Tsukishima tries to kill Ichigo but is stopped by Riruka. Tsukishima is later rescued by Shishigawara while the surviving Xcution members decide to separate. Ichigo later returns to Soul Society and requests that Head Captain Yamamoto let Ginjo's body be buried within the human world as the last thing he can do for him. Yamamoto agrees just as Ichigo accepts to continue being a Substitue Soul Reaper. Rukia see Ichigo off, recalling their time together and silently thanks him. Ichigo smiles and tells Rukia "See ya later" before returning to Karakura Town where he is greeted by his friends and family.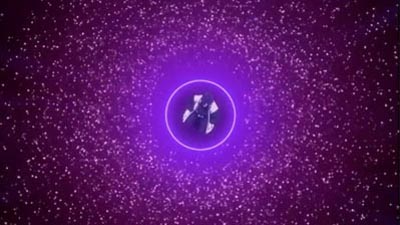 #4 - Desperate Struggle!? Byakuya's Troubled Memories 8.72
Season 16 - Episode 22
Byakuya starts his battle with Tsukishima, but must contend with the fact that his memories have been affected by Book of the End. Meanwhile Ichigo, Uryu and Rukia continue their fights with Kugo and Riruka respectively.
#5 - Congress Together! The Strongest Shinigami Organization 8.71
Season 3 - Episode 21
Aizen gets the Hougyoku out of Rukia. Can the soul society stop Aizen, Gin, and Tousen? Or will they make a clean get away?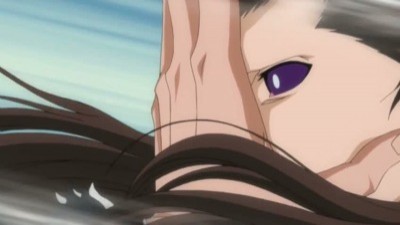 #6 - Goodbye...Rangiku 8.70
Season 14 - Episode 43
Gin recalls his past and the fateful event that led him to become a Soul Reaper serving under Aizen. Meanwhile, Aizen's overwhelming Spiritual Pressure forces Tatsuki, Keigo and the others to fall helplessly to the ground, when Ichigo finally arrives after completing his training.
#7 - Conclusion of the Death Match! White Pride and Black Desire 8.69
Season 3 - Episode 18
The conclusion of the fight between Ichigo and Byakuya. Ichigo first appears to be at a disadvantage until his Hollow mask takes over and gives him the edge against Byakuya.
#8 - An Accomplished Oath! Get Back Rukia! 8.68
Season 3 - Episode 13
The excution of Kuchiki Rukia is starting to happen. As other captains are preparing to for the excution and Ichigo is still in his Ban-Kai training; Will Rukia be saved?
#9 - The Developer of the Modified Souls 8.66
Season 15 - Episode 21
The captains and lieutenants of the Thirteen Court Guard Squads thought to have fallen in battle return to fight the Reigai. Meanwhile, Ichigo's spirit energy and Hollow powers continue to grow unstable, forcing him to rest for the time being while Urahara and Kon continue there investigation on Inaba. Urahara and Kon later find out about Yushima Okouyo, the shinigami who created Inaba and Nozomi. When visiting Yushima's cell in the Maggot's Nest, they get attacked by the reigais of Soi Fon and Omaeda, but are later defeated by Urahara. The two visit Yushima's cell, only to find him unresponsive, leading Urahara to conclude that Yushima will never gain consciousness. Meanwhile, Ichigo's hollow side finally takes over and escapes the building he was in.
#10 - Kon's Thoughts, Nozomi's Thoughts 8.62
Season 15 - Episode 22
Urahara deduces where Kageroza's other lab might be, and he and Kon head to that location, only to be halted by a reigai of Kisuke. As Urahara battles his reigai counterpart, Kon dashes down into the lab, where he promptly tries to awaken Nozomi inside her capsule. She does awaken and at first insists that Kon escape, but after seeing his persistence, and his devotion of trying to save her, whom he considers a friend, she tries to help Kon restore Ichigo's Spritual Pressue. Before Ichigo's soul capsule can be created however, reigai Nemu appears and stops the transfer. Immediately afterward, the fusion process is complete. Hollow Ichigo defeats the members of Squad 8 and is about to destroy the reigai of Ise when the fused Yushima appears before him.
#11 - A New Appearance! Meet the Gotei 13! 8.61
Season 16 - Episode 19
Kugo is able to take Ichigo's Fullbring and apply its power to his own. Unable to do anything about his situation, Ichigo falls deep into despair. But then, a few familiar allies arrive to save him. They are the Gotei 13.
#12 - One Thousand Cherry Blossoms, Crushed! Zangetsu Thrusts Through the Sky 8.59
Season 3 - Episode 16
While they are still fighting Soi Fong asks Yoruichi how she is still so powerful. This invokes a flashback showing how Soi Fong and Yoruichi first met and became close friends. Then, in the flashback, Yoruichi disappeared without telling Soi Fong anything, leaving her feeling betrayed. Meanwhile, the battle between Ichigo and Captain Kuchiki Byakuya of the 6th division continues. While fighting, Ichigo uses a new technique with his soul slayer called: Getsuga Tenshou.
#13 - The Man of Immortality 8.58
Season 2 - Episode 19
After being defeated by Zaraki Kenpachi and with his sword broken, Zangetsu takes Ichigo into his Inner world, where Ichigo must win Zangetsu back from his inner devil. After fighting him Ichigo then understands that just like Zaraki, he as well was only counting on himself and was using Zangetsu only as a tool without relying on Zangetsu's power. He asks Zangetsu for a second chance, and gets it. He then returns to Soul society to fight Zaraki again, this time with Zangetsu as his ally, but just as things look promising to Ichigo, Zaraki starts fighting him with full power. Ichigo then lends Zangetsu's power for the last blow, which will decide everything.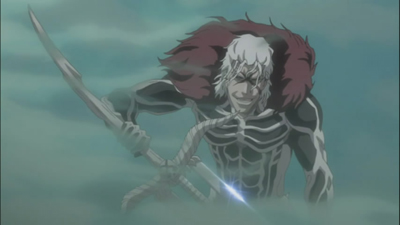 #14 - Ichigo vs. Ginjo! Secret of the Substitute Badge 8.58
Season 16 - Episode 23
Ichigo and Uryu continue their battle with Kugo Ginjo. However, when Kugo senses that Tsukishima is close to dying, he decides to reveal to Ichigo the true meaning behind being a Substitute Soul Reaper.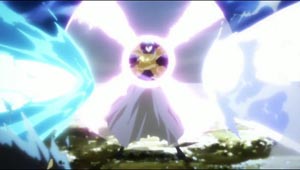 #15 - Reigai vs. Original, The Fierce Fighting for Gambled Pride! 8.57
Season 15 - Episode 24
Yushima's Zanpakuto stabs Hollow Ichigo, and within his own consciousness he can see Nozomi inside Yushima's as well. Nozomi calls out to Ichigo, but before he can do anything to help her, Yushima regains his will and attacks him, causing his Hollow-self to break apart. Now powerless once again, Ichigo is left to watch as his friends attempt to overpower Yushima. But no matter what they try, he finds a way to break through it. Yushima has reigai-Nemu bring him something that will help the fusion become permanent, and when she arrives, she unexpectedly kicks him backward. It is revealed that Kon was helped by Urahara and Mayuri by placing his Soul Candy into that of the reigai. Kon gives Ichigo a complete gikongan which he takes, and it restores his Shinigami powers. He prepares to unleash his bankai against Yushima. Meanwhile, Byakuya has deduced that the reigai do not sacrifice themselves to attack the originals when they are all together, as it goes against what they and Yushima believe in. The originals join forces against the reigai to protect the Soul Society.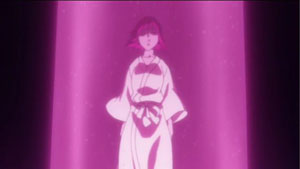 #16 - Pursue Kageroza! Technological Development Department, Infiltration! 8.55
Season 15 - Episode 20
Inside the Precipice World, Rukia and the others act as decoys to draw away the Reigai's attention while Ichigo, Urahara, and Kon break into the Seireitei. As they search for Kageroza's laboratory, Urahara makes an attempt to restore Ichigo's lost Shinigami powers by creating a mod soul candy, but is discovered by the Reigai of Nemu and Nanao. At last minute before an explosion, Ichigo breaks the glass containing the candy and consumes it. However, as stated by Urahara, the candy was incomplete, making the balance between Ichigo's shinigami and hollow powers unbalanced. While escaping, the three are ambushed by the reigai captains, but are saved when Yoruichi and the originals appear, ready to fight.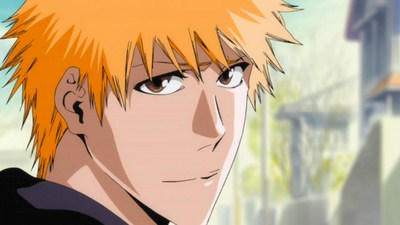 #17 - Thank You 8.55
Season 15 - Episode 26
Gradually losing his temporarily restored powers, Ichigo struggles against a hollow, but is saved by Rukia. The shinigami in charge of Karakura town, Kuramadani Zennosuke interrupts their conversation, yelling at them to stop doing his job. The next day, Rukia is instructed a mission by Ukitake to prevent Ichigo from fighting because of the fast rate of his disappearing spiritual powers. That night, Ishida and Rukia save Ichigo from a hollow and tell him to rest, much to his dismay. The next day, Ichigo takes Rukia and his friends to an ice skating rink, since he saw Rukia staring at the place a lot. Fireworks from a nearby amusement park begin to shoot up in the sky, ending the day on a happy note. While walking home, Ichigo senses a giant hollow and goes to his shinigami form, before being stopped by Rukia. Ichigo once again struggles against the giant hollow as his powers begin to fail him. Rukia saves him, leaving Ichigo to question if he was getting in her way. Rukia replies with a heartwarming speech about their friendship. Ichigo requests for Rukia to freeze the hollows legs, and he fires his "last getsuga tenshou," destroying the hollow. Ichigo, exhausted, has a brief conversation with Rukia before he is told to rest. Ichigo wakes up in his human body, in his room, with his friends surrounding him. Ichigo takes note of his disappearing powers, and asks to go outside. Outside, Ichigo notices that he can barely sense spirits anymore and even Rukia's presence is disappearing. The two say goodbye and have a brief conversation before Rukia begins to disappear from Ichigo's sight. After Rukia fully disappears, Ichigo thanks her.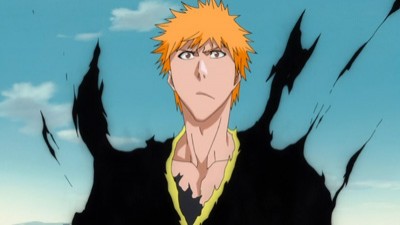 #18 - Ichigo, Mastering the Fullbring! 8.52
Season 16 - Episode 11
Tsukishima, wanting to kill Ichigo Kurosaki, proceeds to battle against him and Xcution.
#19 - Ishida, Limits of Power! 8.52
Season 3 - Episode 3
In conclusion to the battle between a captian and a quincy, Ishida must unleash a power that threatens to lose all of his quincy powers!
#20 - Ichimaru Gin's Temptation, Resolution of Destruction 8.51
Season 3 - Episode 12
Zaraki Kenpachi is still fighting with Tousen and Komamura. Tousen asks Komamura to step aside; he will fight Zaraki by himself. Tousen immediately initiates his Ban-Kai surrounding himself and Zaraki in a gianatic black sphere where only Tousen has use of his senses. Can Zaraki win this fight even though he cannot rely on his senses?
#21 - Truth of Despair, the Dagger That Has Been Brandished 8.50
Season 3 - Episode 19
After finding everyone dead in the Central 46 Chambers, Hitsugaya realizes that all of the most recent orders have been fake. Then, later he finds out who is the real mastermind behind the recent events in the Soul Society.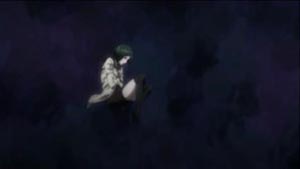 #22 - Invading Army Arc, Final Conclusion! 8.48
Season 15 - Episode 25
As the captains and lieutenants battle it out with the Reigai, Ichigo uses his restored powers to fight the fused form of Inaba and Nozomi.
#23 - Desperation! The Broken Zangetsu 8.48
Season 2 - Episode 18
During his fight with Zaraki Kenpachi, Ichigo senses that Chad's life is fading away, and tries to end the battle quickly to be able to help his friends. After trying to fight Zaraki eqaully, in the end Ichigo loses the fight and with his soul slayer, Zangetsu ,brokened, things dont look promising to Ichigo, but apparently not everything is hopeless as in the end of the episode Zangetsu appears in front of Ichigo.
#24 - Aizen Stands Out! His Terrifying Ambition 8.47
Season 3 - Episode 20
Unohana Retsu, Captain of the 4th division, and her vice captain Kotetsu Isane tell the others in the Soul Society what they had just learned about Aizen. Upon hearing the message, Ichigo realizes that Aizen wants to kill Rukia. Can he save her?
#25 - Ichigo Becomes a Hollow! 8.47
Season 1 - Episode 19
Ichigo trains with Urahara. He is underground trapped in the hole with 72 hours left until his life chain will come to its end. Held by a binding spell, he waits while Jinta and Ururu tease him. When his chain is no more, he goes though the process of becoming a Hollow. In his mind Ichigo finds that he has to find the shinigami box or he will become a Hollow. After he finds the box he comes out of the hole a semi-hollow, semi-shinigami. He breaks the mask and Urahara moves on to the third lesson: defeat Urahara.