Big Brother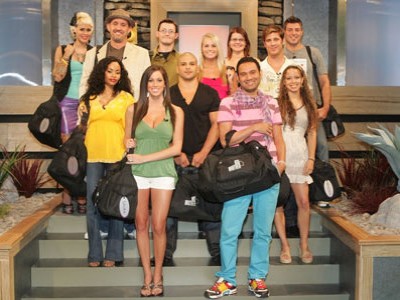 #1 - Introductions; HoH Comp #1
Season 11 - Episode 1
Season 11 opens with the new cast of 12 houseguests are introduced and are shown around the compound. They are to broken up into four cliques, popular, athlete, brainiac or offbeat, and then are given their initial challenge.
#2 - Power of Veto 12
Season 18 - Episode 36
Tonight, can the Power Of Veto save James or Natalie? Plus, will being on the block together tear them apart?
#3 - BB1 Ep #1
Season 1 - Episode 1
On the first show, an hourlong affair, an instantly dislikable chucklehead host named Ian O'Malley shows us around the house while a dopey correspondent from CBS's dreadful ""The Early Show,"" Julie Chen, acts enthusiastic as the 10 residents travel to the house, O.J. style, in a caravan of SUVs. O'Malley shows us the house, including the confession room (where, each day, each resident is required to go in and share his or her feelings) and the bathroom (monitored to prevent the residents from sneaking into the toilet or shower to have private conversations). Meanwhile, Chen chats vapidly with the residents' friends and families, whom the show has gathered outside the house. At the end of the hour, the residents finally arrive. They meet one another and go into the house. The door shuts behind them. They roam from room to room. A solitary Jordan is caught at the end, gazing at the cameras and the two-way mirrors pensively, reality dawning. It's a lyrical scene.
#4 - BB6: Season Premiere
Season 6 - Episode 1
It's the ""Summer of the Secrets"" for the new houseguests of the sixth season of Big Brother. With a brand new, state of the art, two story house, the houseguests will be discovering lots of secrets throughout the summer - relating to new twists in the game and new surprises in the house that will be far from expected.
#5 - BB2 Ep #1
Season 2 - Episode 1
This is it. The very first episode. Julie Chen is back to host this reality series that took off in July 2000 with mediocre ratings. There are a few changes this time around. The houseguests will vote for one another when the head of household(who wins their title in a challenge) nominates two people for eviction. Oh, and it is no longer banishment. Just eviction. There are 12, instead of 10. There are 12 houseguests and they are: Mike Krista Shannon Autumn Kent Will Hardy Bunky Justin Sheryl Monica Nicole Tonight, Kent wins a brand new car, as all 12 jam themselves into the little vehicle(god help the person who sat near Bunky) and whoever ""Outlasts"" the rest will win it. It was down to Kent and Autumn, but somehow Kent talked Autumn into getting out of the car. Mike also wins head of household and will not only have a whole room(with added treats) to himself, but he will also have to choose two people for eviction. Oh, much fun.
#6 - Season Premiere Part 1, Head of Household #1A
Season 16 - Episode 1
This season promises to be the most twisted summer ever as 16 new Houseguests move into the Big Brother house to compete for $500,000.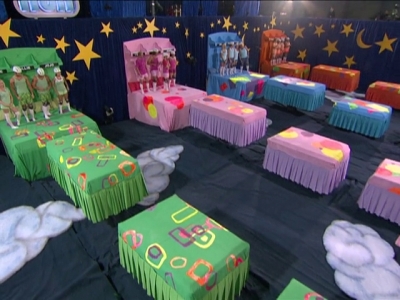 #7 - Season Premiere; HoH Competition #1
Season 14 - Episode 1
In the season premiere of Big Brother 14, the 12 new HouseGuests are met, plus 4 returning Big Brother alumni who will not be participating with the new HouseGuests, but will be acting as coaches in the house. Willie becomes the first Head of Household. Coach Dan sends Jodi home packing.
#8 - Season Premiere (1): Move-in
Season 18 - Episode 1
Four stowaways secretly tucked away in the house will kick off the two-night premiere event. Four competitions, three twists, two-nights and one Houseguest will be going home before the summer has barely even begun. This summer is guaranteed to be a bumpy ride.
#9 - Season Premiere Part 1, Head of Household #1A
Season 17 - Episode 1
Two surprise guests will kick off the two-night premiere event as the Houseguests will live in a modern steel beach house that features a towering sky bridge, making it the largest house yet.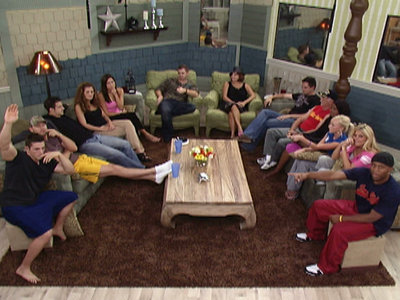 #10 - Introductions; HoH #1
Season 10 - Episode 1
Ten is a special number; it's solid and definitive, plus when you get to the tenth in a series of things you know it is going to be memorable. That's especially true of BIG BROTHER 10, which returns this summer with a new cast of HouseGuests all vying for the $500,000 prize. Host Julie Chen explains that for the first time in seven seasons, all the players are total strangers. This time around, all 13 Houseguests are competing on their own. The baker's dozen is assembled by the front door for what they expect will be the traditional BIG BROTHER house move-in. Well, as all seasoned BIG BROTHER watchers know, expect the unexpected. Julie explains that for the first time ever they are choosing the first Head of Household of the season before anyone moves into the house! "All you have to go on is your fellow HouseGuests' appearance and gut instinct," Julie explains. Without talking, the HouseGuests vote for the HouseGuest they'd like to see as HoH, with the condition that they cannot vote for themselves. The votes are cast, but who is HoH remains a mystery for now.
#11 - BB1 Ep #2
Season 1 - Episode 2
The group sits around the kitchen table, sharing their life stories. The best part comes when Cassandra, who works at the U.N., says she's from New York. ""Harlem?"" asks cocky William, a little too quickly. ""Midtown,"" she says calmly. Eddie tells the others he lost his leg to bone cancer at 11, but never let himself feel sorry for himself. ""There was no real period of 'Why me?'"" he shares. ""It happened and I'll deal with it."" Jordan tells the group she's a triathlete, but doesn't let on she knows her way around a gentlemen's club. When it's time for bed, William finds himself in the room with the women, and is dispatched tout de suite. There's a test for the residents, Ã la the reward challenges on ""Survivor."" They have to decipher a cryptographic message that tells them where some money is. (The money apparently lets them buy food from the producers.) They figure it out, but realize they have to wait until the morning to go digging in the backyard. The women have a late-night pillow pa
#12 - Introductions; HoH Comp #1
Season 12 - Episode 1
Season 12: Episode 01: A House Like No Other Meet the New HouseGuests! Every fan knows that the Big Brother HouseGuests show up to the House ready to compete for the coveted $500,000 prize. Well, the classic BIG BROTHER mantra "expect the unexpected" is still very much true. For the first time ever, one of the thirteen HouseGuests will not be playing for the big prize, but acting as a secret Saboteur! Host Julie Chen explains that over the first half of the season, the Saboteur will be wreaking havoc on individual players, rival alliances and even the entire house itself. The Saboteur does have an incentive, however—if he or she makes it five weeks in the House and pulls off all of their assigned sabotages, the Saboteur will walk away with $50,000. Talk about a different kind of season… The House takes on an ultra-modern Miami feel this summer, with Arkansas hotel sales manager Britney, California college professor Ragan, swim coach Brendon and chemistry student-slash-Las Vegas cocktail waitress Rachel kicking off the season by entering their new South Beach-themed home. The second group of HouseGuests to enter features Texas oil rig salesman Lane, Florida bartender Annie, New Jersey insurance adjuster Enzo, Arkansas sheriff Kathy and Miami podiatrist and Orthodox Jew Andrew, who shouts "Mazel Tov" when he bursts into the House. The HouseGuests are all accounted for when Arizona college student Hayden, Philadelphia boutique manager Kristen, certified genius/web designer Matt and Illinois model Monet come rushing through the door. Instead of stopping for some introductory hugs, Monet plows past Kathy to make sure she has a bed of her own—now that's a woman ready to play the game of Big Brother! Bring out the Bubbly Annie gets the party started by popping open the introductory bottles of champagne, which leads right into the traditional HouseGuest meet and greet. Ragan thinks the tall and handsome Brendon could apply for the job of Superman, while Enzo is worried about having a sheriff like Annie in the house. Andrew starts off by making up a sob story about being laid off and having to work in a shoe store, but all Rachel notices is how cute Andrew looks wearing his "Yom Kippur." Andrew isn't the only HouseGuest holding back; Matt declines to reveal he is a certified genius, Annie keeps her bisexuality quiet and Ragan also gives himself a demotion by telling everyone he is a student, not a professor. That's a whole lot of lying and obfuscation right from the start—is the Saboteur among those already spinning tales or keeping quiet? Hanging with the Enemy Julie chimes into the living room and after a quick hello reminds everyone BIG BROTHER wouldn't want to disappoint them by being too predictable. "One of you is actually not here to win the game," she says, explaining the Saboteur twist to the HouseGuests. Julie reveals the Saboteur can win Head of Household and Veto competitions, but he or she will not be eligible for the final $500,000 prize. While the Saboteur has a chance to walk away with 50 Grand by making it to the halfway point, he or she will leave with nothing if evicted within the next five weeks. Suddenly the living room monitor flashes and a shadowy figure with a masked voice appears! "Watch your back," the Saboteur warns. "I can and will strike at any time." "There goes our drama-free night," Ragan says, as everyone discusses the wrench in the works. Rachel wants to know how she can trust anyone, even a potential showmance, while Annie wonders if she should suspect anyone who mocks the Saboteur. Kathy notes that cops are already naturally paranoid, so this will make her only more suspicious of everyone around her. Who could it be? I'll Take Mine with Extra Relish It's time for the first competition of the season, but some business must be worked out first. Julie announces the inaugural HoH competition requires two teams, but with 13 HouseGuests, someone must volunteer to sit out. Andrew shoots his hand up, and learns he is not eligible for HoH. Enzo and Hayden find Andrew's behavior fishy. The HouseGuests then change, coming out as the red and yellow teams, with Andrew dressed as a hot dog! Matt notes that Andrew is definitely a kosher wiener. When the HouseGuests go outside, they discover the backyard has been transformed into a giant grill, with two huge hot dog wieners hanging in the air. Julie explains each team will use a series of pulleys to bring team members across the grill one at a time on their respective team's wiener. The first member of the winning team across the grill gets $10,000, with the second member scoring $1,000. Successive team members across the grill get less and less cash, but the final winning team member across wins something unique—Head of Household. Both teams find getting their first couple of players across fairly easy, but when gobs of ketchup and mustard get sprayed onto the hotdogs, the competition gets much more difficult. Red and yellow team members start suffering some fantastic falls, but things get serious when red team member Britney falls and injures her knee. First responder Kathy jumps down to help, but the real doctor in the house, Andrew, does nothing, keeping up his lie about being a shoe salesman. Britney's injury requires the House medic to check her out, but luckily her knee is not seriously hurt. However, Britney is not able to continue. Julie asks Britney if she is okay with that, and Britney says she is. To make the game fair, Julie asks the yellow team to chose a red team player who has already made it across to go again in place of Britney. The yellow team picks Kristen, and the game ends when the red team quickly smokes yellow, with Hayden taking the first HoH. The Saboteur Strikes! After cleaning up from the very messy HoH competition, the HouseGuests lounge in the living room. Suddenly the lights go out, sending the House into total darkness. At first Britney thinks there is some sort of technical difficulty, but it becomes clear that the Saboteur just may be at work. Despite the darkness Brendon continues a search for his toothbrush, while Andrew takes the opportunity to pull some pranks by opening and closing bedroom doors. The lights come up again and the monitor flashes on—the Saboteur thanks the HouseGuests for making the first move of the summer so easy! There is now a lock on the storage room door, which means no food or supplies and a diet of BIG BROTHER slop for the night! The accusations soon start flying as Ragan notes they are living within a murder mystery. If the first prank is starvation, Matt asks, where will the Saboteur go from here? Talk about a fun start to the BIG BROTHER season! So whom will Hayden nominate for eviction? How will the Saboteur strike again? Can the HouseGuests figure out who is the traitor among them? Tune in Sunday, July 11 at 8pm ET/PT for BIG BROTHER on CBS!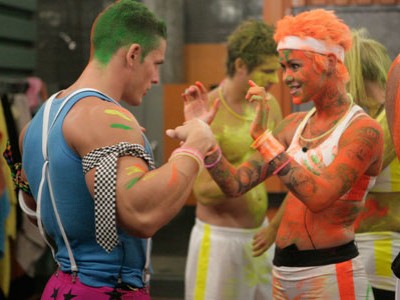 #13 - Nomination Ceremony #1
Season 11 - Episode 2
As the HouseGuests start their strategy gameplan and with the "Athletes" safe from nomination, the first Head of Household, Jessie, makes the first set of nominations from either the "Brains," "Populars" or "Off-Beats."
#14 - Nomination Ceremony #1
Season 12 - Episode 2
Season 12: Episode 02: HoH Hayden Chooses a Target for Elimination The HouseGuests are reeling after the Saboteur's first attack—all of their food is now behind the locked storage room door! The prime suspects are Brendon, who inexplicably got up to get his toothbrush in the darkness, and Andrew, who was supposedly pulling pranks while he wandered around during the blackout. Andrew admits he is relieved he has immunity from nomination for sitting out on the first HoH competition. So have the HouseGuests fingered the Saboteur already? Who Wants to See the HoH Suite? Hayden is stoked to show off his blue and silver-themed Head of Household suite, which he describes as a "slick, contemporary" space. Ragan finds Hayden's very wholesome family photos (and a lack of shirtless "dude" shots of himself) a good sign that the HoH will make good choices when it comes to nominations. Rachel wants to know what the rope in his HoH basket is for, and Hayden explains when he was younger he learned rodeo skills. "Can you rope the Saboteur?" one HouseGuest asks. Geek Love The first sparks of attraction are literally electric when Brendon and Rachel reveal during a Hammock chat they both have science-related degrees. Rachel finds it very sexy that Brendon is getting his PhD. The feeling is mutual, because Brendon finds smart women interested in science a major turn on. Annie, the third wheel in the hammock, feels awkward. "I felt like I was watching my parents have sex," she says, noting she was "the cream in the scientific cookie." While love blossoms the game continues. Up in the HoH Suite, Enzo, Hayden, Matt, Monet and Kathy discuss the Saboteur. Matt notes that even if they are suspicious of Andrew he's safe for the week. Kathy thinks the Saboteur is a girl, especially a trustworthy one. She suggests Annie might be a possibility but Matt doesn't think she is the likely choice. Hayden realizes he is back at square one—just whom does he put up? Coming Out Annie pulls Ragan aside to the cabana room for a quick heart-to-heart. She has decided to come out to him as bisexual. "I actually have a girlfriend," she says as Ragan hugs her. Outside, more Brendon/Rachel bonding continues in the hot tub. As the two scientists continue to explore one another, Hayden takes notice. "They are a showmance in the making," Hayden declares, noting this development is not good for anybody. A little later Enzo and Hayden talk on the chaise lounge about how they could run the house together. It turns out Enzo is gunning to form his own mafia in the house, and takes the first steps to form an alliance. Enzo forms the first strategic alliance of the season, "The Brigade," with Hayden, Matt, and Lane. Enzo notes every mafia needs some muscle, like Lane, who he nick names "The Beast." Hayden is deemed "The Animal," and Matt is "The Brains," while Enzo names himself "Meow Meow," because like a cat he can be sneaky but cool and calm. True to his name, Lane doesn't understand the word "Brigade" and admits he doesn't really understand what comes out of Enzo's mouth. Time for the Have and Have Not Competition Bedecked as a very muscular tooth fairy, Hayden kicks off the season's inaugural Have and Have Not competition. The HouseGuests split into three teams of four as Hayden explains one member of each team must jump in a pool of caramel, climb under a huge straw and jump into a massive vat of popcorn and find a "sweet tooth" tile. The two teams that collect all eight of their tiles first are the Haves, while the last team becomes the Have Nots. Andrew notes it is more important for him to win this competition than an HoH competition because slop is not kosher! Monet notes jumping into the caramel is like "hitting a brick wall." Brandon almost loses his shorts when he slogs through the caramel, which gives everyone a view of his butt—Rachel, of course, finds this very cute. Everyone struggles, but Ragan can't believe how nonchalantly Kathy takes the competition when she leisurely looks for her first tooth. As Lane plows through the caramel, Kathy gets stuck and comes to a complete stop, irritating her team members. To add insult to injury, Britney accidentally kicks Kathy in the head as she rushes past her. Despite an initial lead, Kathy's team can't get their eight teeth in time, making them the Have Nots. Along with Kathy, fellow teammates Matt, Rachel and Ragan find out they not only have to take cold showers and eat an all-slop diet, they must now live in the dreaded "Have Not" bedroom, which Hayden warns is the worst in BIG BROTHER history. The good news is completing the Have Not competition means the HouseGuests get bolt cutters to break off the storage room lock. Not the Presidential Suite Hayden's warning proves to be more than true—the HouseGuests are appalled at the fish locker-themed Have Not Bedroom, which includes jars and jars of smelly bugs as decoration and plastic chaise lounges for beds! The game aftermath continues when Kathy tells Britney she had it easier because Britney's teammate Enzo left a tooth for her uncovered. Britney is not happy that Kathy is insinuating she was the weakest player. "You're trying to tell me I'm the worst one?" Britney asks incredulously in diary room. Britney announces Kathy doesn't need an enemy in this game, and she's making one fast. The Saboteur Strikes Again The next morning Andrew notices someone has put tape across two images on the memory wall—both Kathy and Britney have been tagged. Andrew immediately runs up to Hayden's room to fill him in, which only makes Hayden more suspicious Andrew is the Saboteur. Kathy brushes off the sabotage outwardly, but she admits privately this could ruin her game. The Saboteur suddenly comes on the monitor and warns them to "observe, listen and watch your back." Britney heeds the warning and goes right up to the HoH Suite to work on Hayden. Britney tells Hayden she doesn't think she deserves to be sabotaged, while Hayden assures her it was a move to just create drama. Hayden asks Britney whom she would nominate and Britney quickly throws out Brendon and Kathy's names. Britney says she'll vote however Hayden wants her to, but Britney's suggestion now has Hayden thinking—is Kathy a better choice for nominations than Rachel? Time for Hayden's Debut The HouseGuests quietly file in for their first nomination ceremony. Hayden begins by handing Andrew his key, reminding everyone Andrew is safe for sitting out on the HoH competition. Hayden then pulls Annie's key, announcing she is safe. Ragan, Enzo and Kristen are all relieved to find discover they are safe, with Britney, Matt, Monet, Kathy and finally Lane getting their keys. Rachel and Brendon are the first nominees for eviction. Hayden tells Brendon he was unaccounted for during the blackout, and informs Rachel she hasn't gotten to know him. Hayden later reveals Rachel is his pawn and Brendon is the target. Rachel is shocked, while Brendon feels Hayden has made a huge mistake by making himself an enemy. Will Rachel or Brendon win the Veto and escape the chopping block? And what will be the Saboteur's next move? Find out Tuesday, July 13 at 8pm ET/PT on BIG BROTHER on CBS!
#15 - 1st HOH
Season 4 - Episode 2
DRAMA-RAMA Unhappily reunited, each pair of exes chooses their own way to deal with their past loves. Amanda and Scott have delighted the other HouseGuests with their seemingly limitless capacity to argue about everything, and are never at a loss for harsh words. Meanwhile, Justin and Alison seem to be burying the hatchet. Or are they? Lounging comfortably on a bed and talking in hushed tones, the two former lovebirds make amends, but how sincere are their intentions? Alison later admits in the Diary Room that she is ""going to have to be nice, and then stab him in the back."" She's not the only person looking to evict an ex. Robert reports that he is ""here to play the game,"" and that if Erika stands in his way, ""she's gone."" SWEET DREAM OR WORST NIGHTMARE? The five who were late to arrive are given Bed Passes, which allow them to choose any bed they want, thereby condemning members of the ""Elite Eight"" to sleep on couches and cots if they choose to use the pass. Michelle, Amanda and
#16 - Week 1 Nominations
Season 15 - Episode 2
After McCrae won the first Head of Household competition of the season, he must nominate two of his fellow HouseGuests for eviction. The third nominee for eviction will be made prior to the Power of Veto competition. The first "Have or Have Not" competition of the season also takes place.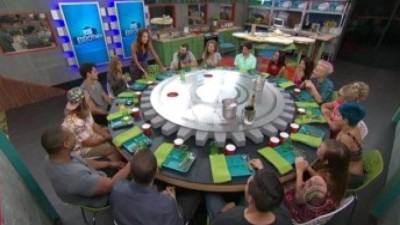 #17 - Season Premiere Part 2, Head of Household #1B
Season 16 - Episode 2
Eight new Houseguests join the battle for $500,000, a second HoH is chosen, and Julie reveals the first member of Team America.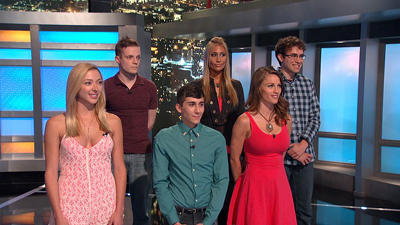 #18 - Season Premiere Part 2, Head of Household #1B
Season 17 - Episode 2
The remaining Houseguests move in, plus the "BB Takeover" begins as the first surprise guest delivers a game changer!
#19 - Season Premiere (2): Auto Eviction, Head of Household 1, Nominations 1
Season 18 - Episode 2
Tonight, one team must compete against each other, the loser will be the first House Guest sent packing, leaving the reaming three to decide which one of them will be the first Head Of Household of the Summer. Plus, two House Guests will be nominated for eviction.
#20 - Live Eviction 1
Season 6 - Episode 3
The third episode of the sixth installment of Big Brother reveals the 7 partnerships within the 14 Houseguests.
#21 - PoV Comp #1; PoV Ceremony #1
Season 8 - Episode 3
The Power of Veto competition and veto ceremony.
#22 - Veto Competition #1
Season 5 - Episode 3
""I CHOOSE NOT TO"": SCOTT WINS PoV, DOESN'T USE IT The noose continues to tighten around Mike's neck as Scott wins the Power of the Veto in the ""Flaringo"" ring toss game. After some deliberation, Scott elects not to use the PoV. This decision leaves both Jennifer, a.k.a. Nakomis, and Mike as the HouseGuests still up on the block.
#23 - PoV Comp #1; PoV Ceremony #1
Season 12 - Episode 3
Season 12: Episode 03: A Key Veto Win Shakes up the Nominations ­Brendon is not surprised that Hayden nominated him for eviction, but he didn't expect Rachel would be on the chopping block with him. Rachel sees this as her worst case scenario, while Head of Household Hayden thinks that he and his secret "Brigade" alliance including Enzo, Matt, Lane and himself have had a great first week. Brendon and Rachel console one another as Annie comes in to tell them that they got a raw deal. Annie feels close to the pair, and sees their nomination as bad for her personally and for her game. Secret Brigade alliance members Enzo and Lane both come in to watch the nominees' reactions, and notice the connection between Rachel, Brendon and Annie. Enzo doesn't like what he sees, and decides he needs to keep his eye on Annie. Outside after the nomination ceremony, Enzo tells Hayden and Lane that he thinks Annie is aligned with Brendon and Rachel, and that Annie is a strong player they need to watch carefully. If they need a replacement nominee, is she the choice? Being put on the block together has only drawn Brendon and Rachel closer. Brendon almost cries over his nomination, which prompts Rachel to get closer to him. Their first big make out session takes place on the hammock, with most of the house watching and giggling from the kitchen. Hayden can't believe that they're making themselves even bigger targets than they already were. After their canoodling, Brendon makes his way up to the HoH suite, where he basically threatens Hayden. "I would be worried about you," Brendon tells Hayden before he alludes that he is aligned with Annie. "Is this guy nuts?" Hayden wonders. Cinco de May-o It's time to pick players for the first Veto Competition. Besides the two nominees and the HoH, three additional players must be chosen at random. Drawing names from a bag, Hayden randomly picks his secret ally Enzo while Brendon randomly picks the house wild card Andrew. Rachel wants to pick Annie, but is visibly disappointed she draws Monet's name, something an angry Monet definitely notices. Veto host Annie brings everyone outside to a backyard transformed into a huge Fiesta with dozens of piñatas hanging across the lawn. Annie explains that the Veto players must smash open the piñatas and find lettered tiles. The player who can spell the longest word with their letters within ten minutes wins the Veto. But instead of candy, the piñatas are filled with spoiled mayonnaise! The yard turns into a big sticky mess as the players smash open their piñatas. Physician Andrew purposely misspells "pasteurized" to deflect attention from himself by throwing the competition, making the clear winner Brendon, who spells the 13-letter-word "understanding." Hayden and the rest of the Brigade view the Veto competition as a "blunder." Who do they nominate now? Enzo reaffirms his belief that they should make a power move and put up Annie, but Lane thinks Annie could be a powerful ally, and the one to go should be Arkansas sheriff Kathy, who is viewed as a weak player by many in the house. While the Brigade debates in the HoH suite, Britney comes up and affirms the Annie decision. But it turns out a little later Britney is playing a couple of angles—in a conversation with Annie, she reveals that Hayden thinks Annie is in cahoots with Rachel and Brendon. Annie doesn't trust Britney, so she decides to confront Hayden. "Who told you I'm aligned with Brendon and Rachel," Annie asks. "Britney," Hayden tells a stunned Annie. "Britney is stirring up trouble," Annie fumes. What the Saboteur Said! The Veto drama comes to a halt when the Saboteur makes an unexpected announcement on the living room monitor. The Saboteur makes it short but sweet—two of the HouseGuests are lifelong friends. "It is quite easy to figure out," the Saboteur says, leaving the HouseGuests wondering who the pair is. Andrew thinks Matt and Ragan might be lovers, but Kristin wonders if the whole thing is a lie. Is the Saboteur onto something or is he or she just messing with them? So Who Goes Up? Brendon calls everyone in for the Veto ceremony. Rachel congratulates Brendon on winning the competition, and tells him to do what he has to do. Brendon takes himself off the block, which leaves Hayden with the responsibility of nominating another HouseGuest for eviction. Hayden takes Enzo's advice and nominates Annie. She says it is okay, but Annie makes sure to spit out, "Lies weave evil webs—Britney!" Rachel is happy for Brendon, while Hayden notes that no matter who goes home, it's good for the Brigade. So who will be the first evicted HouseGuest? And who will be revealed as the Saboteur? Tune in for the live eviction ceremony on Thursday, July 15 at 8pm ET/PT for BIG BROTHER on CBS!
#24 - PoV Comp #1; PoV Ceremony #1
Season 13 - Episode 3
Following Rachel's nomination of Porsche and Keith for eviction, the three of them and three others vie for the Power of Veto.
#25 - PoV
Season 7 - Episode 2
"Chilltown" plots against Ali to make sure she goes home, while Danielle does damage control with the Season 6 Alliance and others after her disasterous first moves in the house. Later, the season's 1st veto competition is won by Janelle, who keeps in place her and Jase's nominations.