Beverly Hills, 90210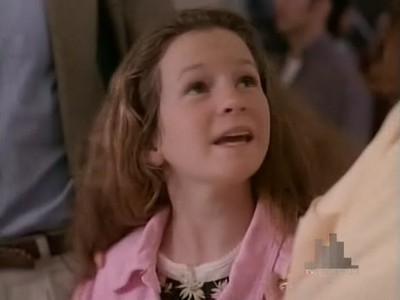 #1 - Mr. Walsh Goes to Washington (2) 8.90
Season 4 - Episode 32
Brandon and Kelly spend the day together and decide to become a couple. Brandon meets President Clinton, and everyone watches the moment on television. Dylan, Brenda and Erica have a great time hanging out at the carnival. Brenda feels overshadowed by Brandon's success; she realizes that her true calling is the theater. Before leaving for London, Brenda stops by Dylan's house to thank him for his support and profess her love. They spend one last night together. Kevin convinces Dylan to back out of the deal with Jim's investors. Jim angrily resigns as Dylan's business manager and gives him control of the money. Kevin and Suzanne steal all of Dylan's money and flee to Brazil. Erica pretends to be oblivious but leaves a pleading note for help (with Dylan's address) in an airport bathroom. Andrea heads for home, while Hannah remains hospitalized. David receives the chance to play keyboards during a Babyface performance. Donna catches him having sex with Ariel in the back of a limousine. He later admits that it wasn't their first time, and she throws him out of the apartment. John continues to torment Steve at the carnival. Steve challenges John to a joust above the mud pit and will leave the KEG house if he loses. Brenda and Donna describe John's sordid past to Celeste, and the three ladies help Steve win by flashing John. Celeste and Steve agree to spend the summer together. Music: 'For the Cool in You' / 'When Can I See You?' by Babyface.
#2 - Truth and Consequences 8.65
Season 4 - Episode 29
Brenda wins the lead, much to the amazement of those who saw her audition. Steve starts a rumor that Brenda slept with Roy. Dylan is the only person who completely believes Brenda's denial. Laura causes Brenda to miss a rehearsal in an attempt to get her fired. When this fails, she asks Steve to injure Brenda. Roy kicks Laura out of the play. Steve and Brenda race to stop Laura from killing herself in the auditorium. Suzanne and Kevin get engaged, and Dylan learns more about Kevin's research. Kevin quits his job and decides to pitch the project to independent investors. Clare tries to tag along on Brandon's trip to Berkeley. Brandon tells the chancellor the truth about his daughter's behavior. Music: 'Free Ride' by The Edgar Winter Group, 'Lightning Strikes' by Lou Christie.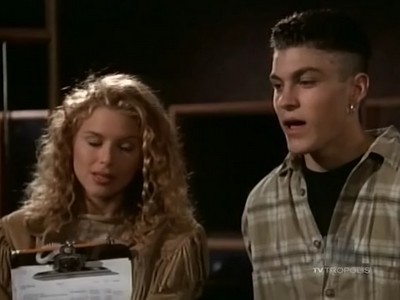 #3 - Vital Signs 8.64
Season 4 - Episode 30
Brenda receives rave reviews for her performance in Cat on a Hot Tin Roof. Dylan gives her a special present on opening night, and the two seem to have lingering feelings. Steve is reluctant to attend the play because of his rift with Brenda. Andrea learns that her baby may be born prematurely, and is forced to check into the hospital. She goes into labor. Donna tries to book singer Babyface for the campus Mardi Gras festival. David meets a record company employee who introduces him to a talented band. David declines an offer to join because the band members are drug users. Erica overhears Suzanne and Kevin discussing a move to South America, but they claim that she misunderstood. Dylan considers becoming Kevin's business partner. Kelly grows tired of Dylan's involvement with Suzanne, Erica and Kevin. She and Dylan decide to break up. Brandon fears that Clare could cost him a chance to travel to Washington with the task force and meet the president. Music: 'Cantaloop (Flip Fantasia)' by Us3, 'I'll Always Love You' by Babyface.
#4 - Emily (a.k.a. The Pink Pearl) 8.50
Season 4 - Episode 13
Emily has been accepted to the prestigious Cousteau Institute in France, but does not want to attend because she and Brandon are in love. Brandon observes her passion for marine biology and encourages her to pursue her dream. Brenda balks when she is asked to appear nude in an experimental campus play. The frat and sorority pledges must endure a series of humiliating experiences during ""Hell Week."" The upperclassmen order Steve to steal a prize autographed baseball from Professor Randall for a scavenger hunt, but he gets caught. Andrea breaks up with Dan and begins dating Jesse. She learns that he is a UCLA law student who attended undergraduate courses at Yale. Music: 'San Francisco Days' by Chris Isaak.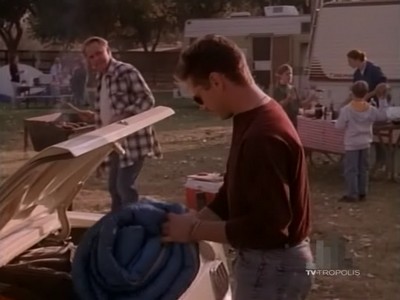 #5 - Radar Love 8.41
Season 4 - Episode 12
After mistaking a woman at a gas station for Emily, Brandon decides to visit Emily's home in Marin County. He learns that the family has moved to Greece, but runs into Emily by chance on a cable car in San Francisco. They rekindle their romance and decide to spend Thanksgiving together. Emily does not reveal that she must move away in a week. The KEG house and Alpha sorority serve Thanksgiving dinner at a halfway house, and John tries to take advantage of a 15-year-old girl. Steve intervenes and has the fraternity president distract John. Dylan declines Kelly's Thanksgiving invitation because he plans to go surfing, but later agrees to dine with the Walshes. When Kelly comes over with her family, she snaps at Dylan and makes a scene. Andrea is hesitant to attend a Thanksgiving soiree at the home of Dan's parents. Jesse, the bartender from the Walshes' anniversary party, works at the affair. He asks Andrea out, and she willingly gives him her address. Music: 'Radar Love' by Golden Earring.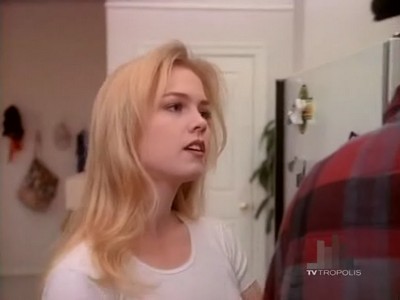 #6 - Thicker Than Water 8.37
Season 4 - Episode 17
David is unable to eat or sleep because of his drug addiction. He steals codeine from his father's office in the hopes of calming his nerves. He falls asleep in the park while babysitting Erin, and she disappears. She is found hiding in a nearby house, and a guilt-ridden David confesses his drug problem to Kelly. Dylan takes care of Erica while Suzanne is out of town. He turns to Cindy for help when Erica experiences a major life event. Jim tells Dylan that Suzanne, who had claimed to be broke, has $25,000 in her account. Suzanne explains that she has just received the insurance settlement for her trailer. Donna meets a handsome ski instructor during a weekend in the mountains with Brenda, Steve and Brandon. Andrea learns that she is pregnant.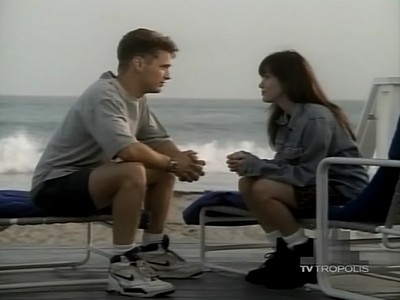 #7 - So Long, Farewell, Auf Wiedersehen, Goodbye 8.36
Season 4 - Episode 1
Steve is accepted to California University. A producer hoping to entice Samantha to star in a sitcom allows Steve, Brandon and Celeste to use his beach house for a few weeks. The gang throws a blow-out bash the night before Brenda is to leave for Minnesota. Kelly comes home early from Europe... without Dylan. She claims that all is well but later confesses to Donna that the couple broke up. The next morning, Jill, the producer's daughter, finds Brandon in her father's trashed house and believes that he is a burglar. She's about to attack him with mace but Brandon talks her down. It turns out that Steve has had a crush on Jill for years and annoys Celeste by falling all over her. But Jill only has eyes for Brandon. Brenda's friends and roommates in Minnesota constantly pepper her with questions about Beverly Hills. Not only that, but they talk behind her back and leave her out of activities. She fears she has made a terrible mistake, but Cindy insists that the situation will improve. Dylan tries to call Brenda from Europe, but she is not in her room and misses his call. David has difficulty finding an apartment after he fails to get into a dormitory. Kelly and Donna decide to give up their dorm room to share a beautiful beach-front apartment with David. Andrea, concerned by her grandmother's poor health, passes on Yale to attend California University. She is hurt when Gil not-so-nicely teases her about her decision and is disappointed to learn that he is engaged. Music: 'Summer Means Fun' by Bruce and Terry, 'Summertime Blues' by Eddie Cochran, 'Tip of My Tongue' by Diesel, 'Surfer Gir'l by Beach Boys.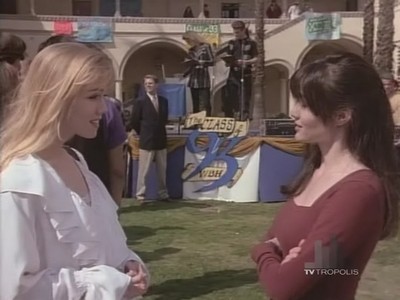 #8 - Senior Poll 8.36
Season 3 - Episode 25
Kelly stops attending her eating disorder group because the girls with more severe cases unnerve her. Kelly wins 'Most Beautiful' in the senior poll, while Dylan is ""Most Handsome."" Kelly suspects that everyone judges her entirely on her looks, and blows up at Dylan and Jackie. Dylan lets her read a section from his manuscript in which he describes his feelings for her. Brenda feels isolated from her classmates when she fails to win anything in the poll. She decides to apply to the University of Minnesota. Brandon and Steve take Jim and Cindy to a Lakers game because they can't get dates. They do not arrive until nearly halftime because of Brenda's big news and a traffic jam. Steve wins the chance to take a half court shot for $10,000, and makes the shot. He anonymously donates the money to the school to revive a summer camp for elementary school students. Music: 'Man on the Moon' by R.E.M., 'Humpin' Around' by Bobby Brown.
#9 - Mr. Walsh Goes to Washington (1) 8.35
Season 4 - Episode 31
Brandon travels to Washington, D.C. to make a presentation for the task force. He considers giving in to the persistent Clare. Lucinda, in town for a meeting, shows up at the hotel; both women grope Brandon under the table during an important dinner. Kelly confesses her feelings for Brandon to Andrea and decides to surprise him. Roy offers Brenda the opportunity to spend the summer studying theater at the Royal Academy in London. Kevin and Suzanne get married. He and Dylan consider producing his project without outside assistance. Andrea gives birth to a 2 pound, 6 ounce daughter, Hannah. She and Jesse struggle to remain positive as Hannah fights to survive. Steve has a run-in with John Sears at the university carnival, and is hurt to learn that he is dating Celeste. Donna is jealous of the amount of attention Ariel devotes to David.
#10 - Crunch Time 8.35
Season 4 - Episode 16
The fraternity ostracizes Steve because many people believe that he escaped punishment for the break-in by squealing on others. John refuses to allow Steve any playing time on the intramural volleyball team. Steve becomes fed up and accuses John of tipping off the cops. The KEG house holds a ceremony to decide which of the two should be ousted from the house. John arrogantly confesses to his friend Keith, who sides with Steve. This gives the remaining members the courage to vote against John. Dylan bonds with Erica during a trip to Magic Mountain and offers to loan Suzanne money to get her back on her feet. He offends Suzanne when he follows Jim's advice and asks for her social security number. They apologize for the misunderstanding, and Erica secretly gets Dylan the information. D'Shawn begins to pay attention to his studies after a lecture from his sister. He tears up his knee in his first game, but passes his sociology final without assistance. David acts like a jerk around Donna and Kelly, and begins taking crystal meth to get through his finals and radio show. Andrea gets a new resident advisor after Dan moves out. Donna tries to get David back, even going so far as to offer to sleep with him, but he refuses her. Music: 'Can We Talk' by Tevin Campbell, 'Living in a Fantasy' by the Rainbow Band.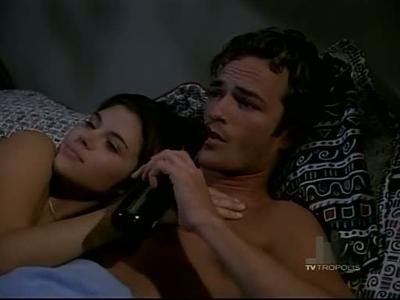 #11 - Life After Death 8.30
Season 5 - Episode 4
Brandon has difficulty coming to grips with Josh's death. Kelly tries to support him, but fears that they are drifting apart. Alex tells Brandon that he is contesting his presidency. Brandon doesn't even want the job, but decides to fight for it after Josh's sister shows him a letter in which Josh spoke highly of Brandon and his ideals. Brandon gets Steve out of a jam when the cops break up a party at the KEG house. Clare takes a liking to David, unaware of his history with Donna. Donna objects when Felice sets her up with a friend's son, until he turns out to be the handsome and charming guy she had just met at a party. Donna declares that she is over David and agrees to help Clare and him with a video project. Valerie continues to spend her days with Steve and her nights with Dylan. Music: 'All I Wanna Do' by Sheryl Crow (#2, 1994), 'Anything' by Culture Beat.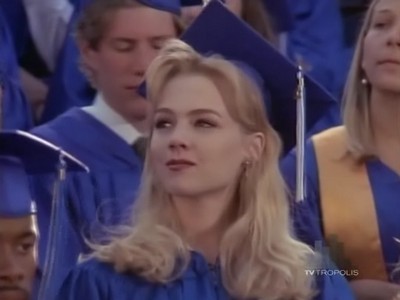 #12 - Commencement (2) 8.28
Season 3 - Episode 30
Steve confesses to Brandon that he made sure that Mrs. Teasley could trace his ""anonymous"" donation, but Brandon tells him that his deed still helped many children. David learns that he earned a high grade on his chemistry final and can graduate early. Brenda and Dylan reflect on their relationship as she seeks his advice about college. Valedictorian Andrea panics and forgets her speech, but quickly regains her composure. Kelly is thrilled when her father makes a surprise appearance at the ceremony. Dylan asks Jim to re-establish the trust because he does not want his money to consume him. The gang spends the night on a hill overlooking the city. Andrea confirms that she is going to Yale, while Brenda announces her decision to attend Minnesota. Dylan is undecided about college, but asks Kelly to join him in Europe for the summer. The next morning, everyone descends the hill to view their legacy; they have covered the Hollywood sign with the message 'W Bev Hi 93'. Music: 'Blood Is Thicker Than Water' by the Triplets.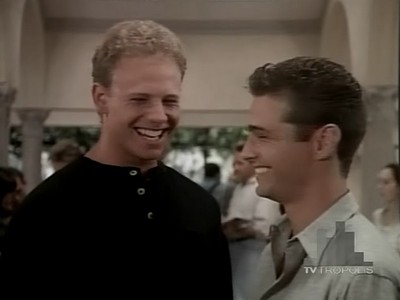 #13 - Radio Daze 8.27
Season 4 - Episode 5
Donna quits the radio show because she can no longer take the demanding schedule. When she goes to tell Howard, he asks her to fill in for a missing DJ. He offers her the afternoon show, which angers David, but recants after reconciling with his girlfriend (the previous afternoon DJ). John continues to pursue Kelly. Dylan and Kelly argue because he does not wish to attend the freshman pool party. He does show up, but Kelly later kisses John outside her apartment. Dan is Andrea and Donna's English teacher. He encourages Andrea to expose more of herself in her writing, and asks her on a date. Brenda takes a job at Jim's office. She gets in hot water when she forgets to deliver some important contracts. Steve plans to break up with Celeste so that he can play the field. He realizes his true feelings for her, but has to beg for forgiveness after ignoring her at the pool party. Music: 'Under Pressure' by Sunscreem, 'Sleeping Satellite' by Tasmin Archer, 'Live and Learn' by Joe Public.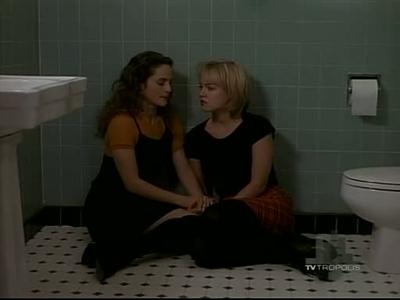 #14 - Up in Flames 8.26
Season 5 - Episode 13
Emily flies back from Paris to attend a seminar at La Jolla. She asks Brandon to meet her at the airport, claiming to have just a four-hour layover. She actually has a week until the beginning of her seminar, but Brandon breaks her heart by revealing that he is dating Kelly. When he sees her back to her hotel room, they share a passionate kiss. Steve and Griffin organize a holiday rave at an abandoned house. Valerie helps them out in the hopes of getting back in Steve's good graces. David and Clare accidentally post the notice about the event on a computer bulletin board for lesbians, who constitute most of the guests. The house has very poor wiring and continually blows fuses. Griffin uses too much electricity, and the house catches on fire. Ray rescues Steve and Valerie, who were fooling around in one of the bedrooms. Kelly and a girl named Allison are trapped in a downstairs bathroom with no means of escape. The fire fighters try to reach them as they are engulfed by flames. Music: 'I'm Gonna Get You' by Bizarre Inc., 'Every Day of the Week' by Jade, 'The Comfort of Strangers' by Jamie Walters, 'Incense and Peppermints' by Strawberry Alarm Clock, 'What Your Love Means to Me' by Hi-Five.
#15 - Change Partners 8.24
Season 4 - Episode 22
Brandon and Kelly attend a weekend retreat. The chancellor's teenage daughter Clare develops a crush on Brandon. Brandon confesses his affair with Lucinda to Kelly. Brandon and Kelly realize they must discontinue the charade after they share a passionate kiss. Lucinda invites Dylan to her house to view her film, and makes a pass at him. Donna and Brenda befriend a stray dog, which they name Rocky. They learn that the animal escaped from the university's research lab, and are afraid to return him. Brenda takes an interest in an animal rights group that is protesting the lab. Andrea, who works at the facility, argues that the lab is researching potential medical breakthroughs. She returns the dog safely to Donna. Andrea is furious when Steve lets Muntz use her room for a rendezvous with his girlfriend. She fears that the resident adviser will kick her out, but Steve makes amends by sleeping with the woman. Music: 'Get Closer' by Seals and Crofts, 'All The Way' by Hoodoo Gurus.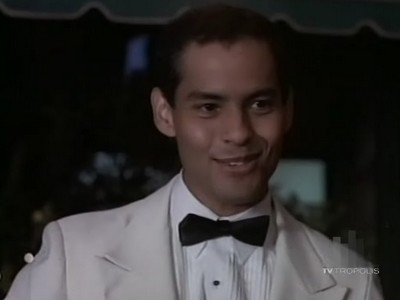 #16 - Twenty Years Ago Today 8.21
Season 4 - Episode 8
The Walshes host a party to celebrate their twentieth anniversary. An unstable Dylan buys a gun from a private dealer and waves it around like a toy. Brandon breaks into Dylan's house to retrieve his parents' anniversary gift, and Dylan nearly shoots him. He promises to dispose of the weapon. Dylan warns Brandon that Stuart has an unsavory past. Stuart proposes to Brenda during the party. Everyone (except Jim's mother) is stunned when they announce their engagement. Mel dumps Erin off on David so that he can spend the weekend in Mexico with his girlfriend. Jackie is enraged when Erin becomes ill. Andrea reconsiders her relationship with Dan. She flirts with the handsome bartender at the Walshes' party. Brandon meets an attractive doctoral student at the campus gym. Music: 'What the World Needs Now Is Love' by Jackie DeShannon.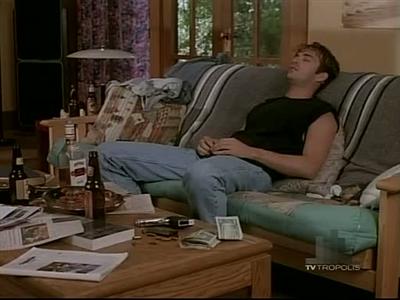 #17 - Things That Go Bang in the Night 8.19
Season 5 - Episode 8
Val wants to move back to Buffalo, but her mother has checked into a mental facility and cannot care for her. Brandon explains Valerie's situation to Steve and asks him to give her another chance. A pool hall acquaintance supplies Dylan with drugs. Brandon behaves coldly toward Valerie after she skips a party to go to Dylan's house. She reveals the gravity of Dylan's situation and pleads with Brandon for help. Dylan finds his gun and points it at brats who vandalize his house on Halloween. He shoots up his living room. Brandon confiscates Dylan's gun, ignoring his threats of legal action. After Dylan passes out, he stays to watch over him. Ray reacts angrily after seeing Griffin kiss Donna at a Halloween party. Donna finally tells Griffin about Ray; he responds rudely and gets slapped. Ray agrees to respect Donna's decision to remain a virgin. Andrea hesitates to take Hannah to a Día de los Muertos ceremony. She enjoys the experience, but expresses reservations when Jesse's catholic aunt gives Hannah a necklace of the cross. David and Clare camp out in the desert to look for aliens. Music: 'Dream Baby (How Long Must I Dream)' by Roy Orbison, 'Papa Was a Rolling Stone' by the Temptations, 'Twilight Zone' by Golden Earring.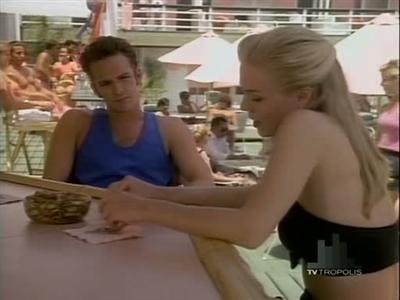 #18 - Too Little, Too Late/Paris 75001 8.19
Season 3 - Episode 3
Brenda and Donna have difficulty adjusting to life in France. Donna constantly complains about missing David, and Brenda soon begins to long for Dylan. They accidentally order brains at a restaurant, and Donna later spends an entire party eating pastries because she can't carry on a conversation in French. Andrea's boyfriend invites her to join him at the Republican Convention in Houston, where he is working for CNN. Brandon becomes jealous and kisses Andrea in an attempt to dissuade her from leaving. An outraged Andrea observes that Brandon is only interested in her because she has a boyfriend. Andrea decides to skip the convention because she is enjoying her work at the camp--especially with Cameron, a deaf boy whom she helped bring out of his shell. Jack goes up for parole, and asks Dylan to write a letter on his behalf. He reluctantly does this, but Jack's parole request is denied. Dylan and Kelly begin to flirt rather obviously.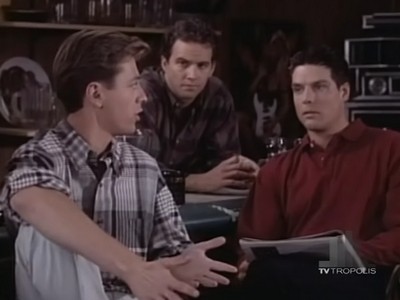 #19 - Windstruck 8.18
Season 4 - Episode 14
Donna and David celebrate their second anniversary as a couple. She finally agrees to sleep with him, but their romantic evening is interrupted by a surprise visit from her parents. Donna dodges suspicion by admitting that David lives in the apartment. Felice is angry at the deception, but Dr. Martin encourages her to let Donna live her own life. Donna puts David on hold because she does not want to betray her parents' trust. The KEG house distances itself from Steve to avoid the penalties for hazing. Lucinda tells Brandon that someone tipped off campus security about Steve's break-in. Professor Randall accuses Brandon of sleeping with Lucinda and plans to take out his anger on Steve. He drops the charges after Brandon threatens to report him for giving D'Shawn undeserved grades. Kelly and Dylan get back together. Andrea and Jesse fall for each other. Dan angers Andrea with his racial slurs about Jesse. Music: 'Hey Jealousy' by Gin Blossoms, 'I Fought the Law' by The Bobby Fuller Four, 'Midnight Train to Georgia' by Gladys Knight and the Pips, 'For the Cool in You' by Babyface.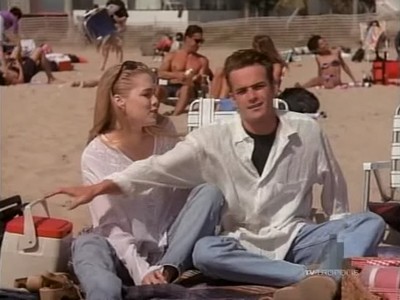 #20 - Acting Out 8.17
Season 4 - Episode 28
Brenda accuses Kelly of betraying her and refuses to speak to her. Kelly's relationship with Dylan is strained by the situation with Brenda, and Kelly's disdain for Suzanne and Erica. Kelly drops out of the auditions because she does not want to be an actress. She and Brenda make up and admit their mutual jealousy. After witnessing Laura's brilliant performance, a nervous Brenda tanks her audition. She shows up at Roy Randolph's house that night in search of another chance. Clare tricks Brandon into taking her to the senior prom. At the after-party, she flashes and dumps beer on some guys before giving them the room number. Brandon winds up getting into a fight, and helps Clare clean up the trashed hotel room. Andrea continues to worry about the baby as Jesse leaves for an out-of-town trip. She collapses in pain, and Donna rushes her to the hospital. The doctor orders Andrea to stay in bed for the remainder of the pregnancy. Dylan becomes interested in environmental chemist Kevin's plan to clean the beaches. Music: 'Gimme Little Sign' by Brenton Wood, 'The Sign' by Ace of Base.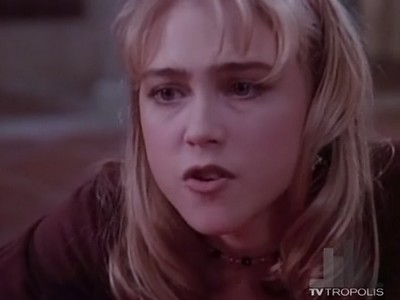 #21 - Take Back the Night 8.14
Season 4 - Episode 11
Steve tells Laura that he cannot see her again because he has a girlfriend. During the activities for "Take Back the Night" week, she concludes that she was a victim of date-rape and plans to identify Steve at a campus rally. Kelly warns Steve, who adamantly proclaims his innocence. Steve confesses his indiscretion to Celeste, who promptly breaks up with him. Before Laura can speak at the rally, Kelly steps up to the microphone. She shares that she was nearly a victim of rape, then pointedly adds that there were other times when she regretted sleeping with a guy but had consented at the time. She identifies Steve as a hero for saving her from the rapist at the Halloween party. Steve apologizes for using Laura, who admits that she had done nothing to discourage him. Lucinda insists on openly flirting with Brandon, who wants nothing to do with her. D'Shawn threatens to tell Professor Randall that Brandon is sleeping with his wife unless he takes his midterm for him. Lucinda encourages Brandon to take the test, so he leaves town in frustration, hoping to connect with his ex-girlfriend, Emily Valentine. Dylan helps Brenda get caught up in their poetry class. John lashes out at Kelly when she refuses to sleep with him. Dylan throws a pie in John's face after the rally. Dan and Andrea debate feminist issues. Music: 'Heard It Through the Grapevine' by Marvin Gaye, 'Only You' by The Platters.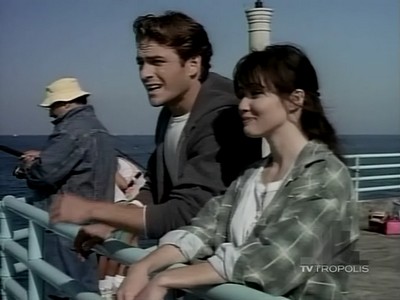 #22 - The Little Fish 8.13
Season 4 - Episode 3
Jim and Cindy are shocked when Brenda returns from Minnesota. Brandon considers moving out because he can no longer use Brenda's bedroom as a rec room. Brenda announces that she is not interested in returning to college. Dylan grows tired of waiting to register and also chooses to forego college, much to Kelly's chagrin. Brenda and Dylan spend a relaxing day fishing, and elect to enroll in California University after all. Andrea tries out for the college paper and must review the Peach Pit. She catches Nat on a very bad day and writes a scathing review. Andrea decides to pass on the paper and enroll in pre-med courses. Josh Richland, editor of the Condor, asks Brandon to run for Student Senate for the Progressive party. David and Donna interview for the campus radio station, and he is furious when she lets their aircheck tape melt in the car. The station manager enjoys their banter and gives them the overnight show. Steve cheats on his math placement exam, but it nearly backfires. Music: 'Feel Like a Number' by Bob Seger and the Silver Bullet Band, 'Earth Angel' by the Penguins.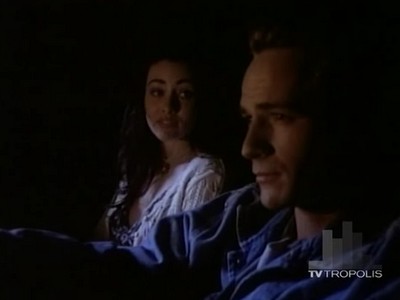 #23 - Addicted to Love 8.12
Season 4 - Episode 21
Josh Richland tries to dig up dirt on Brandon for a newspaper article. Lucinda suggests that Brandon bring a date to task force functions to throw Josh off their trail. Brandon asks Kelly to accompany him to a party, with Dylan's permission. Kelly learns that Lucinda is struggling to obtain financing for her film, and introduces her to Dylan. Brenda joins Stuart for a weekend in Palm Springs, where he is to make a presentation to his father. They stop in the desert, but Brenda accidentally locks the keys in the car. Stuart continually lashes out at Brenda, especially after vandals break into his car when it is left overnight. Brenda finally becomes fed up and dumps Stuart. She calls Dylan for a ride home; during the drive, she confesses that she is still in love with him. David convinces Kelly to move back into the beach apartment. Andrea lets Steve move into her old room, but warns him not to alienate her R.A. Music: 'Me and Mrs. Jones' by Billy Paul, 'Into Your Arms' by the Lemonheads.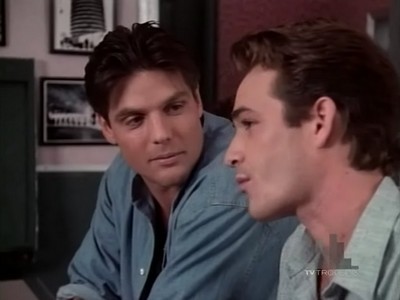 #24 - And Did It...My Way 8.07
Season 4 - Episode 10
Professor Randall and Lucinda invite Brandon and D'Shawn over for dinner. Steve tries to avoid the smitten Laura. Mr. and Mrs. Carson plan to turn Brenda and Stuart's wedding into a major social event. The couple decides to sneak off to Las Vegas and elope. Brandon and the gang follow them in the hopes of changing their minds. They pretend to be supportive, but play on the couple's insecurities by constantly dropping hints about the difficulties of marriage. Jim and Cindy dash off to Las Vegas to stop the wedding, but Brenda and Stuart have already called it off. Donna arranges a truce between David and Kelly. Music: 'You Keep Me Hangin' On' by the Supremes, 'It's Not Unusual' by Tom Jones, 'Let's Get It On' by Marvin Gaye.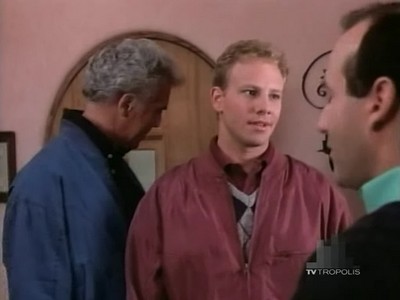 #25 - Cuffs and Links 8.06
Season 4 - Episode 24
Brenda calls Dylan from jail in the hopes of keeping her arrest a secret, but he is forced to tell her parents. Brenda's friends avoid her out of fear of being accessories after the fact, and Kelly acts especially bitchy because she is tired of Dylan coming to Brenda's rescue. Brenda faces felony charges, as her crime was a federal offense. An FBI agent who had gone undercover with the activists offers her immunity in exchange for her testimony. Kelly apologizes for shunning Brenda. Andrea gives Donna a healthy puppy (Rocky II) to take her mind off Rocky's death. Steve and his overbearing father, Rush, take on a baseball star and his dad in a father/son golf tournament. Steve catches his father cheating and forces him to complete the game honestly. Lucinda receives a grant for her movie and leaves the university. Josh threatens to expose Brandon's affair with Lucinda unless he endorses his campaign for student president. Brandon calls his bluff, and Josh eventually has second thoughts. Music: 'Spirit in the Sky' by Norman Greenbaum.