Beavis and Butt-Head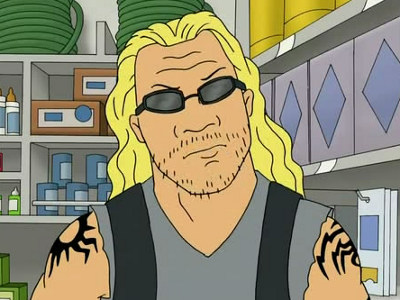 #1 - Bounty Hunters 9.23
Season 9 - Episode 16
Beavis and Butt-Head get inspired by a Dog The Bounty Hunter look-alike.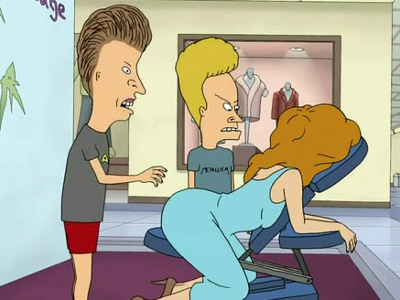 #2 - Massage 9.19
Season 9 - Episode 18
After seeing some hot chicks get massages in the food court, things get all touchy-feely when Beavis and Butt-Head open up a massage stand of their own. But the situation gets tense when these idiots take on some rival masseuses.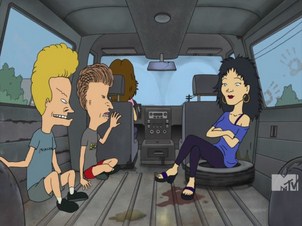 #3 - Holding 9.16
Season 9 - Episode 14
The boys are mistaken for drug dealers when they visit an adult-film set.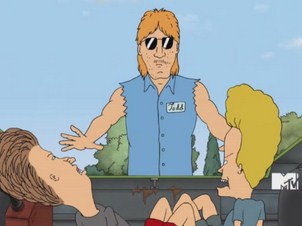 #4 - Snitchers 9.07
Season 9 - Episode 20
Beavis and Butt-Head can't handle the truth! After witnessing a brutal beating that leaves one man out cold, will the boys lie under oath to protect their idol Todd? If they screw up, there's a serious butt-kicking on the docket, Todd-style.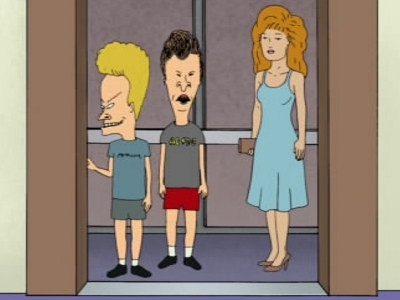 #5 - Going Down 9.00
Season 9 - Episode 22
No exit: Beavis and Butt-Head find themselves trapped in their favorite elevator with a smokin' hot chick, but when it comes to scoring, these guys aren't going anywhere.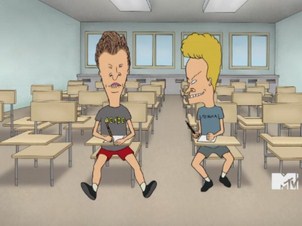 #6 - School Test 8.96
Season 9 - Episode 19
With a big test looming, our favorite idiots receive an education in cheating when Principal McVicker tries to learn 'em good. Will No Child Left Behind give the boys the leg up they need to pass, or are they up No. 2 creek without a pencil?
#7 - Whorehouse 8.95
Season 9 - Episode 21
You can't fault them for trying: America's favorite dim-witted horndogs Beavis and Butt-Head find themselves in a waking dream of loose ladies, but they're not getting any action. Could it be that the town's new cathouse is really an abortion clinic?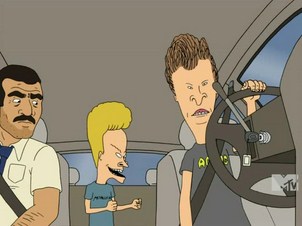 #8 - Used Car 8.95
Season 9 - Episode 15
No license, no money, no problem! Beavis and Butt-Head shanghai a used car salesman on a joyride that leaves the car in pieces. Will they walk away from this one, or is everything wrecked for good?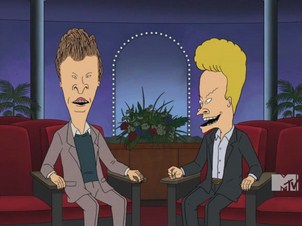 #9 - Dumb Design 8.65
Season 9 - Episode 12
The boys consider religion when it gets them out of class.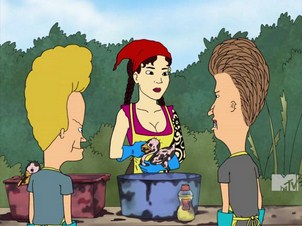 #10 - Spill 8.63
Season 9 - Episode 10
An oil spill draws hot hippies to the shoreline.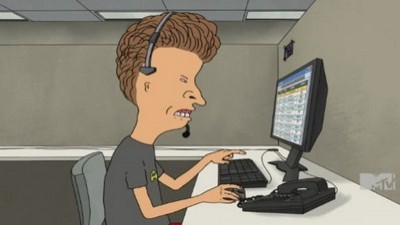 #11 - Tech Support 8.60
Season 9 - Episode 4
Beavis and Butt-head are accidentally hired as tech support.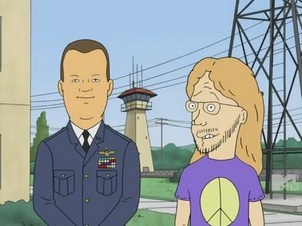 #12 - Drones 8.58
Season 9 - Episode 6
At ease, gentlemen! When Van Driessen takes the class on a field trip to a military base, it's Beavis and Butt-Head in the virtual pilot seats of drone planes on a Middle Eastern mission. They feel the need for speed, but is it a video game or real life? When these two are in the hot seat, it's only a matter of time before the general has their head! (Huh-huh, he said 'head.')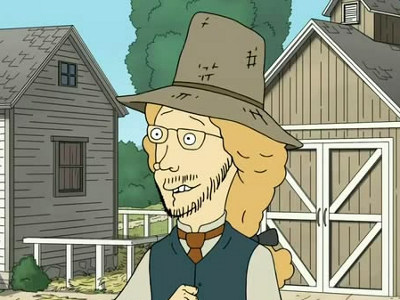 #13 - Time Machine 8.58
Season 9 - Episode 17
On a field trip, Beavis and Butt-Head fall asleep in a school bus and wake up -- in 1832? A colonial village sends the boys through a time loop. Will they keep Van Driessen from being born in the past, or just ruin his life in the present?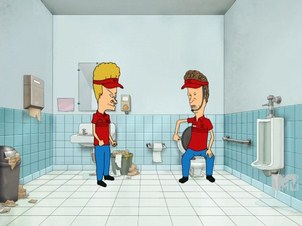 #14 - Bathroom Break 8.53
Season 9 - Episode 8
At Burger World, Butt-head realizes that he gets paid when he goes to the bathroom.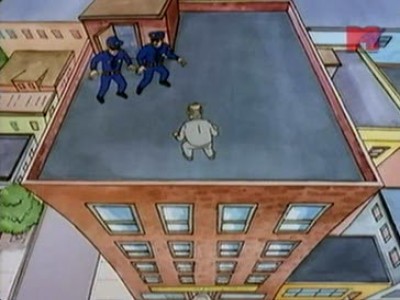 #15 - Jump! 8.47
Season 4 - Episode 6
While Beavis and Butt-head are at the bank trying to get money, a crooked bank officer is arrested for embezzlement and flees to the roof. videos: Ozzy Osbourne - "Shot In The Dark" Lou Reed - "No Money Down" Crowbar - "All I Had (I Gave)"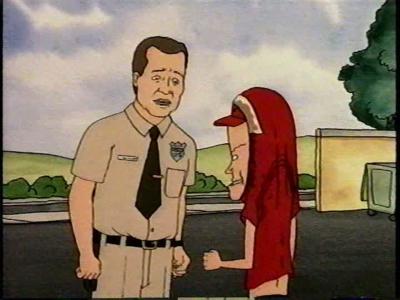 #16 - Vaya Con Cornholio 8.45
Season 7 - Episode 2
After chugging Burger World's new, high-caffeine ""Volt Cola,"" Beavis transforms into Cornholio and is picked up by the Immigration Department and deported to Mexico as an illegal alien.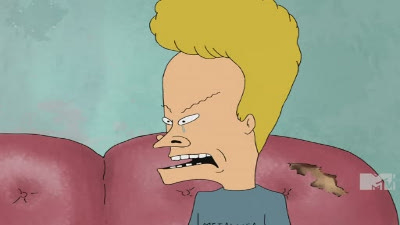 #17 - Crying 8.45
Season 9 - Episode 2
Butt-head catches Beavis crying and won't let him hear the end of it.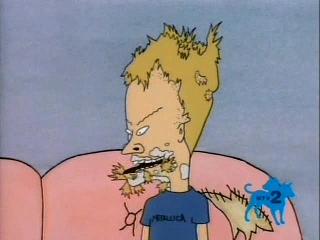 #18 - Beard Boys 8.44
Season 5 - Episode 3
The boys decide they need beards to score, so they cut their hair and glue it to their faces. videos: Ratt - ""I Wan't A Woman"" Stakka Bo - ""Here We Go"" Sugartooth - ""Sold My Fortune""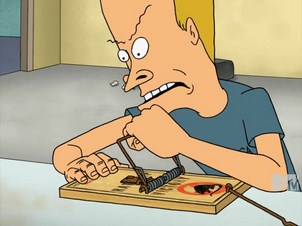 #19 - The Rat 8.43
Season 9 - Episode 9
Beavis and Butt-head discover that they have a rat in the house and try to catch it.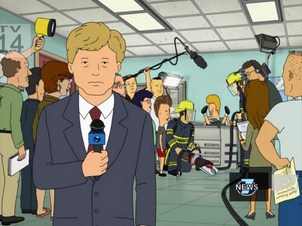 #20 - Copy Machine 8.38
Season 9 - Episode 13
Beavis struggles to refrain from copying his butt.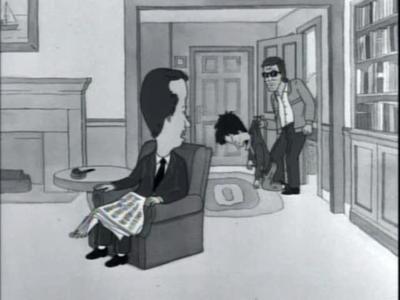 #21 - Leave It To Beavis 8.33
Season 7 - Episode 37
Recall a time when life was simpler as Beavis, Butt-head and other Highland residents fill in for the Cleaver family. videos: Korn - ""Blind""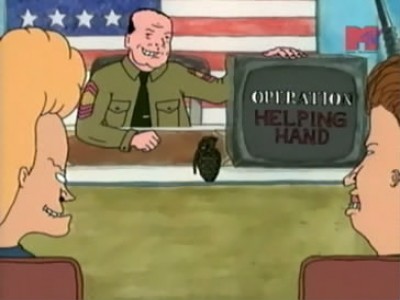 #22 - Be All You Can Be 8.30
Season 2 - Episode 10
Beavis and Butt-head are almost recruited into the Army by Sergeant Dick Leaky, a.k.a. ""The Rooster."" videos: Quiet Riot - ""Cum On Feel The Noize"" Ministry - ""NWO"" AC/DC - ""Highway To Hell (live)"" Life, Sex & Death - ""Tank""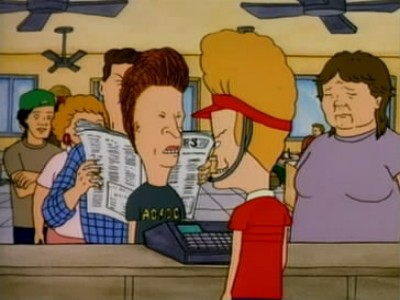 #23 - No Service 8.29
Season 6 - Episode 13
Beavis and Butthead get called into work on a busy day. Butt-head gets out of it and sends Beavis in by himself, then goes in to harass him, and other customers as the restaurant comes to a standstill. videos: Chris Knox - ""Half Man, Half Mole"" Skatman John - ""Skatman"" Chick - ""Malibu""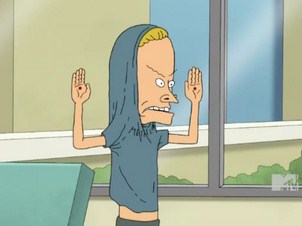 #24 - Holy Cornholio 8.26
Season 9 - Episode 5
Butt-Head is really screwed when a visit to the hospital once again awakens The Great Cornoholio in Beavis. But two rooms over, the leader of a cult has died. Is the Great Cornholio destined to be the cult's idiot savior? Cornholio's hopped up babble certainly sounds holy, and the idiot worship begins. Soon they're promised to be with their pick of the ladies. Will they mess this one up? You bet your bunghole!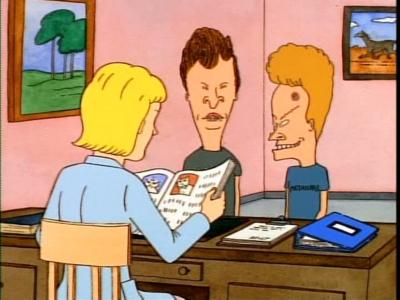 #25 - A Very Special Episode 8.24
Season 7 - Episode 6
The boys find a wounded baby bird and try to ""take care"" of it. videos: Toadies - ""Possum Kingdom""