The Best Episodes of Baka and Test: Summon The Beasts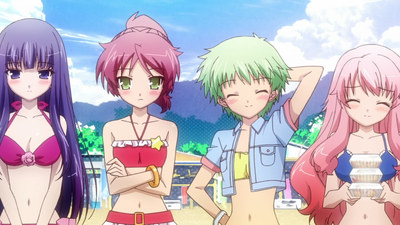 #1 - Me, Everyone, and Swimming in the Ocean!
Season 2 - Episode 1
Akihisa, Mizuki, Minami, Yuji, Hideyoshi, Kota, Shoko, Aiko, and Akira head to the beach for an overnight stay after Akihisa finally convinces his sister to let the girls go along. Later on Akihisa and Yuji see that everyone was getting hit on except for them (Shockingly Kota was getting hit on as well), they attempt to hit on girls. However, in the end their attempt was futile and they ended up getting punished by the girls.
Directors: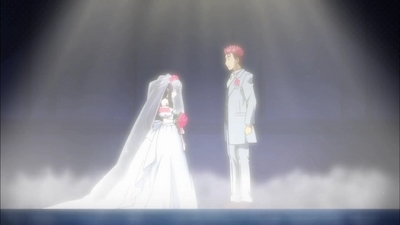 #2 - Me, Shouko, and Kisaragi Grand Park
Season 1 - Episode 7
Shouko appears in Yuuji's bedroom to convince him to go with her to the Kisaragi Grand Park (or rather forcing him into going by threatening to burn all of his porn) in order to participate in the mock-wedding event by showing him the premium ticket. Yuuji, on the other hand, isnt so willing and curses Akihisa for giving her the ticket (see episode 5). As they go to the park, the group of friends are there to support them by working part time.....
Directors:
Yoshifumi Sasahara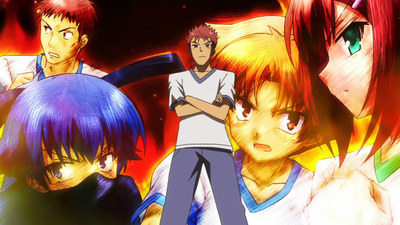 #3 - Me, Peeping, and Friendship Amongst Men
Season 2 - Episode 6
Failing in the previous encounter due to the strong defense, Akihisa, Yūji, Kōta and Hideyoshi plan another breakthrough by inspiring the males of both their own and the other classes to reach the girls bathroom. as the probing commences, the quartet comes into heavy resistance... particularly from the girls themselves...
Directors: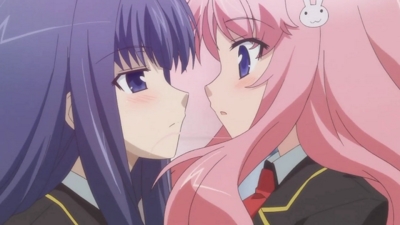 #4 - Lilies, Roses, and Physical Education
Season 1 - Episode 2
The episode starts with a flashback between Yuuji and Shouko (Class A's representative) talking about the reforms and a way to remember them. After that Akihisa accidentally pastes his hand to his desk with super glue and he is unable to remove it. During that class F is called by Class A and they are amazed to see their installments and the luxury their living. They encounter Yuuko (Hideyoshi's twin sister) who tells them that is insult that class F exists everyone gets mad except Yuuji who keeps calm. He then declares war to class A but the battle must be one-on-one, Yuuko declines but then Shouko accepts the challenge if the opposing team make a wish come true to the winning team and then she looks at Mizuki making Akihisa think that Shouko wants Mizuki for sexual purposes but Yuuko insists on five-to-five battle. Yuuji accepts but in exchange class F's participants can choose three of the 5 themes. Yuuji tells then that he has an startegy to defeat Shouko because the date in which the reforms took was wrong so he takes advantage of it. The battle finally starts. Class F's participants are Akihisa, Minami, Mizuki, Kouta, and Yuuji while Class A's participants are Shouko, Yuuko, Kubo, Aiko and one more girl. Hideyoshi is also present but he's put as the quadrilateral girl. The first battle is Minami Vs Yuuko were Yuuko easily wins. Akihisa is next but he doubts of fightning Yuuji then tricks him saying he is the strongest in their group...with that lie he fight but he is defeatly in a flash making him angry at Yuuji. The next fight is Aiko vs Kouta. Kouta asks for a health theme but discovers Aiko is pretty good on health in the "practical way" making Kouta nosebleed...Akihisa curses Aiko but then she says he needs to relax and that she will help him...in the "practical way" making him and Kouta nosebleed then Minai and Mizuki take Akihisa apart from Aiko saying he doesn't need that knowledge but in the end Kouta won his battle. Kubo and Mizuki's fight is next where they have a battle showed in an imaginary way in other words a common anime fight, Mizuki wins the battle. Then is Yuuji Vs Shouko, for his battle he requests an elementary test to apply his strategy. Both finish their exam. Shouko scored 97 points because she answered the reforms date wrong....when everybody at class F were about chant victory the discover Yuuji's score was 53 points. Losing the battle make class F exchange their tables for coardboard boxes. When everyone was shouting at Yuuji, Shouko enters to reclaim her prize...when everyone waits for the supposed Yuri act Shouko asks Yuuji on a date which he refuses and is dragged on unconscious. The episode finishes with Minami and Mizuki taking Akihisa out for Crepes and movies.
Directors:
Yoshinari Saitou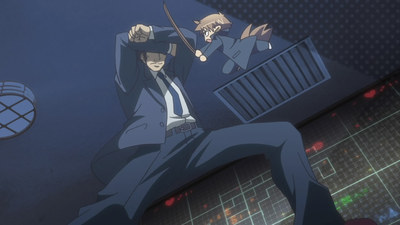 #5 - Me, Peeping and Far Arcadia!
Season 2 - Episode 7
On the last night of the training camp after failing to peep on the girls bath yet again, the boys have one last hope to do it. they enlist the boys of every other class by giving them pictures of Himeji in her bath robe, inciting them with enough lust to get them on their side. Meanwhile, Akihisa accidentally tells Minami that he loves her in a text message. The battle is hard won, but after only seeing the principal washing herself, all 2nd year boys are suspended for a period of one week. On the returning day of school, Minami kisses Akihisa to his and Himeji's shock without any warning.
Directors: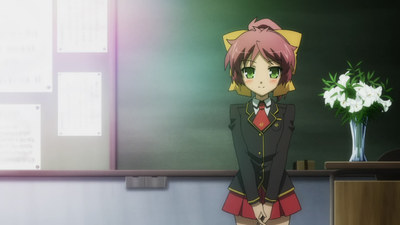 #6 - Me, Japan and the Language I'm Unfamiliar With
Season 2 - Episode 8
In this episode Minami tells her story, and how she met Akihisa, At first she doesn't understand a lot of Japanese , but she tries her best to understand it. When Akihisa first walks up to her in class he asks her to be friends in French, mixing up French for German, but Minami jumps to conclusions and misunderstands him. At the end of the episode Minami finds out what he is saying and tell him that Minami and Akihisa can be friends.
Directors: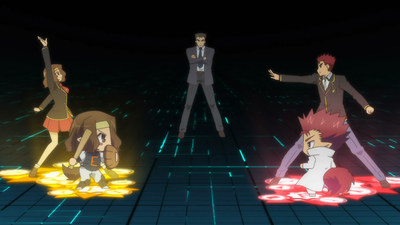 #7 - Idiots, Classes and a Summoning War
Season 1 - Episode 1
The episode starts with the introduction of the school and the classification test (which is a test to determine your class). During the exam Himeji Mizuki faints from a fever and she is sent to the infirmary making her score in the exam a zero. Akihisa Yoshii discovers he is going into the worst class (Class F) and there he encounters Minami, Hideyoshi, Yuuji, and Kouta, who have all known Akihisa for years. Akihisa then makes fun of Minami's bust making a disturbance in the classroom. During the introductions, Mizuki arrives late to class F and happily discovers that Akihisa is also in class F. She then tells him that since she left the test ill she received a score zero aand thus was sent to Class F. Angered by this, Akihisa decides that he will attempt to send Mizuki to her correct classroom (Class A). To do this he consults Yuuji, telling him that they must declare a ESB war on class A, but his purpose is different. Yuuji decides to first declare war to class E, and he sends Akihisa to declare it (making the other class severely beat him up). As the battle starts, Minami, who is good at math, decides to take the front along with Hideyoshi and Voyeur. Akihisa stays with Yuuji. Meanwhile, Mizuki is taking a recovery test to earn points to bring her test score up from zero. When Minami is cornered by the representative of Class E, she too goes to take a recovery test and finds Mizuki solving questions rapidly. When Class E has defeated all of class F's students except Akihisa, Yuuji, and the girls, Yuuji then tells Akihisa to fight them, saying to show them his "true power" as the "Punishment Inspector". However, Akihisa's results prove to be useless and comical. Then Mizuki (and Minami) arrive, with Mizuki showing a score on a par with a class A score and easily takes out all of class E students. Yuuji then decides to not switch classroom facilities with the defeated Class E, saying he prefers to have Class E indebted to Class F. The episode finishes with Mizuki saying she likes being in Class F.
Directors:
Shin Oonuma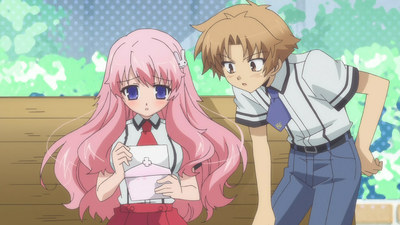 #8 - Mock Exams, Phantom Thieves, and Love Letters
Season 1 - Episode 10
Mizuki tries to give Akihisa her love letter, but complications arise when things go wrong when she tries.... And it gets worse when her love letter, along with the inner circle's own belongings are stored along with the mock tests in the vault. Then a seemingly suspicious student appears to help them in their time of need....
Directors:
Shinichi Watanabe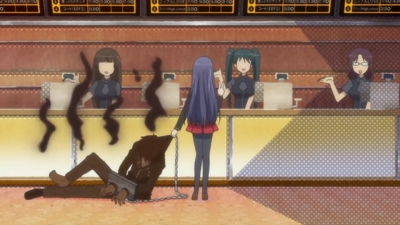 #9 - Food Expenses, Dates, and Stun Guns
Season 1 - Episode 3
Akihisa and the girls go to the movies, only to bump into yuuji and shouko doing the same, although yuuji himself cannot escape due to her tazing him every chance he gets to escape. Next Sunday they go again to the movies, again bumping with shouko and yuuji. At the crepe shop both Minami and Mizuki try to feed Akihisa with their crepes, but Miharu, a girl who has a thing for Minami does not take it facing down.
Directors:
Shinichi Watanabe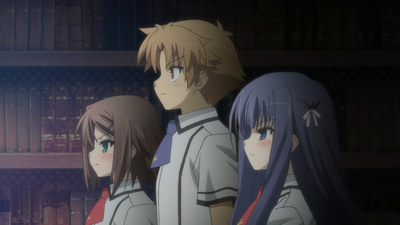 #10 - Idiots, Tests, and Summoned Beasts
Season 1 - Episode 13
After the events in the previous episode, Akihisa manages to convince the principal to change Mizuki's class, but before he was about to be rejected, Shouko and Yuuko appear to ask for a rematch since the victory was cheap. Akihisa decides to fight alone.... but this time, its for Mizuki. Shouko has other plans for Yuuji if she wins.... through a marriage contract...
Directors:
Shin Oonuma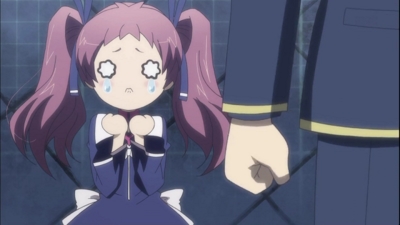 #11 - Map, Treasures, and Striker Sigma V
Season 1 - Episode 5
The principal initiates a treasure hunting event in which the grand prize is a mystery item. Each class is divided into groups of three. Akihisa is paired up with Yuuji and Hideyoshi and teams must solve all papers that have the coordinates. Akihisa then solely relies on his coded pencils... and a certain pencil...
Directors:
Jun Fukuta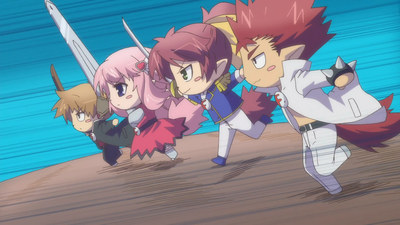 #12 - Love, Courage, and Our Battle Has Just Begun! (Temporary)
Season 1 - Episode 12
Class F now is planning to defeat Class A, and does this by first slowly sapping them by letting them fight with other classes, with Class C agitated by Hideyoshi acting like his sister. Action and silliness ensues....
Directors:
Shinichi Watanabe

,
Jun Fukuta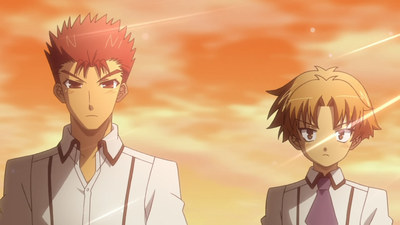 #13 - Me, Romance, and the Art of Love!
Season 2 - Episode 10
After the turbulence between Akihisa and Minami, Miharu is confronted by Akihisa (In hopes to anger her for a ESB). Akihisa successfully enrages Miharu for a battle on the school roof. After Aki gains the upper hand, he is "betrayed" by his classmates and attacked. Yuji strikes a truce with Miharu. It is revealed in the epilogue, Akihisa admits his true feelings about Minami through a tape Voyeur secretly recorded. Minami overhears this tape outside the classroom and later admits to her sister "Your sister has fallen hard for someone..."
Directors: