Baby Daddy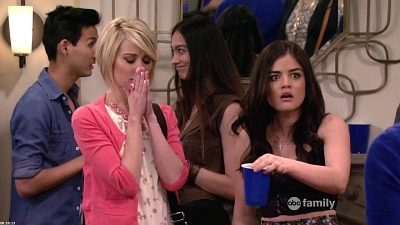 #1 - Bonnie's Unreal Estate
Season 3 - Episode 4
When Riley's firm is hired to represent the scandalized Reverend Stockdale, she is charged with making sure his daughter, Piper, stays out of trouble - a task that seems relatively easy given Piper's boring personality. But when Riley's away, Piper will play, and Danny and Tucker find themselves tangled up in her wild child ways. Meanwhile, Bonnie's real estate career is off to a sizzling start when Ben unknowingly burns down her first listing.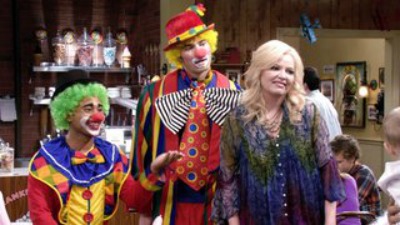 #2 - Send in the Clowns
Season 3 - Episode 12
Ben is determined to give Emma the perfect first birthday party, especially since his own was less than stellar. When he decides to host it at the ice cream parlor where he and Riley worked as teenagers, Ben runs into an ex-girlfriend with a mother of a secret. Danny accidentally discovers something about Riley's family that turns her world upside down. Meanwhile, Tucker is in charge of entertainment for the birthday party, a responsibility he takes very seriously.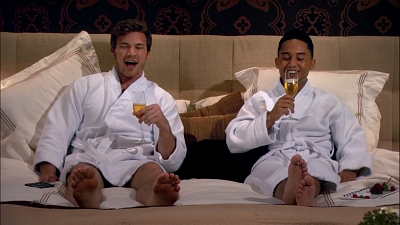 #3 - The Naked Truth 7.83
Season 3 - Episode 1
Ben and Riley try to transition from friendship to being a couple, which results in a hugely embarrassing moment for Riley. Ben is still angry with Bonnie for bringing Emma's mom Angela back into their lives. Angela tries to show Bonnie she's a capable mother while hoping for a fresh start with Ben. Meanwhile, Tucker tries to help Danny get over Riley and Amy with his five-step "T.U.C.K.E.R." break-up recovery system.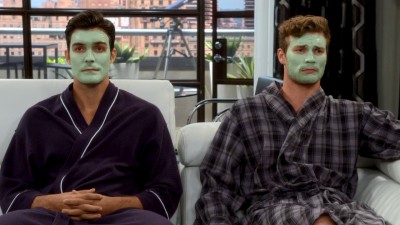 #4 - I See Crazy People 7.82
Season 4 - Episode 4
Riley begins to doubt her future with Ben after all the signs point out the many reasons why their relationship is doomed to fail. When a psychic tries to set up shop at the bar, Ben sees this as the perfect opportunity to convince Riley that they are meant to be together. But when the cards predict a different outcome, Riley is even further convinced that they don't know each other at all, forcing Ben to bring in reinforcements. Danny doesn't want his family to know he's still in town, so he hides out at Brad the Pad's (Peter Porte). But when Danny sends Brad on a recon mission to his apartment, Bonnie catches him and mistakenly believes Brad is there to rekindle their romance. Meanwhile, Tucker is determined to get Bonnie out of his apartment.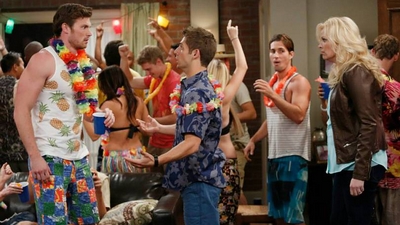 #5 - New Bonnie vs. Old Ben 7.92
Season 2 - Episode 4
Bonnie sets up her new bachelorette pad across the hall, and Ben and Tucker will do whatever it takes to force her out. They throw a huge party that threatens to damage more than Bonnie's new apartment. Meanwhile, Danny seeks Riley's advice on how to break up with Milena. Instead he ends up in a compromising position, which Milena mistakes for a marriage proposal.
#6 - I Told You So 7.65
Season 1 - Episode 2
Miscommunication between Ben and the guys causes their "foolproof" baby-sitting schedule for Emma to fall apart. Ben, feeling his first parental gut wrenching scare that he could have lost his child, realizes he needs to get his act together to really become a good parent to Emma.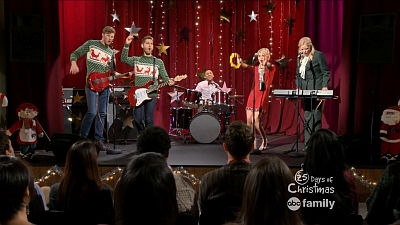 #7 - It's a Wonderful Emma 7.82
Season 4 - Episode 2
Ben channels his inner Scrooge as he detests everything that has to do with the holiday season - the shopping, the crowds, the tree trimming, even the pageant at Emma's daycare. Adding to his bad mood are Bonnie, Riley, Danny and Tucker, who are overflowing with cheer until Ben can't take it anymore and wishes there was no such thing as Christmas. But when his wish comes true and the holiday vanishes, he unwittingly erases Emma's existence and alters the course of everyone's lives. Can Ben get his loved ones to believe in Christmas and bring Emma back before it's too late?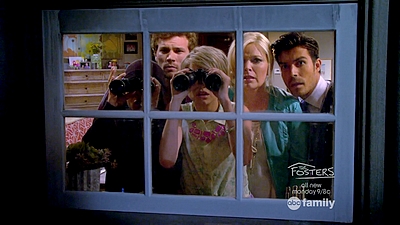 #8 - The Lying Game 8.08
Season 3 - Episode 2
Angela has been crashing in the boys' apartment, trying to spend more time with Emma and get closer to Ben. Her presence puts strain on Ben and Riley's relationship, but Ben doesn't have the heart - or the guts - to ask her to leave. Tucker plots to show Riley that Angela is trying to steal her man and Danny decides that the only way he can heal his broken heart is to get his own apartment. Meanwhile, Bonnie begins dating a younger man.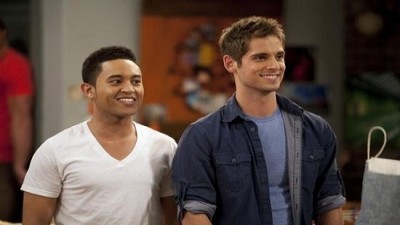 #9 - Guys, Interrupted 7.87
Season 1 - Episode 4
Bonnie spends all her time with Emma, disrupting the boys' routine. Riley goes on a date with fellow law student, Jack, and Danny has a hard time pretending he doesn't care.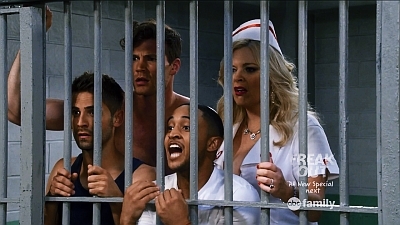 #10 - Strip or Treat 8.08
Season 4 - Episode 1
Danny and Tucker are looking forward to attending the biggest Halloween celebration in the city, despite the fact that Bonnie thinks they should take Emma trick-or-treating instead. When their plans fall through, they decide to crash the party Riley was talking about, not knowing it's actually a bachelorette party. But when the guys are mistaken for the strippers, Ben makes a big mistake that results in them being carted off to jail. Meanwhile, Bonnie's date with Javier goes horribly wrong and she lands in jail alongside Ben, Danny and Tucker. Will Riley be able to work her lawyer magic and bail her friends out of this mess, or will everyone get what they deserve?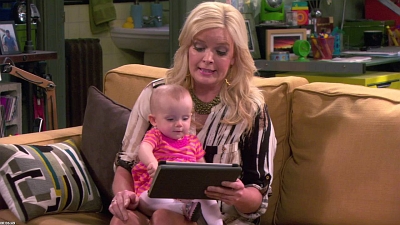 #11 - Life's a Beach 7.95
Season 3 - Episode 5
When Ben's rooftop beach gets shut down by the current apartment Board President, Sondra, the boys campaign to overthrow her and preside over the building themselves. The only problem is they have to decide who has the best chance to win the election, which won't easy given their spotty history with the other tenants. Meanwhile, Bonnie drags Riley on a double date with her boyfriend Brad and his twin Tad, but it doesn't take long until the ladies suspect that Brad has made Tad up in order to escape accusations of infidelity.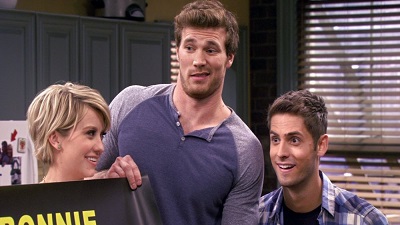 #12 - Romancing the Phone 8.06
Season 3 - Episode 6
Ben finds the cell phone of a cute girl, Sydney, but when he's unintentionally late for their first meeting, he convinces Tucker to go in his place and take the blame. But when Sydney takes a liking to the real Tucker and asks him out, Ben is determined to prove she's interested in the wrong guy. Riley meets up with an old frenemy, Heather, and enlists Danny in her plan to prove to Heather once and for all that she's a winner. Meanwhile, Bonnie asks for Tucker's help in coming up with a catchy new slogan for her realty business, but things quickly go awry when she starts getting offers from guys interested in buying more than a home.
#13 - Ben's Big Gay-Care Adventure 8.01
Season 2 - Episode 6
Ben tries to get Emma into daycare by flirting with the cute assistant manager, Megan. Megan insists there is no space, until she gets the idea that Ben and Tucker are a gay couple. Ben devises an elaborate plan to "break up" with Tucker in order to have a shot at dating Megan. Meanwhile, Riley worries that Dr. Shaw is trying to change Danny when Danny bails on their traditional "Halfaween" costume party.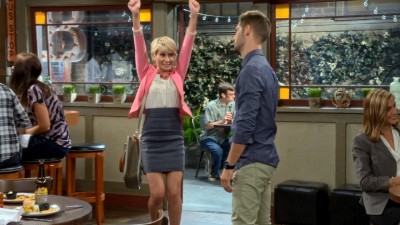 #14 - Over My Dead Bonnie
Season 4 - Episode 6
Danny receives a cameo role on "General Hospital" and nervously prepares for his scene with actress Kelly Monaco; Tucker and Ben stage a funeral for Bonnie.
#15 - May the Best Friend Win 7.72
Season 1 - Episode 7
Ben and Tucker put their friendship to the side when they compete for the heart of the same woman they met at a concert, Ava. Danny is asked to give a speech in front of his team, but is nervous, so Riley gives him public-speaking advice. Bonnie creates a profile on a online dating website.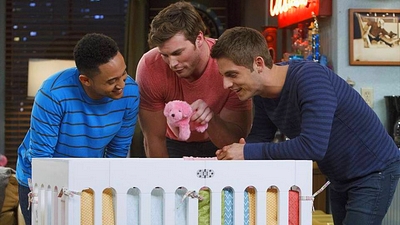 #16 - On the Lamb-y 7.98
Season 2 - Episode 7
Ben, Danny and Tucker band together to rescue Emma's missing stuffed animal. Meanwhile, Riley hosts a book club in an effort to make friends with the cool girls at work. When her mom, Jennifer, and Bonnie get wind of her plans, they invite themselves. Much to Riley's dismay, the ladies' long-standing rivalry erupts during the club meeting.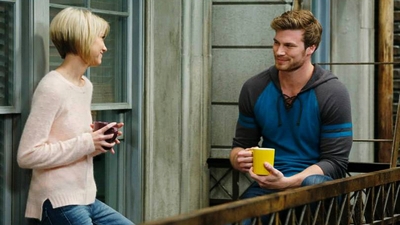 #17 - The Wheeler and the Dealer 7.95
Season 2 - Episode 3
Ben discovers an endorsement opportunity for Danny with a new brand of Japanese energy drinks. Against Bonnie's advice, Ben convinces Danny to sign the deal, but he must pick up the pieces when things go haywire at Danny's commercial shoot. Meanwhile, Riley takes an interest in volunteering and accepts a job as a candy striper at the hospital.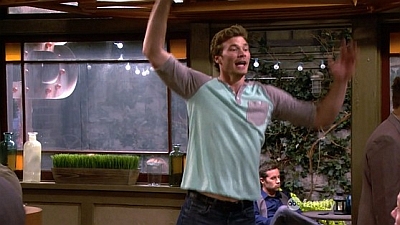 #18 - Lights! Camera! No Action! 8.13
Season 3 - Episode 3
Ben catches Riley in a compromising position with her ex-boyfriend Fitch, which leads to a massive blow-out between the two. Danny worries that the combination of his low stats and his Rangers jersey not selling in stores means his future with the team is in jeopardy. Tucker gets a job assisting Mary Hart on her new talk show, "The Mary Hart Show," and sets his sights on becoming a producer. Bonnie convinces Tucker to have Danny as a guest on the show to increase his popularity, but when Mary digs a little too deep into Danny's personal life, he has an emotional meltdown.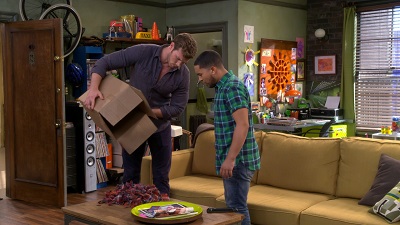 #19 - The Return of the Mommy
Season 5 - Episode 7
Now starring on a hit television series, Emma's mom, Angela, unexpectedly returns and wants to see Emma. Ben is reluctant to comply, but when Angela claims she can help get Emma into a good preschool, Ben relents and asks Riley to keep an eye on them. Bonnie is temporarily managing the bar and takes the opportunity to try out some new ideas. And Tucker is living in fear, since he's convinced that Mary Hart is now out to get him.
#20 - Married to the Job 7.84
Season 1 - Episode 5
When Ben hears of an open management position at the bar, he enlists Riley's help to prove to the owner, Henderson, that he's responsible enough for the job. Tucker and Danny exchange the super-girly stroller Bonnie bought for a much cooler one - one that seems to be a total girl magnet.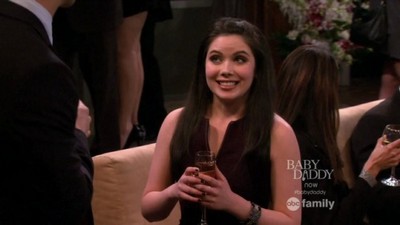 #21 - Never Ben in Love 7.87
Season 2 - Episode 8
Riley plans to break up with Fitch, but then receives the news that Fitch is dead. She meets Fitch's dad, Winston Douglas, who asks her to deliver the eulogy at the funeral and tells Riley that Fitch planned to propose to her. Meanwhile, Ben realizes he might be in love with Megan, but she thinks things are moving way too fast. Tucker embarks on his "Tucket" list of things to do before he dies, and Bonnie schemes to catch the eye of Fitch's wealthy dad.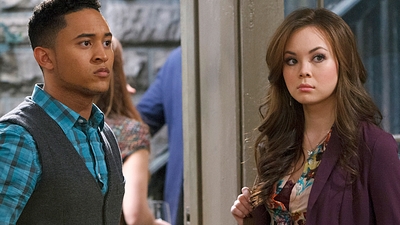 #22 - The Slump 7.83
Season 2 - Episode 5
Dr. Shaw determines Riley is the cause of Danny's inability to focus on the ice and bans her from Danny's next game. Meanwhile, Riley thinks things are moving too fast with Fitch and starts avoiding him, and gets her hopes up that Danny will make a move. Tucker is up for a promotion at work and his competition turns out to be Ben's latest fling, Jenna.
#23 - The Mother Of All Dates 7.77
Season 4 - Episode 7
Bonnie is depressed about all the losers she's been dating lately, so Ben and Danny decide to turn her love life into a contest - whoever sets her up with a decent guy wins. Determined to beat his big brother at something, Ben sets Bonnie up with one of his customers, Frank, while Danny sets Bonnie up with Ben's boss, Henderson. After each brother does everything to make sure his man wins, it quickly becomes clear that Frank and Henderson have their own set of problems. Meanwhile, Riley and Tucker find themselves unwittingly involved in neighbor Sondra's marital troubles.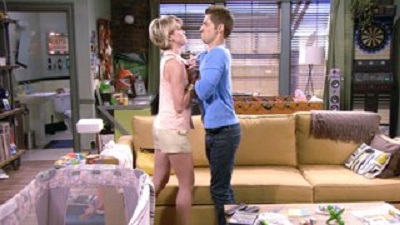 #24 - The Bet 8.00
Season 3 - Episode 7
Riley bets Ben that he can't get a second date with Heather. He gladly accepts the challenge, but when Heather doesn't jump at the chance to go out with him again, Ben resorts to desperate measures. Bonnie decides to break up with Brad, but when her realtor boyfriend declares his love, she can't bring herself to go through with it and asks Danny to end the relationship instead. Further complicating things as only Bonnie can, her love life takes another twist when she unknowingly falls for Brad's. Meanwhile, Tucker uses Emma to pick up women.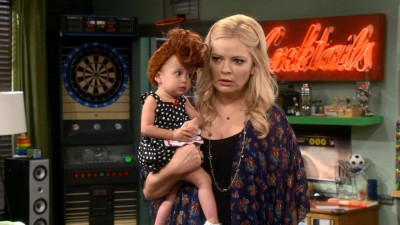 #25 - Mugging For The Camera 7.88
Season 4 - Episode 5
Danny is now hiding at Riley's apartment, but when Ben insists on coming over, Riley realizes Danny needs to leave. Mary Hart orders Tucker to find stories about ordinary people doing extraordinary things or he's fired. When Riley is mugged, Ben fights the attacker, until he's blinded by pepper spray and doesn't know that Danny actually swoops in and saves the lovebirds. Once the story gets out, Tucker realizes that Ben and Riley are the exact guests Mary is looking for, but will the whole truth come out once they tell their story on live television? Meanwhile, Bonnie's latest get-rich-quick scheme involves dressing Emma up as different characters and posting the videos online.