Aria the Animation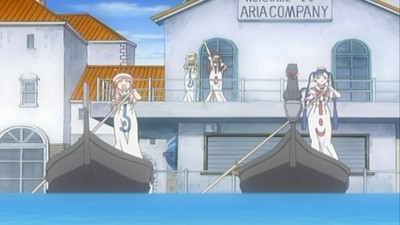 #1 - On That Special Day... 7.83
Season 1 - Episode 2
During the annual flooding of Neo-Venezia, Akari is caught in a rain-shower away from home and shelters in her friend Aika's room at Himeya Company. Later, Aika gets in a fight with her strict mentor, Akira, and leaves to stay the night with Akari at Aria Company. In a flashback, Aika remembers her first meeting with Akari's mentor, Alicia, showing why she admires Alicia and wants to become an undine (gondolier).
#2 - In the Middle of That Pure White Snow...
Season 2 - Episode 26
On the first snowy day of winter, Akari asks Aika and Alice during a break in practice what, as children, they wanted to be like when they grew up, but they come to no conclusions. Later, as Alicia and Akari go for a walk through the snow-bound city, Akari asks Alicia what she wanted to be like when she grew up. Alicia stops to think, then begins rolling a snowball. With the help of several passers-by in succession, it grows to be almost as large as they are tall, and their helpers thank them for the fun. They end up in a dead-end square, where the residents start a second snowball, then a third to make a complete snowman, which they all decorate together. As they walk home, Alicia finally answers Akari's question by saying that when she was a child, she noticed that when you start rolling a snowball, someone always helps, leaving everyone satisfied and happy—and decided that she wanted to be an adult who helps people be satisfied and happy in other ways. Back home, when Alicia asks what Akari wanted to be, she says a fairy, and Alicia replies she will be one soon.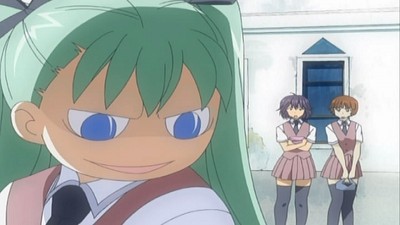 #3 - With That Transparent Girl... 7.75
Season 1 - Episode 3
While training in a strait with difficult currents, Akari and Aika witness the impressive rowing skills of a younger girl, Alice. She bluntly refuses their attempts at friendship, but is troubled by Akari's sincere smile, which is unlike those of other undines. The next day, Alice meets Akari and Akatsuki, an apprentice salamander (weather controller), and joins them first on Akari's gondola tour of Neo-Venezia, then on Akatsuki's tour of the floating weather station where he lives, becoming friends with Akari in the process.
#4 - That Neo-Venezia–Coloured Heart...
Season 2 - Episode 4
Mr. Mailman borrows Akari and her gondola for a day so he can complete his rounds while his gondola is repaired. In the morning, they collect mail from canal-side postboxes, then after lunch deliver the mail—and along the way help a boy deliver in person a letter to his former teacher at her wedding, apologizing for behaving badly to her because he was upset over her leaving. At the end of the day, Mr. Mailman explains that Neo-Venezians prefer the inconvience of mail because a letter, being not as quickly written as e-mail, can carry the sender's heart, and so can become a treasure, and furthermore it can be a link between the past and present. Akari says that letters are like Neo-Venezia, in that you can touch the creators' hearts through them, and Mr. Mailman tells her that she has been painted with "the color of Neo-Venezia". The next morning, Akari is moved when she receives his hand-written thank-you note.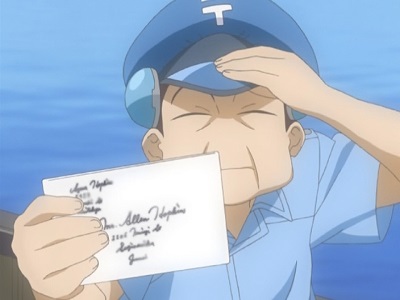 #5 - That Undeliverable Letter...
Season 1 - Episode 4
Akari is asked to deliver an old letter. With the help of Woody, a sylph (airborn deliveryman), she find its destination but discovers it is now under water. She and Alicia read the letter and learn that it is from a woman writing to her husband who was away working on the terraforming of Mars from before the oceans rose and the planet was renamed Aqua.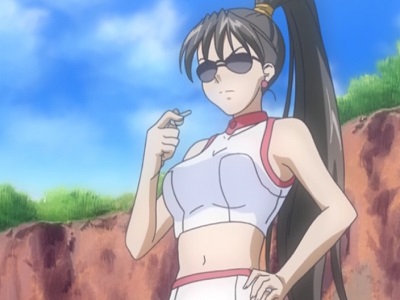 #6 - To That Impossibly Existing Island...
Season 1 - Episode 5
Akari receives a mysterious message, which directs her to a secluded bay where she meets Aika and Alice following similar messages. Together, they find Alicia and Akira, who sent the messages, and they spend the day in special training and relaxed swimming.
#7 - Things That We Want to Protect...
Season 1 - Episode 6
Akari spends the night with Alice at Orange Company. While there, Akari meets Athena, Alice's mentor and roommate, the third of the so-called Three Water Fairies. She also meets Alice's kitten, Maa-kun, who Alice keeps hidden from Athena because pets are forbidden in the company dorms. During the day, while Alice is at school, Maa-kun runs away but is finally found at dusk by Akari and Athena, who knew about the cat all along.
#8 - That Smile Reflected in the Mirror...
Season 2 - Episode 6
When Alice leaves Orange Planet, Athena notices she doesn't stay with the other Pairs but goes off alone. After practice Akari and Aika visit Alice and Athena's dorm room, and when it becomes late without their noticing, Athena invites them to stay the night. That evening, Alice notices that Athena is more clumsy than usual and accuses her of being happy, and Athena says it's because Alice seems to be having fun with her friends. Alice receives an invitation to a party with other Pairs, but turns it down despite Akari's urging because she thinks they're jealous of her talent as a younger undine. Athena tells her that people are like mirrors, and that they reflect her fear of being rejected, which she sees as envy. After watching Maa go to great effort to climb onto a bed to bite President Aria's belly, Alice resolves to try to smile more and attend the party.
#9 - During That Wonderful Extracurricular Lesson...
Season 3 - Episode 6
When Aika berates Akari for not taking practice seriously, saying at this rate Alicia will scold her, Akari says Alicia has never scolded her, nor even gotten angry. This startles Alice and to learn why she begins stalking Alicia—inventing lame excuses when she gets caught—but can't figure it out. After a week, Alice meets Alicia at a cafe and at Alicia's prompting asks her directly. In response, Alicia asks President Aria to give a candy to a girl at another table, and they watch him get distracted by sparrows and the waiter before finally succeeding, for which Alicia praises him. She then has him deliver another candy to another customer and praises him for being even faster. Alicia explains that criticizing people makes them fear making mistakes, and so she prefers encouragement over correction. She then says that if President Aria had continued making mistakes, she would have reflected on how she was instructing him wrong, and that teaching and being taught are very much alike.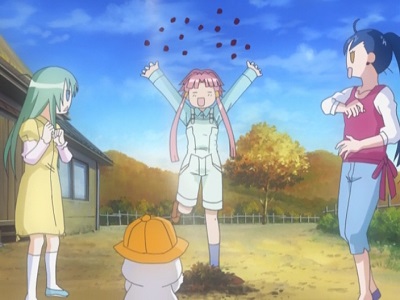 #10 - That Star-like Fairy...
Season 1 - Episode 9
Akari, Aika, and Alice visit Akino, the legendary founder of Aria Company, in retirement in the countryside. Akino asks for the girls' help with domestic chores, and Aika believes they are tests that will make them great undines. That night, Akino reveals that the secret to becoming a good undine is to enjoy every moment.
#11 - That Important Person's Memories...
Season 3 - Episode 8
Alice tells Akari and Aika she won't be at practice tomorrow because she invited Athena on a picnic. That night Alice makes elaborate preparations, but in the morning Athena leaves for work at dawn without speaking with her. When Athena finally returns, in her disappointment Alice snaps at her then accidentally rips the invitation, and in the ensuing fuss Athena slips and falls. Alice calls Akari and Alicia for help in a panic, and when they arrive, they learn that Athena has amnesia from hitting her head and cannot remember anyone around her. As they talk, her memories slowly come back, starting with President Aria and Alicia. To further jog her memories, they take her to familiar places, and by the end of the day she remembers everyone but Alice. When Athena asks what she was to Alice, the latter breaks down in tears, and Alicia makes Athena reveal she'd been faking amnesia to find out how Alice feels about her.
#12 - Those Untainted Stars Are...
Season 2 - Episode 9
During practice, Aika and Alice watch Akari exchange friendly greetings with several people. Alice comments that Akari seems to know more Neo-Venezians than they do, even though they are locals and Akari is an immigrant, which she finds "mysterious". Aika and Alice decide to secretly watch Akari as she runs errands to find out how she makes friends so easily. The follow her onto the vaporetto ferry and watch her chat with fellow passengers, conversing easily even though they just met. Because they are hiding, the two miss Akari's stop but see her disembark with a mysterious man. After they backtrack on another vaporetto, they follow President Aria's voice to find he and Akari enjoying the man's street puppet performance, which Aika and Alice both remember watching as children. Alice concludes that Akari's mysterious ability comes from her taking joy in nearly everything and being naturally nice to everyone.
#13 - During That Warm Holiday...
Season 1 - Episode 10
Upon hearing from Akari that she had never been to a hot spring, Alicia invites everyone on a holiday trip to a nearby hot spring set the basement of a run-down hotel.
#14 - On That Night of the Meteor Shower...
Season 2 - Episode 3
When Akari learns there will be a meteor shower that night, she, Aika, and Alice make plans to watch it. As they do so, they meet Al, a gnome (an underground regulator of Aqua's gravity) on a shopping trip to the planet's surface, who invites them to lunch. In return a blushing Aika invites him to join them that night. That evening, Alice bows out, leaving just Aika, Al, and Akari. Because Piazza San Marco is too crowded and bright, they search through the narrow streets for a better view. For courage through the darker passages, Akari repeats her chant from Casanova's procession. Eventually, Aika takes them onto the roof of a Himeya Company office building, with an unobstructed panorama of the night-time city and the meteors. When Akari searches the rooftops for another vantage, Aika realizes she's alone with Al and gets flustered, and blames him as a gravity regulator for attracting all the meteors that burn up in the atmosphere. As they walk home, Al reminds Aika that some meteors don't burn up but survive to reach the surface.
#15 - That Precious Gleam...
Season 2 - Episode 11
Akatsuki's older brother gives Akari her first commission, hiring her to transport some glassware by gondola. At the glassmaker's workshop, she overhears a tourist disparaging Neo-Venezian glassware as an inferior copy of Venetian glass—just as Neo-Venezia is an imitation Venice. The apprentice glassmaker supervising the cargo rudely refuses to let Akari help carry it. As Akari rows she tells him the glass is beautiful and admires how it sparkles in many colors. The apprentice complains that some people judge purely on the basis of tradition, which for glassmakers was broken between the sinking of Venice and the building of Neo-Venezia. He apologies for his behavior, saying he's upset because people have been dismissing his master's glassware as imitations and fakes, even though his master works so hard. Akari tells him she doesn't believe anything is fake, and while Neo-Venezia may look like Venice, the process of building it was different, as are the people who live in it, which makes it a living city to be cherished for itself. When they deliver the cargo, Akatsuki's brother accuses the apprentice of becoming Akari's fan, and so a rival of Akatsuki.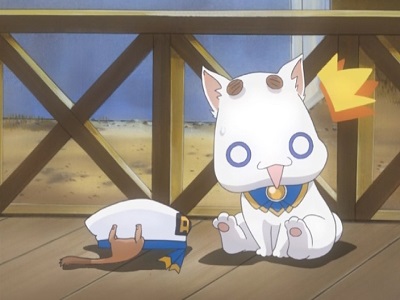 #16 - That Gentle Wish...
Season 1 - Episode 12
Akari decides to visit the first bridge built in Neo-Venezia. When she finds it, it is full of cats, including Cait Sith, the century-old king of the city's cats. When Akari crosses the bridge, she time-travels back to before Neo-Venezia was built, where she witnesses the arrival of flowing water to the region, a result of the terraforming of Mars.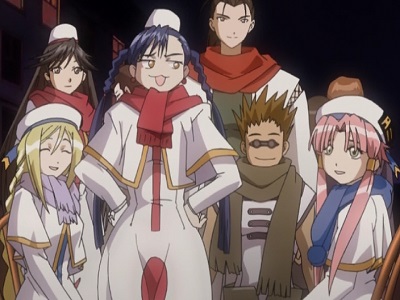 #17 - That White Morning...
Season 1 - Episode 13
Ai makes a surprise visit to Aria Company during the New Years break. While there, she meets Akari's various friends and inadvertantly embarrassed Akari by disclosing personal secrets and gossip that Akari had included in e-mails to Ai. When President Aria randomly runs off, Akari and Ai give chase and are led to a glimpse of Neo-Venezia as it existed in the past. The two interpret this as formal welcome to Ai by the planet Aqua.
#18 - In the Middle of That Vast Circle...
Season 2 - Episode 15
As Akari eats lunch alone on a hot midsummer day, she is joined by Akira, then Akatsuki, and then Al. As Akatsuki bickers with Akira, Al claims he was always hotheaded like that, and tells a story about Akatsuki, Woody, and himself when they all were boys, shown in a flashback: one time in a playground, they don't let two new kids play with them, but when one jumps off a swing further than Akatsuki can, he challenges that kid to a slide race, during which Akatsuki crashes and concedes defeat. Back in the present, Alicia (who overhears the story) says it brings back memories, and reveals the two kids were Akira and herself. Akari says that it's nice, the way the lives of the other four circle around and meet again, inside the large circle that is Aqua, and that she feels left out because she's been in Neo-Venezia for only a short time. Akari reassures Akari that she's already inside their circle of friends, at the center. As the episode ends, Athena is shown rowing by, then several other characters meet in a series of chance encounters.
#19 - That New Me...
Season 2 - Episode 18
Aika arrives at a barbecue party with a beautiful new hairstyle, and when Alicia praises it, she is greatly pleased as it represents, she tells Akari, a "new me". A little later her hair catches fire from a grill, and after Akira puts it out Aika runs away to cry. At home at Himeya Company, as Akari and Alice help trim away her damaged hair, Aika says she'd been growing it as long as Alicia's hair in order to become more like Alicia, but now it's impossible. Akira overhears this and says yes, it's impossible for her to become an undine like Alicia. Aika tries to run away again, but Akira stops her and explains that it's impossible to impersonate someone else, and she should simply aim to become the best undine in Neo-Venezia by being herself. The next day, Aika cuts her hair very short to express her confident new self.
#20 - That Crybaby... / That Young Girl's Heart...
Season 2 - Episode 19
In the first half of a two-part episode, a week after cutting her hair, Aika catches a cold. While laid up in her room, she worries whether Akari and Alice will slack off practicing without her. On the third day, bored and restless, she sneaks out of Himeya Company to get some pudding. She buys some cute hairpins at a market stall and eats some gelato, but when she sees Akari and Aika at practice, she runs back to her room. When Akari and Alice a visit a short time later to bring her pudding, they find her crying because the world was going on without her, and they reassure her that she still has a place with them. In the second half, two days later, Aika returns to practice but spends the day distracted by the urge to show off her new haircut and hairpins to Al, though the thought of doing so embarrasses her without understanding why. With Akari and Alice's encouragement, she visits Al, who likes the change.
#21 - The Shadowless Guests...
Season 2 - Episode 20
During a summer heatwave, Akari sees a lady in a black dress and veil near Piazza San Marco. While waiting for Alice, Aika tells Akari a Manhome ghost story about an executed Venetian woman who spirited away gondoliers who rowed her to the cemetery of Isola di San Michele, where she was refused burial, with the conclusion that she has been seen in Neo-Venezia. That evening, the lady in black politely asks Akari for a ride to Neo-Venezia's recreation of San Michele, and Akari agrees to take her as a friend. As they cross the bay, they are watched by dozens of cats from the rooftops. When they arrive, the lady drags Akari into the cemetery, saying she wants to keep her "friend" with her forever. Her veil blows off, revealing an empty dress, and in a gust of wind Cait Sith appears behind her. The dress runs away, and Cait Sith embraces Akari, who then she wakes up at Aria Company holding a rose petal from the cemetery. The next day, Alice explains that the ghost story is not from Manhome but was invented on Aqua—which makes the black lady even more scary.
#22 - In That Parallel World... / The Things Aqua Wants to Protect...
Season 2 - Episode 22
In the first half of a two-part episode, after Akari suggests that between the stairs might be a gate to a parallel world, President Aria squeezes through and finds himself in world where the other characters are of the opposite sex. When he realizes what has happened, he begins crying and runs back to Aria Company to try to return home through the stairs. The male Alicia finds him there and tries tossing him in the air to cheer him up, then the female Woody takes him up in her air-cycle, but drops him. When President Aria comes to, he is back home. In the second half, Akatsuki tells Alicia and Akari a story, seen in a flashback, about his younger brother as a boy, when he pretended to be an artificial human who was the "protector of Aqua". When his brother teases him by pretending to have been replaced by an evil alien, Akatsuki runs away in fear, and is calmed by his mother bringing him his superhero cape and identifying him as artificial. In the present, when Akatsuki finds out what his brother has done, he goes into shock.
#23 - That Sea, That Love, and Those Thoughts...
Season 2 - Episode 23
Near the end of summer, Alicia (assisted by Akari) gives a tour to an older couple celebrating their wedding anniversary. The husband turns down his wife's suggestion of visiting Piazza San Marco after lunch and orders her to meet him at the harbor later in the afternoon. Later, Akari, Aika, and Alice meet him having an argument with a man who won't rent him the bucintoro boat for the "Marriage of the Sea" ceremony (performed in Neo-Venezia by the mayor instead of the Doge of Venice), which his wife has long wished to see. Akari offers to help the couple, using her gondola as a substitute, and the three trainees decorate it to the best of their abilities. Aika finds a volunteer band to play the music, and as they start the ceremony, Alicia, Akira, and Athena's customers ask to watch. Because the husband forgets to bring the ring, they use one bought by the wife that afternoon. During the ceremony, the wife calls their recreation clumsy but thanks her husband for the gesture, and when the ceremony is over she asks him to love her forever.
#24 - In That Spring Breeze That Finally Came to Visit...
Season 3 - Episode 1
During their first practice after Carnevale, Alice speculates that Akari and Aika will take the Prima exam soon, but Akari is uncertain as she doubts her own skills after watching Alicia. Alicia receives a package of jam from satisfied Carnevale customers and invites Akira, Athena, Aika, and Alice to tea to share it. In a flashback, Akari tells the others how Alicia impressed the customers (and Akari) by accurately predicting when snow would start falling. In flashbacks, Aika describes how Akira saved a dancing customer from falling out of the gondola, and Alice how Athena stopped a toddler's tantrum by making funny faces. The three trainees admit they have a long way to go as undines, and their mentors tell them they themselves have more to learn, saying that if you're ever satisfied with your performance, you will never improve—the best thing to do is cherish the fact that there's more to learn and have fun along the way. On the balcony afterward, the trainees recall that this last was Grandma Akino's advice, and from inside their mentors watch them and conclude that their students will be wonderful undines, like none seen before in Neo-Venezia.
#25 - That Undine of Tomorrow...
Season 2 - Episode 24
On a rainy day, Akari and Alice visit Aika's room for a group study instead of gondola practice. When Akira greets them, they are watched by two of Akira's colleagues, and Aika takes this as a one more sign her improving skills are being noticed within the company. The trainees study for a while, but when they start dreaming about what titles they will take as Primas, Akira gives them paperwork to sort. When Aika returns the completed paperwork, she eavesdrops on the same colleagues and learns they aren't talking about her but badmouthing Akira, saying she's stuck-up because she's one of the Three Great Water Fairies. She returns to her room, upset, and tells Akari and Alice. Akira overhears her and tells them that backbiting is inevitable in the competitive world of undines, and must be accepted as another part of the job. When Aika complains that it's frustrating, Akira says that for some reason, people always remember the one bad thing that happens amid all the good, and you need to take neither for granted. She opens the window shutters and reveals that it has stopped raining. The trainees conclude they must grow stronger to become Primas.