The Best Episodes of American Restoration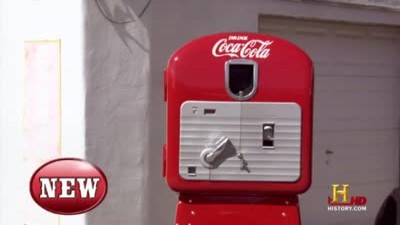 #1 - American Hero 8.43
Season 2 - Episode 13
When a client flies in with a helicopter gunner helmet from the Vietnam war, Rick and his crew have to suit up for some restoration recon. Can they get clearance to polish up this American heroes heli-hat, or will they have to call in some air-support? And later, it's bottoms up for the guys when they pop the tab on a classic 1948 Coca-Cola vending machine makeover. Can the guys quickly quench their thirst on this fizzy fix-up, or will this carbonated contraption explode in their faces?
Directors: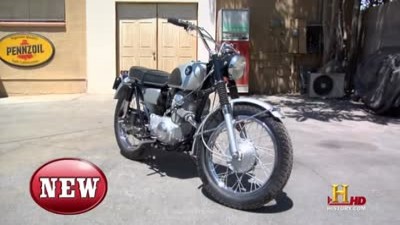 #2 - Suds and Duds 8.31
Season 2 - Episode 12
Rick and his crew change gears when a 1967 Honda Scrambler motorcycle swerves into the shop. Can they win the race on this dirt road restoration, or will they run out of gas before the finish line?
Directors:
#3 - Pegasus on a Pedestal 8.29
Season 5 - Episode 2
Rick and his crew see a big challenge after a rare 1940s Mobil Pegasus sign rolls into the shop. And when the client asks for it to spin on top of a pole, the hunt is on to make this restoration fly. But the team gets more than they bargained for when they meet Leonard, a self-proclaimed picking-nerd, who hopes to score a job at the shop.
Directors: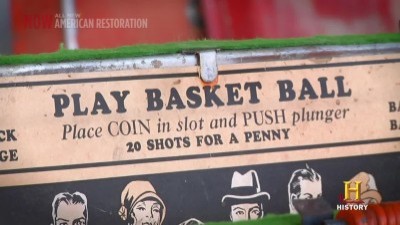 #4 - Nut Job 8.29
Season 3 - Episode 37
A client s expectations are sky high when he agrees to a $10,000 restoration of his early 1900 s peanut roaster. Later, Ron and Tyler go digging for gold in a California picker s backyard that is loaded with antique gas pumps and signs. Ron buys a vintage English taxi and sets out to prove to Rick that it was worth the investment.
Directors:
#5 - Riders of the Storm 8.25
Season 5 - Episode 12
When an New Jersey amusement park owner brings a Hurricane Sandy damaged 1920s Haunted House Car to the shop, the pressure is on to restore a piece of history for a recovering community. With the help of Ted and new painter Niko, Rick hopes to help this wreck-on-wheels once again take some spooky spins.
Directors:
#6 - Pitch Perfect 8.24
Season 5 - Episode 7
When a 1960s Electric Mini-Car arrives for a car show quality upgrade, the crew's got the challenge of making this sparky little roadster into a fast and safe ride for the open road. Will this pint-size put-put prove to be a full-size headache? Then, Rick feels the heat when he's asked to throw the first pitch in a LA Dodger's game. Ron tries coaching his big bro, but will Rick's pitch on the mound be a ball or a strike?
Directors: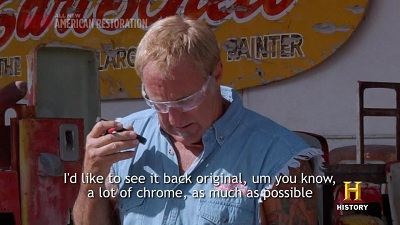 #7 - Clueless 8.23
Season 3 - Episode 43
A vintage scooter is shipped to the shop for a complete restoration. Rick is stumped on the make and model, so he calls on Danny "the Count" to take a look at it. Will Danny be able to shed some light on the mystery or will the job turn cold? A dentist stops by with his 1920's x-ray machine and Rick is concerned that the machine could be dangerous to restore.
Directors: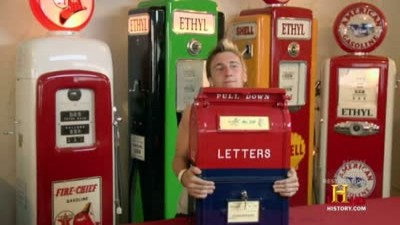 #8 - Special Delivery 8.22
Season 2 - Episode 9
Rick shifts into high gear when a 1967 Harley motors in for a surprise overhaul. Can he comfortably cruise on this road hog refurbishment, or will this retro joy ride skid out of control? And later, a 1940s U.S. mailbox arrives at the shop. Can the crew swiftly sort through a postal patch up, or will this bulky box be a correspondence catastrophe?
Directors: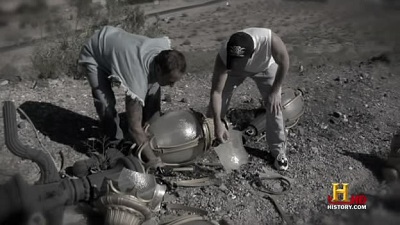 #9 - Lights Out 8.16
Season 1 - Episode 3
Rick must restore a local magicians street lamp after a Vegas windstorm; Rick's son Tyler gets a tough lesson in business after giving a price estimate on a 1930's Eco-Tire Meter.
Directors: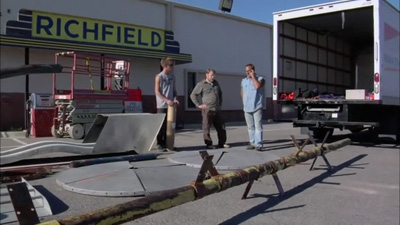 #10 - Blast Off! 8.14
Season 3 - Episode 14
Rick and his crew take on two very large and challenging projects: a 1960s rocket slide and a Wayne gas pump conversion. Later, another meticulous toy restoration comes in. With the business' reputation on the line, the crew is pushed to capacity in order fill customers' orders.
Directors: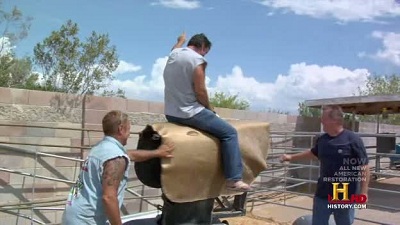 #11 - Buck Wild 8.13
Season 3 - Episode 5
Rick and Ron take restoration by the horns when they agree to revive a vintage mechanical bull. Can they stay steadily astride this rough ride or will they be bucked off? And later, a client drops in with a 1940s Pepsi "Gullwing" cooler. Can they swiftly swallow this ice-cold challenge or will they need to put this soda service on ice?
Directors: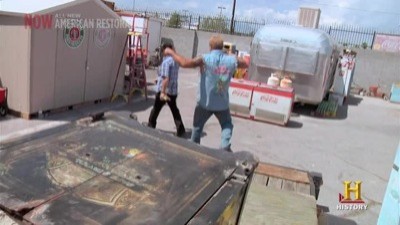 #12 - Break In 8.13
Season 3 - Episode 40
When a 1930 s Custer Car ride from an amusement park arrives, the crew puts it on the fast track. Later, a heavily damaged, 8000 pound safe is dropped at the shop. Since it hasn t been opened in years, its contents are a mystery. Can Rick crack the vault and pull off a miracle restoration?
Directors: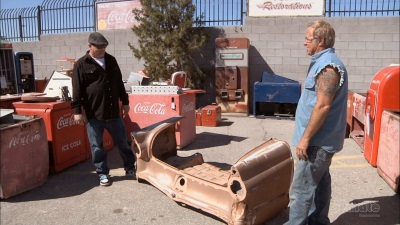 #13 - Sofa King Cool 8.13
Season 4 - Episode 12
When Pawn Stars' Rick Harrison arrives at the shop looking for his son Corey's birthday present, Rick Dale suggests a new couch made from and old car. But the hunt for the coolest classic proves more difficult than he thought. Can Rick Dale make a sofa suitable for Corey's man cave or will the project be a wreck on wheels?
Directors: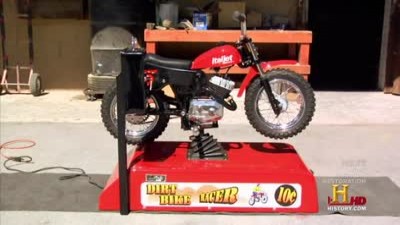 #14 - Rusted and Busted 8.11
Season 2 - Episode 10
Rick and his crew drive full speed ahead when a 1960s coin-operated motorcycle roars into the shop. Can they burn restoration rubber with this kiddie contraption, or will this rapid refurbishment suddenly hit the skids? And later, a client brings in a crumbling 1950s bumper car. Will Rick decide to buckle up and steer this challenging overhaul, or will this retro amusement park ride be more trouble than its worth?
Directors: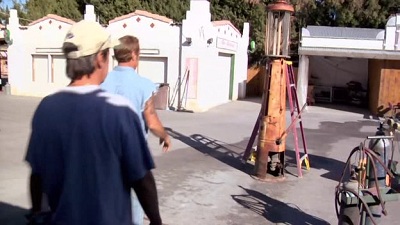 #15 - Pumped Up 8.11
Season 1 - Episode 8
A 1920s visible gas pump is auctioned; and salvage yard is explored.
Directors:
#16 - Ameri-cone Dream 8.10
Season 5 - Episode 6
When a 1950s Cushman Ice Cream Cart glides into Rick's, the shop digs in for a sweet retro ride. Can Rick transform this fun frozen treat machine or will he leave the client feeling ice cold? Then Leonard, the new picker, takes his first treasure hunting trip with Ron. Can the prot g impress the boss's brother or will the student leave feeling stumped?
Directors: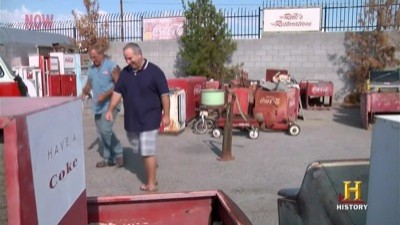 #17 - Bear Down 8.09
Season 3 - Episode 47
A rare "Shoot The Bear" arcade game arrives at the shop needing so much work that Rick is forced to call in an electronics expert to assist with the restoration. Later, Kowboy clashes with Rick about the shop s uniforms and tries to persuade him to change the color of their work shirts.
Directors:
#18 - Cooler Kings 8.08
Season 1 - Episode 5
A 1950s Coke cooler is converted into a "Hot Dog Cooler Grill." Also: an antique barber's pole.
Directors:
#19 - Shocks, Locks and Clocks 8.08
Season 5 - Episode 9
Rick feels a jolt of panic when an early 1900s Electro-Shock Alarm Clock arrives in need of hard-to-find parts. Can Leonard the picker, expert in things weird and scientific, save the day on this creepy contraption? Later, the shop's got a problem when trying to convert a vintage 1940s Wayne Gas Pump into a polo player's equipment locker.
Directors: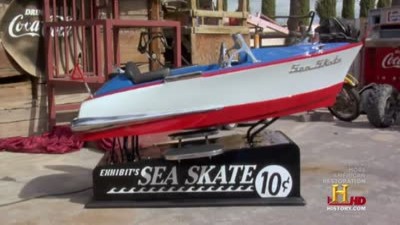 #20 - Anchors Away 8.07
Season 2 - Episode 8
Rick and his crew get their feet wet when a 1952 powerboat ride splashes into the shop. Will this wave rider be an easy-breezy endeavor, or will it be man overboard in rough restoration waters? And later, Rick rolls up his sleeves to tackle a 1940s child's tricycle for a Las Vegas museum. Can he pedal merrily along on this tattered three-wheeler, or will this ankle-biter bike get a flat tire?
Directors: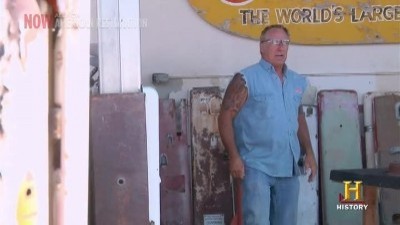 #21 - Right Here, Rum Now 8.07
Season 3 - Episode 30
Sammy Hagar hires Rick to restore a vintage refrigerator into a rum dispenser. Will Rick's re-invention turn out to be a huge hit or will this fridge flop? And later, the shop sets to work on a horse-themed slot machine that has been dropped and no longer works.
Directors: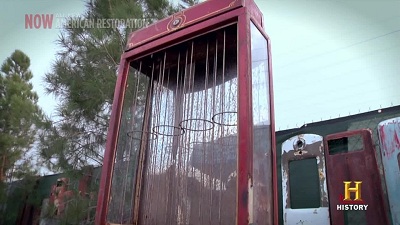 #22 - Stolen Memories 8.07
Season 3 - Episode 45
A customer has huge expectations of Rick s work when she agrees to pay $9500 to restore a 1959 coin operated Western Express amusement ride. A client steals his wife s treasured 1960 s Murray tricycle and brings it to Rick so he can surprise her with a restoration. Later, a rare apple vending machine from the 1930 s arrives at the shop in the mail.
Directors: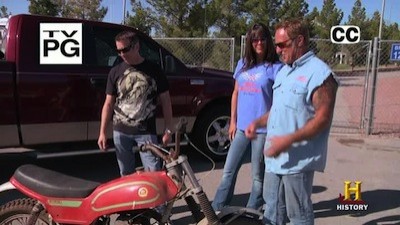 #23 - Dirt Bike Duels 8.06
Season 3 - Episode 22
Rick puts the pedal to the metal when NASCAR driver Greg Biffle asks him to restore his 1970s Montesa motorcycle. Can Rick steer this speed demon dirt bike to the finish line or will this muddy motorbike wipe out before the checkered flag? And later, the shop drives forward on a 1950s Kidillac. Can they keep this classic kiddie car cruising or will they need to swiftly step on the baby brakes?
Directors: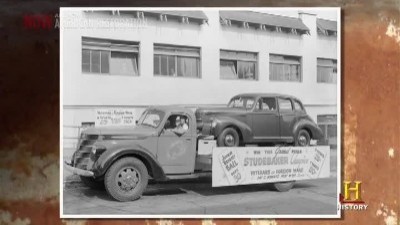 #24 - Pimp Chum's Ride 8.06
Season 3 - Episode 33
Pawn Star Chumley rolls into the shop with a 1950's Murray pedal car and a specific vision for how he wants it restored. Will Rick agree with his request for a tricked-out ride or can he persuade him to go for a more classic restoration? Later, the crew works to fix-up a 1965 Honda Superhawk that hasn't run since the 1980s and is missing one key part.
Directors: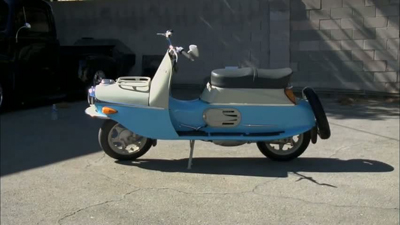 #25 - Cold War Cruisin' 8.05
Season 2 - Episode 17
Rick and his crew try to obey the speed limit when a 1962 Czechoslovakia scooter zooms into the shop. Can they get this Cold War clunker on the fix-up fast track, or will it get deported? Later, a miniature 1930s oil tanker trucks into the shop. Will this tiny toy transformation be nothing but child's play, or will the guys hit a rough and rocky road to restoration?
Directors: