American Pickers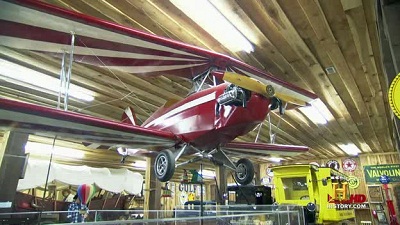 #1 - Pickin' Perry-dise 7.78
Season 2011 - Episode 24
Looking for roadside relics in West Virginia, the guys pick an Appalachian village museum where Mike ups the ante to score a rare retro motor. The museum's octogenarian owners--The Perrys--have never sold anything before, and after sealing the deal on an odd electric peacock, Mike makes his move. In Nashville, Danielle is unimpressed with the pool of quirky candidates she's met to manage the new store. Dave's Ohio storefront is filled with cool bikes and scooters but his business plan is more show than sell. With every room packed to the gills, a father-and-son duo open the doors to their staggering collection where the guys find a giant Goliath head that bears a strange resemblance to Frank.
#2 - Pickers in the Attic 7.73
Season 2012 - Episode 21
At a folk art museum, Mike and Frank discover an attic and two barns that are overflowing with one-of-a-kind pieces. Danielle takes a quick vacation to New York City but finds it impossible to relax due to Mike s incessant phone calls from the road.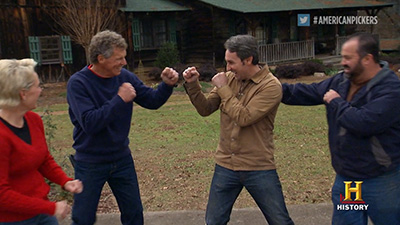 #3 - Love 'Em and Leave 'Em 7.71
Season 2012 - Episode 16
A former Georgia boxer fights to keep a lifetime of stockpiled stuff but his wife is fed up. After scouring their five-acre property, the guys make off with a band's worth of brass instruments and a surprisingly rare art deco fan.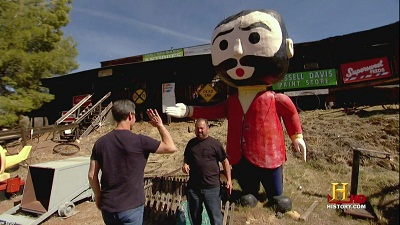 #4 - The Pick, The Pawn & The Polish 7.70
Season 2011 - Episode 13
In this special American Pickers/American Restoration/Pawn Stars crossover episode, Mike and Frank are in Arizona when Danielle calls about a high profile client with a tough deadline: Pawn Stars' Rick Harrison wants a particular model of a 1957 Chevy for his dad and gives the guys a one week deadline to find the rare car. After some dead ends, Mike and Frank finally find a car in need of considerable restoration. They arrange to meet Rick at Rick Dale's (American Restoration) shop where both Ricks can see the car and they haggle over the price. Can these tough negotiators agree on a deal?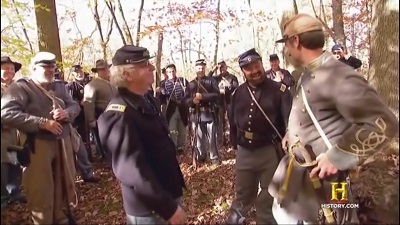 #5 - Civil War Pickings 7.61
Season 2011 - Episode 10
The guys are on an assignment that's 150 years in the making. The Gettysburg Museum asks Mike and Frank to help expand its collection by hunting down some hard to find Civil War items. It's a daunting task made even harder with a limited budget. Danielle gets things rolling when she sends them to a previous customer who's a Civil War buff. Frank scores a Spencer Carbine. They next visit a collector, Keith, who doesn't want to sell, but they convince him to loan a rare Dog River Confederate sword to the museum. They also buy a Springfield musket and canteen. But their picking skills are put to the test when they spot a Union frock coat. It's at the top of the museum's wish list, but can they negotiate a sale and keep within the museum's tight budget? In addition, the guys experience a Civil War adventure when they sign up with a local re-enactment group. As Captains on opposite sides they go into battle, leading their respective troops.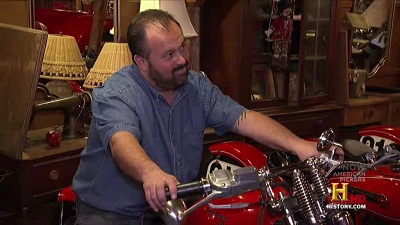 #6 - Frank Bears All 7.58
Season 2011 - Episode 15
Mike and Frank are picking their way through Florida when they get a lead on a potential gold mine -- a five-acre property that's an automotive graveyard. The guys also visit an off-the-grid hangar-sized geodesic dome home where they discover two gems: a very rare piece of rock 'n' roll history and an unusual motorcycle sidecar. Mike's hunger for seafood lands them a chance pick through slot machines, vintage advertising, sci-fi movie props and taxidermy bears.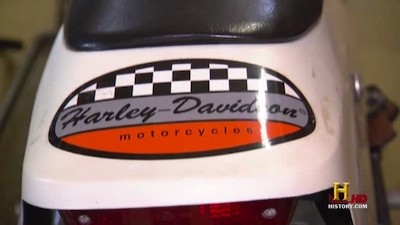 #7 - Odd Fellas 7.57
Season 2012 - Episode 5
Frank goes wild in Joe's garage. It's packed with vintage motorcycles and while Frank scores deal after deal, Mike's efforts sputter and stall. With his family hit hard by the recession, a prolific collector is eager to sell. The guys scour building after building but sometimes one man's junk is just junk. While Frank gets ready to go to his high school reunion and show off his restored Plymouth, Mike and Danielle visit a Virginia property that turns out to be a mega-pick. With jam-packed buildings and trailers, Bill's sprawling collection features Odd Fellows relics and a vintage guitar that may be worth a fortune.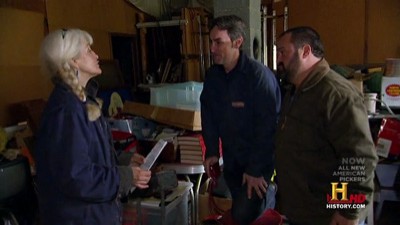 #8 - Mike's Holy Grail 7.57
Season 2012 - Episode 11
While cruising the back roads of North Carolina, the guys get a somewhat vague lead on the holy grail of motorbikes. The XAVW is a legendary masterpiece because of its detailing and unique components. Mike is determined to find it and puts pressure on Danielle to track it down. In addition, in Betty's sprawling warehouses, filled with a variety of stuff, the guys uncover everything from architectural salvage to an amazing military artifact. Also, Dale has an awesome junkyard and a noble cause. After gambling on a collection of Indian artifacts, Frank gets some jaw-dropping news from the appraiser.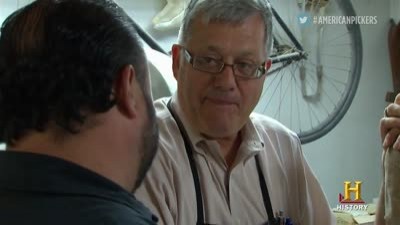 #9 - Where's Aldo? 7.50
Season 2012 - Episode 20
In Pennsylvania, Mike and Frank pick in some unique places including a funeral home and a prosthetic limb factory. They unearth mega collections but all the owners are reluctant to sell. The Pickers eventually run into a reclusive man named Aldo who grants them access to his mind-blowing stockpile of brand new vintage toys.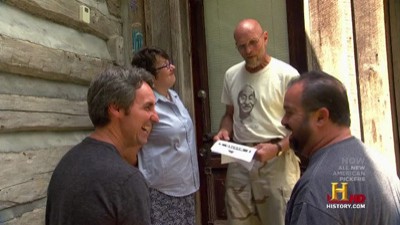 #10 - Boys' Toys 7.50
Season 2012 - Episode 9
With his wife by his side, a self-confessed Tennessee hoarder is motivated to clear out his jam-packed log cabin home, and the showstopper is a 1947 Harley Knucklehead. When a restoration junkie's gas pumps are off-limits, Mike changes gears and sets his sights on a horse. A robot collector's sci-fi man cave yields a mint-condition astronaut toy but the cost could be other-worldly.
#11 - You Betcha 7.47
Season 2012 - Episode 17
With a massive property and a motivated seller, the guys pick Kentucky's Pioneer Playhouse where a mysterious wooden box captures Mike's attention. Frank is sure it's a magic box but Mike disagrees, leading to a serious wager.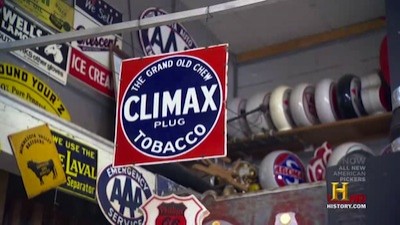 #12 - When Horses Fly 7.46
Season 2012 - Episode 6
Burning up the back roads of South Dakota, Mike and Frank get off to a great start in Jim's spectacular man-cave. But when he slams on the brakes, they switch gears to score a heavenly sign. Freestyling in Iowa, the guys take a chance at an old airport turned auto body shop where a retro car takes them back to the future. Packed with roadside relics, Norm's property features a jaw-dropping collection of vintage pedal cars but the guys soon discover he drives a hard bargain.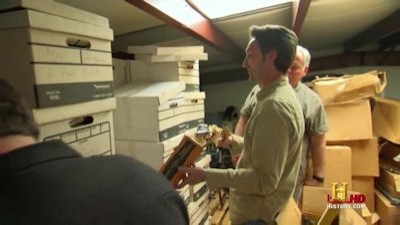 #13 - Smooth Operators 7.45
Season 2010 - Episode 16
As the guys finish their trip through the South, Danielle finds them the mother lode of rare motorbike parts; an incredible discovery guaranteed to impress their friend and NASCAR champion Ryan Newman.
#14 - Frank's Big Shot 7.44
Season 2011 - Episode 8
The guys are still cruising California looking to score big. Will a generation's old salvage yard be the place? Can they even get in? Later on Mike and Frank visit a Scuba lover's mini museum and Mike has his eyes on a pricey brass dive helmet. At another pick Frank finds a unique motometer. Then in a random turn of events, the fellas go from picking to a basketball court with Frank "The Free Throw King".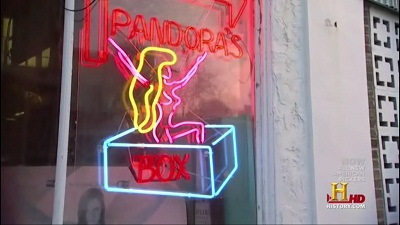 #15 - Pandora's Box 7.44
Season 2011 - Episode 14
Mike and Frank are cruising around Daytona Beach, and while the sun is shining outside, the van reeks and the hunt is on to find out why. The guys stumble onto a street lined with abandoned businesses and fall head over heels for a girly neon bar sign. Barbara's bayou property is a pickers' paradise. Plus, Randy's suburban home is packed to the rafters with rare collectibles. But when the guys get a load of his prices, it's time to pull out all the stops.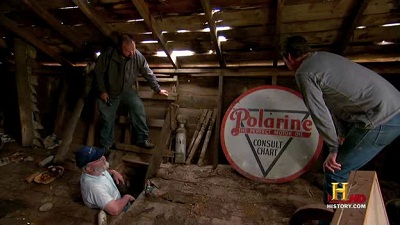 #16 - Not So Cheap Thrills 7.44
Season 2011 - Episode 23
Mike and Frank are freestyling in Minnesota where they stumble on salvage operator Terry who has a staggering scrap yard. Everything is for sale, including a mother lode of retro signage. Next, coin-op kings Gary and John "say" they're ready to sell some of their vast collection of vintage arcade games. Frank takes a major gamble on some old school peep show coin operated machines. And retired twin brothers Steve and Tom open up their massive collection of toy cars and trucks. Danielle gets an appraisal on the peep show item.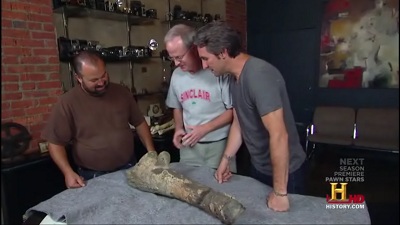 #17 - Jurassic Pick 7.44
Season 2011 - Episode 22
In Mississippi, Mike and Frank find what turns out to be a priceless, 65-million year-old dinosaur bone. It's appraised by the curator of the Mississippi Museum of Natural Science. Next, they find a 1960's Bella German scooter judged among the best on the market at the time, and an antique audio recording device made from piano wire.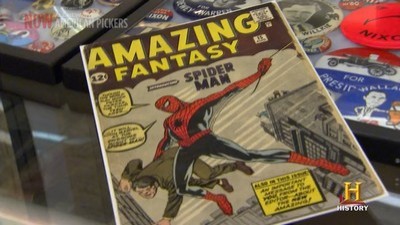 #18 - Picking Superheroes 7.43
Season 2012 - Episode 25
The guys pick a Pennsylvania warehouse and find a rare comic book that gets Mike s "spidey" senses twitching. Frank tries to negotiate for a vintage cigarette machine with a lifetime collector who is also a reluctant seller. A ramshackle old house in South Carolina looks promising but it's also said to be haunted by a ghost named Pearl.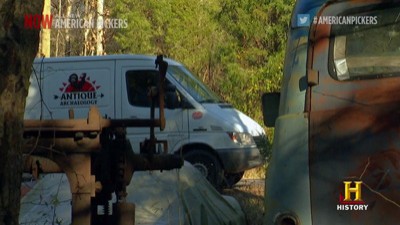 #19 - Driving Miss Dani 7.41
Season 2012 - Episode 14
With an oversize collection of enormous steam engines, Gene's 17-acre North Carolina property is like an open-air museum where the guys start searching for smaller items they can actually move.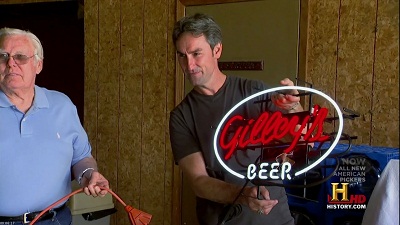 #20 - Urban Cowboys 7.40
Season 2011 - Episode 18
Looking for picks in Texas, the guys see a sign for Gilley's Club, the honky-tonk club made famous in the 1980 film Urban Cowboy. Soon they're face to face with country music superstar Mickey Gilley himself who has a warehouse jam-packed with rare Gilley's memorabilia. Later, Paul's sprawling junkyard features a staggering amount of stuff. His grandson Pride takes the guys on an adventure, and when it comes to negotiating, young Pride proves he's tough. Gilley steers the guys north to a peanut factory where Jim has preserved all the big-ticket items from Gilley's, including a mechanical bull. But when Frank gets a load of the bar's original grand piano played by many a music legend, a potential deal is music to his ears!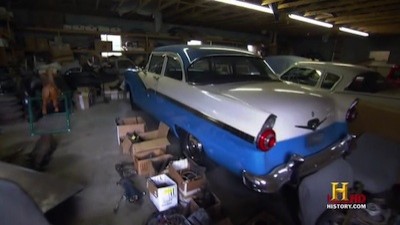 #21 - Frank's Dog Days 7.38
Season 2012 - Episode 4
Since opening his second store, Mike's feeling serious pressure to fill up the van. He gets lucky while freestyling in Virginia with Danielle. A cold call with Gary pays off with a pink jukebox and the remains of a rare 1930s motorbike. While he proves to be a tough negotiator, Doug's well-manicured property is a honey hole of petroliana. Henry's trailer homes are packed to the gills with unusual collectibles and he's ready to make a deal. Danielle proves she's got a picker's eye. But back at the shop, Frank has a tough time tracking down an appraiser for the jukebox.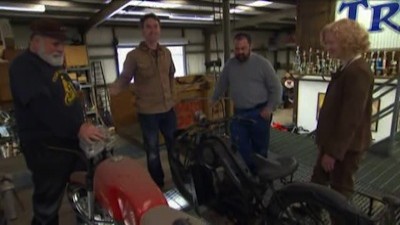 #22 - Duck, Duck, Moose 7.38
Season 2012 - Episode 13
Mike and Frank think they've hit the lottery with Dick's North Carolina warehouse. It's jam packed with quality stuff but his prices are through the roof. The bearded charmer steps in to save a deal on a rare kid's ride and Mike discovers unique brass-era car parts that could be worth a bundle. With an entire town he built himself, Charlie's "Mooseville" features folk-art, rock bottom prices, and a surprising hidden gem...a mineshaft that leads to an underground saloon. And in Beno's motorcycle workshop, the awesome racing stories are trumped by his meticulous collection of vintage Indian motorbikes and accessories.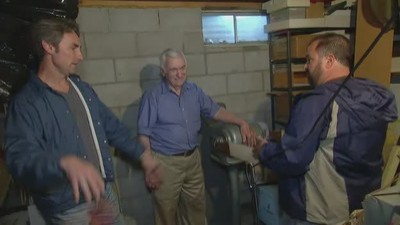 #23 - 8th Grade Humor 7.31
Season 2011 - Episode 21
Determined to uncover a hidden honey hole, the guys are freestyling on their home turf in Iowa. And to keep himself entertained, prankster Frank has a few practical jokes up his sleeve. After the boys spot a rusty toy museum sign, lifetime collector George opens the doors to his heavenly collection. A former church turned personal showcase, the shelves are overflowing with vintage toys and George is in the mood to sell. The bearded charmer works his magic and the guys soon find themselves picking with a local history buff. As a fire marshal, John empties abandoned houses before burning them down! He's filled several outbuildings with salvaged treasures. Mike spots an item so unusual he's willing to take a huge gamble. In Des Moines, auction-addict Roger has a 3,000-square-foot mega-pick that's jam-packed with treasure that he's finally willing to sell.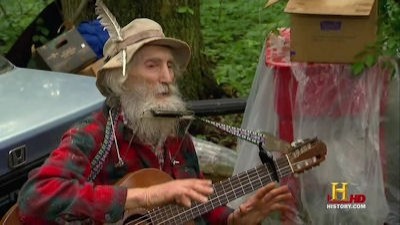 #24 - Hobo Jack 7.31
Season 2010 - Episode 21
Danielle tells the guys they need to step up their game; Mike and Frank uncover lots of great stuff in Tony's sprawling Illinois collection; Ken has room after room of unusual items; Danielle calls with a lead about Hobo Jack.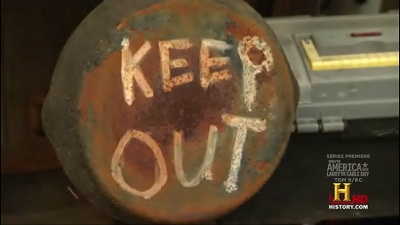 #25 - Keep Out! 7.30
Season 2011 - Episode 4
Driving along the back roads of Tennessee in the early morning fog, Mike and Frank are brushing up on their Southern expressions when they spot an awesome property. Once they muster up the courage to ignore the scary "no trespassing" signs, the homeowner opens up his amazing collection of incredible "mantiques". Later, with four barns that are packed to the rafters, a Smokey Mountain property looks perfect. But Mike and Frank's perfect day quickly goes downhill when the collector can't bear to part with anything. Can they break the ice or will their picking spirit be broken first? And, thanks to a lead from Danielle, the guys get a warm welcome from Joe, a lifetime picker whose staggering collection spans over 30 buildings.