American Dad!
#1 - Spring Breakup 8.18
Season 4 - Episode 16
Stan has a Spring Break-induced mid-life crisis. With Francine away visiting her parents, Roger invites Spring Breakers to party at the Smith household. But Stan nearly has a Spring Breakdown when he falls prey to booze-cruising Jessica and Steve tries to lose his virginity to the luscious Carmen Selectra.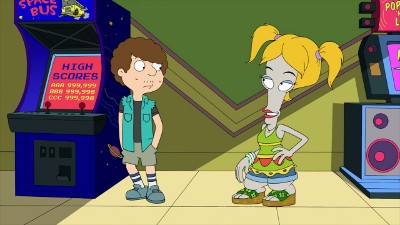 #2 - Jenny Fromdabloc 8.11
Season 7 - Episode 16
After Snot professes his love for Hayley and gets shot down, Steve and Roger devise a plan to cheer him up. Roger dresses up as Steve's cousin from New Jersey, Jenny Fromdabloc, and Snot falls hard for her. Meanwhile, Stan wants to live like a gentleman of the 1960s, complete with dark suits and dry martinis.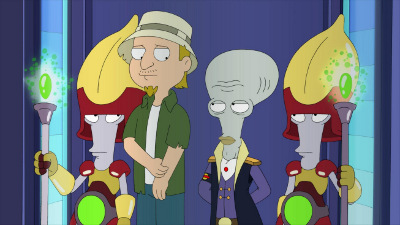 #3 - Lost in Space 8.08
Season 9 - Episode 18
Jeff must prove his love for Hayley to Emperor Zing in order to find his way home from the spaceship that abducted him.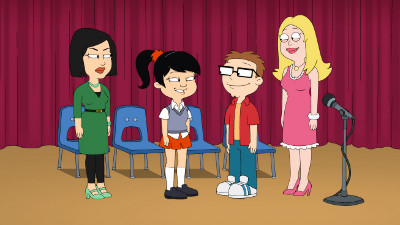 #4 - Spelling Bee My Baby 8.04
Season 9 - Episode 14
Francine tries to rig the school spelling bee so that Steve will win; Stan and Roger try to rush Hayley's grieving process so she will be available to judge their badminton game.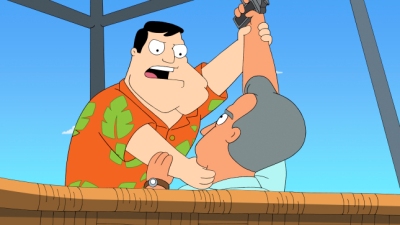 #5 - Killer Vacation 8.04
Season 9 - Episode 2
During the Smith family's tropical vacation, Stan is ordered to kill the activities director at their resort; Jeff and Hayley try to rekindle their romance.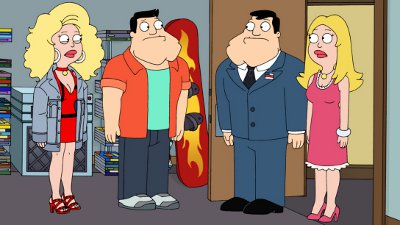 #6 - The Kidney Stays In the Picture 8.03
Season 8 - Episode 16
Stan fears he may not be Hayley's real father, so he goes back in time to find the truth. In doing so, he disrupts the past and must save the future.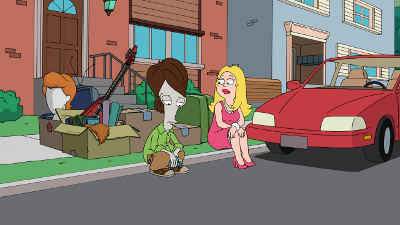 #7 - You Debt Your Life 8.01
Season 7 - Episode 12
After an argument with Stan, Roger moves out of the house and is subsequently replaced. Meanwhile, Steve acquires a new job at Pearl Bailey High School.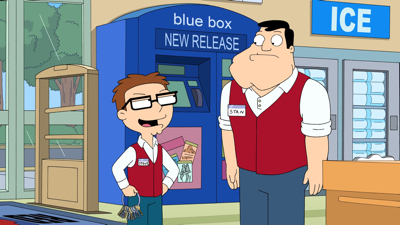 #8 - Permanent Record Wrecker 8.00
Season 10 - Episode 18
When budget cuts result in Stan getting fired, his work experience is considered classified and he is forced to take a job at the store Steve manages; Roger makes a bet with an irritating coffee shop musician (Robin Thicke).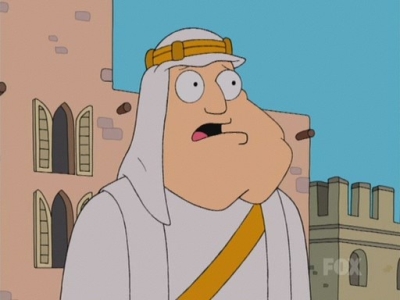 #9 - Stan of Arabia (2) 7.99
Season 2 - Episode 6
As the Smiths continue to live in Saudi Arabia, Stan is fully enjoying the male-dominated society, while the rest of the family struggles with the different social norms. Meanwhile, Francine's musical expos on gender roles gets her into trouble, and a brush with death leads the Smiths to return to the United States.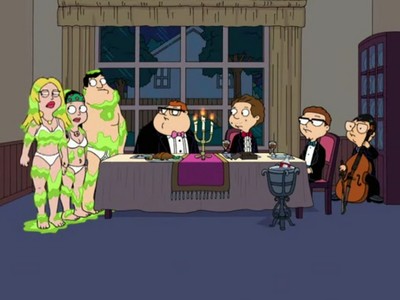 #10 - The Vacation Goo 7.99
Season 4 - Episode 1
When Francine discovers that all of their family vacations have been artificially created memories, she gets very angry and demands a real vacation. However, when the vacation seems too good to be true, Francine is convinced it's the work of the CIA and causes the family to suffer the consequences. Meanwhile, Roger attempts to become the greatest actor who ever lived.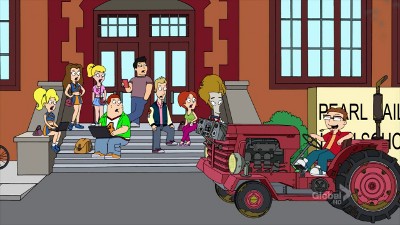 #11 - License to Till 7.98
Season 7 - Episode 15
When Steve has trouble crossing over into the "cool kids" social circle, Klaus and Roger place their bets to see how quickly Roger can make him cool. Everything they try backfires until Steve becomes the in-crowds designated driver. Meanwhile, Stan and Francine take turns pranking each other.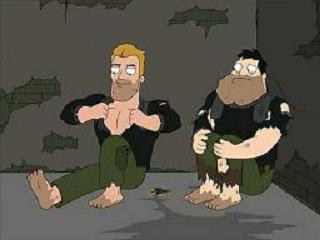 #12 - Wife Insurance 7.98
Season 5 - Episode 15
When Stan gets kidnapped in Colombia, Francine fears he's gone for good. Stan finally reappears unharmed, but the real trouble erupts in the Smith household when he admits that he has a plan to marry his dentist if Francine dies before him. Meanwhile, Steve and Roger play detective duo "Wheels and the Legman."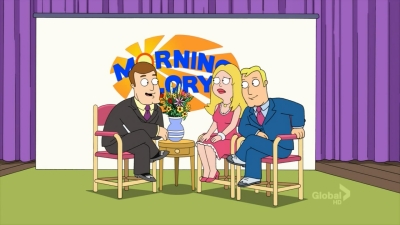 #13 - National Treasure 4: Baby Franny: She's Doing Well: The Hole Story 7.98
Season 9 - Episode 7
A talk show reveals that Francine was the toddler who, famously, was rescued from a well by a firefighter; Francine makes a discovery when she falls down the well on the anniversary of her rescue; Stan and Roger come up with a business idea.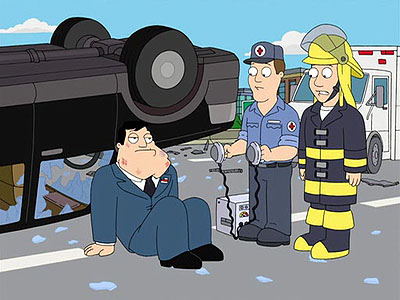 #14 - Stanny Slickers II: The Legend of Ollie's Gold 7.98
Season 4 - Episode 15
Officially declared dead after an accident with a pudding truck, Stan comes back to life to realize his dream of leaving a legacy on the world and begins to excavate his home in search of Ollie North's "Contra"-band buried treasure. As the search for gold goes "North," life at home heads south as Hayley turns to body-piercing, Steve creates a robotic girlfriend and Roger files for sexual harassment.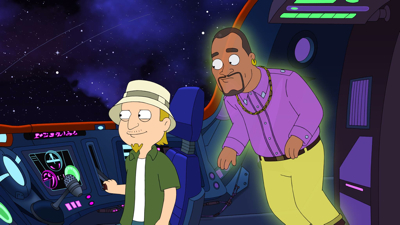 #15 - The Longest Distance Relationship 7.98
Season 10 - Episode 20
Hayley meets a millionaire who tries to help her move on from her heartbreak; Snot and Steve make a discovery.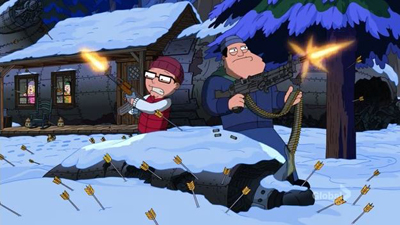 #16 - For Whom the Sleigh Bell Tolls 7.98
Season 7 - Episode 8
Despite Francine's warning, Stan gives Steve a gun for Christmas; Steve accidentally shoots Santa.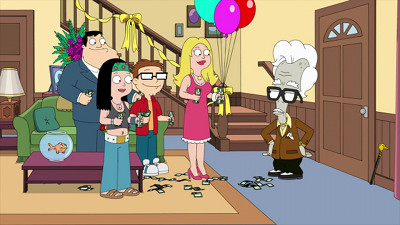 #17 - Max Jets 7.97
Season 9 - Episode 11
Roger announces that Max Jets, a character who showers the Smith family with money, is making a return; a gold-digging waitress romances Max and threatens the family's inheritance.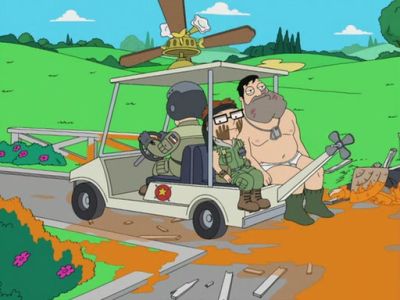 #18 - In Country... Club 7.96
Season 6 - Episode 1
When Steve is selected to sing the national anthem at the Langley Falls Veterans' Day celebration, he gets some heat from Stan who doesn't think he's ready for such an undertaking. Unimpressed with Steve's vocal talents, Stan decides Steve needs to experience real war in order to sing about our country's military prowess. But things quickly go south when Roger gets involved and Steve goes bananas.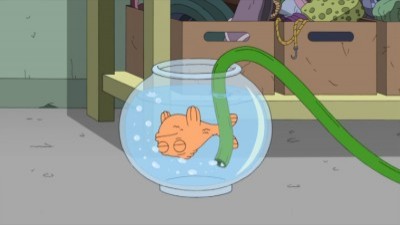 #19 - Da Flippity Flop 7.95
Season 9 - Episode 19
When Stan refuses to switch Klaus back into his original body, he steals Stan's body; Roger builds a gym in the attic.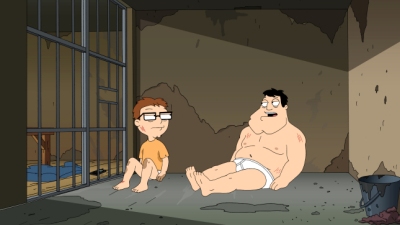 #20 - Toy Whorey 7.95
Season 8 - Episode 18
When Stan catches Steve playing imaginary games with his toys, he decides to take his son down to Mexico to help him become a man. But the trip takes a turn for the worse when Stan and Steve are kidnapped by a drug cartel, and it's up to Steve to break himself and Stan out of captivity.
#21 - Vision: Impossible 7.95
Season 10 - Episode 9
After Roger gets in an accident while trying to take a picture of his crotch on a traffic cam, he begins having visions of the future.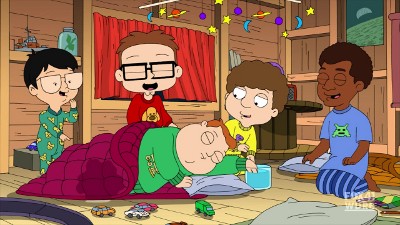 #22 - A Piñata Named Desire 7.94
Season 7 - Episode 11
With a flair for the dramatic, Roger invites Stan to attend one of his acting classes. However, tempers flare when they both audition for the same role, leaving them to duke it out for top dog. Meanwhile, Steve and his friends get into a pillow fight when they try to plan the greatest slumber party ever.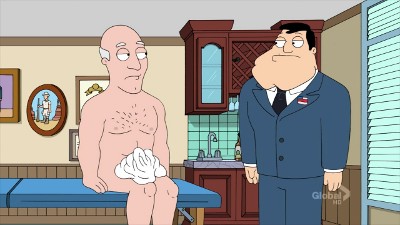 #23 - School Lies 7.94
Season 7 - Episode 14
In an attempt to advance in the CIA, Stan enrolls Steve in the same private school as Senator Buckingham's daughter. After Steve quits and joins a Latina street gang, Roger fills in & things are going well until Roger accidentally sells the senator's daughter to a drug lord.
#24 - Naked to the Limit, One More Time 7.94
Season 9 - Episode 12
Roger pretends to be Jeff's imaginary friend so he can roam around the house without a disguise; when Jeff realizes Roger is an alien, Stan issues an ultimatum -- either Roger or Jeff must be killed; Steve becomes insecure about his body.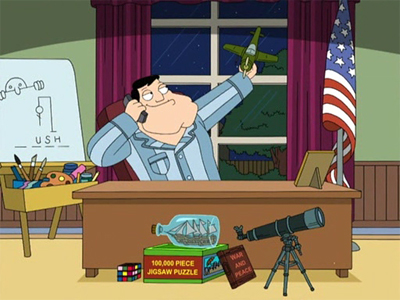 #25 - Stan Time 7.93
Season 5 - Episode 9
Stan is ecstatic when a co-worker gives him pills that allow him to stay up all night but feel like he slept for eight hours.