Ally McBeal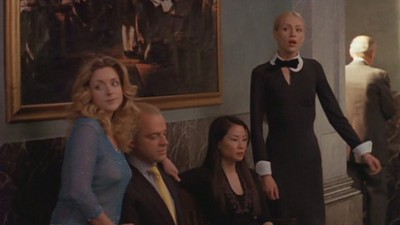 #1 - Over the Rainbow 8.46
Season 3 - Episode 11
"...And the dreams that you dare to dream really do come true." Georgia sues Cage, Fish and the firm for the destruction of her marriage. She cites many issues as leading to Billy's breakdown and the ultimate dissolution of their marriage.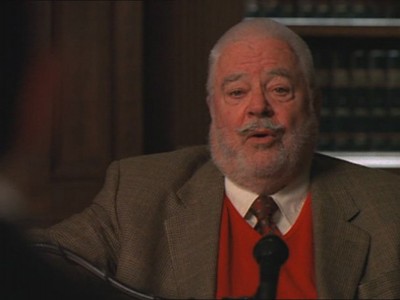 #2 - The Man with the Bag 8.10
Season 4 - Episode 8
John and Nelle defend her father who was fired from his job as a teacher because he claims he's Santa Claus; Ally feels threatened when Larry's ex comes to town;Richard and Ling lip synch at the office Christmas party.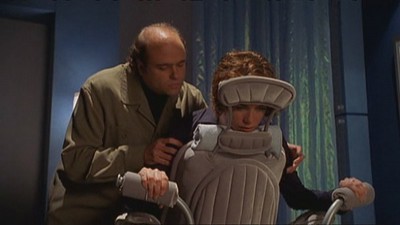 #3 - Blowin' in the Wind 8.05
Season 5 - Episode 9
Ally impulsively buys a house, to which Dr. Milter concludes is a way of her to take care of herself, since Ally sees herself as a 'work in progress'. Richard gets the others to help paint the house as a surprise for Ally, who hires the handyman Victor to fix the house for her. Meanwhile, Ally handles a case of a man who spent too much money buying gifts for his wife until they went bankrupt. And Jenny has some back problems, to which Coretta recommends a chiropractor who has a special chair. Glenn gets extremely jealous that a chair is giving Jenny more pleasure than him, while Nelle tests the chair.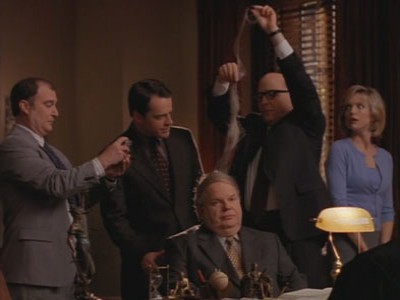 #4 - Those Lips, That Hand 8.04
Season 2 - Episode 18
Cage and Fish's firm gets a capital case to defend a man accused of murdering his comatose wife. He insists he fired up the chainsaw and cut off her hand after she was dead. Renee, who is prosecuting, has the testimony of the coroner who thinks the wife was alive and that the amateur surgery gave her a heart attack. Billy and Georgia continue to patch up their marriage after Billy's indiscretion with Ally. Billy and Georgia are working on a case in which they are representing a man suing to get his job back with and insurance company who fired him over a bad hair day.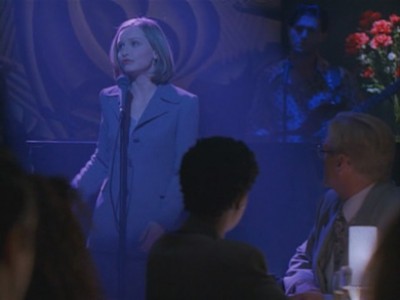 #5 - The Dirty Joke 8.00
Season 1 - Episode 9
The attorney, Caroline Poop, who represented Elaine in her short lived suit against Fish and Cage regarding the constant gawking directed at a beautiful delivery woman, returns. This time she is representing the beautiful delivery women, Jennifer, who now serves Fish and Cage with her own lawsuit for same-sex sexual harassment. Meanwhile, Ally makes a bet with Renee that she can tell a dirty joke and get more laughs. The duel is set for the bar downstairs in her office building.
#6 - What I'll Never Do for Love Again 8.00
Season 5 - Episode 20
Elaine auditions for "A Chorus Line", but doesn't get a call back. She accidentally bumps into the casting director, whom she finds attractive and nice. They go out for dinner and end up having sex. The next morning at work Elaine feels horrible for not giving her full self at the audition and Nelle tries to comfort her. Richard's father seeks for his help. He's being sued by his former secretary for sexual harassment. He fired her because he was falling in love with her, which damages his 40 yearlong marriage.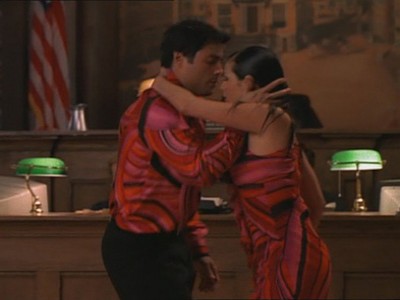 #7 - Hats Off to Larry 8.00
Season 4 - Episode 12
Larry's son flies in from Detroit and goes to Cage & Fish looking for Ally. He wants to sue his parents for emotional damage. Ally and Sam bond, and Larry has to take him back to Detroit. He doesn't want to say goodbye to Ally, who suffers with his departure. Larry promises to return. Meanwhile, Nelle is representing her dance instructor/lover Sam Adams in court. He's suing his ex-partner for stealing his dance moves. Cindy McCauliff returns to the office looking for Richard. (S)He wants to marry a man, but after the court denies it Richard offers to perform the ceremony at the office.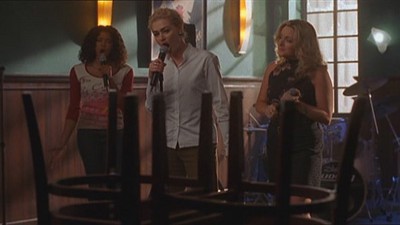 #8 - Woman 7.96
Season 5 - Episode 13
Ally decided that in order for the firm to get out of the financial crisis it's going through, someone will have to be let go. She chooses Jenny, who between all the lawyers of the firm had the least number of clients and experience. Glenn takes Jenny's dismissal offensively and decides to quit, taking all his clients with him. Ally accepts his resignation, but Victor convinces her to hire him back since the firm can't afford to lose any clients. Glenn and Jenny decide to start a new firm together and leave Cage, Fish & McBeal once and for all. Now the other lawyers will have to do extra work to make up for the loss. Among the changes Ally is making on the firm, she wants Nelle to be nicer and asks her to perform at the bar, something she has never done before. Afraid of embarrassing herself, Nelle goes to Ling for help. They decide to have backing vocals, a plan that backfires when the singer who was going to dub Nelle suddenly loses her voice and Elaine has Claire Otoms to replace he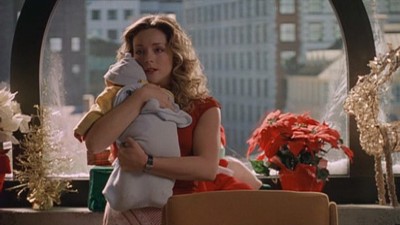 #9 - Blue Christmas 7.95
Season 3 - Episode 8
Elaine finds a real, live six-week-old baby in a nativity scene manger and wants to keep him. Cage and Ally represent Elaine in her fight to gain custody, while the rest of the office (full of child-less lawyers) become enchanted with the baby. Even Ling considers having children. Billy attempts to reconcile with Georgia. Meanwhile, Ally and Renee bet $1000 that one can "out-sex" the other by singing suggestive holiday songs on stage at the bar.
#10 - Boy Next Door 7.91
Season 3 - Episode 16
Billy represents a woman in an annulment action case, who's deeply religious husband wants out of the marriage. Meanwhile, John gets trapped in an elevator with his legs dangling out the door. Nelle pulls another sleazy stunt.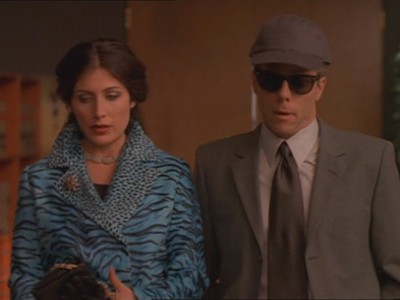 #11 - Love on Holiday 7.90
Season 4 - Episode 7
Elaine gets sued by a former office clerk because she called him "peanut" due his size. John thinks Larry was ridiculing him by making fun of his relationship with Kimmy and her mother. Nelle and Ling compete about who will have the most bids from the charity auction dinner date and Cindy (Mark's ex-girlfriend the transvestite) has plans for Richard for charity auction.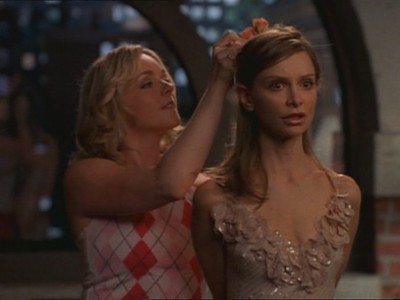 #12 - The Wedding 7.88
Season 4 - Episode 23
Malcolm Wyatt hires Ally to take his case. He's suing a girl for not going to the prom with him after she said yes in fall. The opposing lawyer is Larry Paul, and Ally is nervous about meeting him in court. But he never shows up, and his partner Coretta tells Ally he left for Detroit. Richard hires Jane Wilco as the office's new secretary, but after she gets the cold shoulder from some people, Richard wonders what ever happened to the friendly workplace he once built. Ally talks to Billy's ghost and decides to go to Malcolm's prom as his date and convinces him to sing solo and never stop believing in love.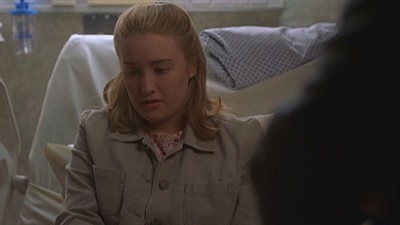 #13 - Heart and Soul 7.88
Season 5 - Episode 15
Richard and Raymond are hired to represent Serena Feldman, a 16 year-old girl who will die unless Judge Hall consents her a heart transplant from her convicted father, who is the her only match. Serena's aunt is against the transplant because Serena's dad murdered her mother , and Claire interferes with both her and the judge in order to help save Serena. The case is tough, and afraid his daughter will die after Judge Hall denies the transplant, Serena's father escapes and kills himself. Meanwhile, Maddie is caught smoking and reveals to Victor that she wanted to be suspended to avoid father-daughter day at school. She questions Ally why she and Victor can't be together, and Victor overhears Ally telling Maddie that they come from different worlds. Angry at Ally for being elitist, Victor quits, but Ally goes after him to ask him on a date. In the last minute she freaks out, and Victor is called in for help. Ally is still in love with Larry and thus can't date Victor.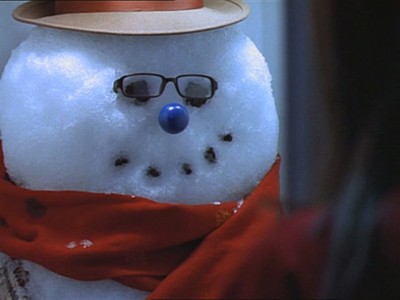 #14 - Falling Up 7.88
Season 4 - Episode 15
Jackson and Renee's one night stand turns into something more; Ally visits several therapists to get over her hallucinations of Larry, who eventually appears in the flesh; John represents a man who wants to annul his marriage after his wife decides she doesn't want to have kids, a case that carries over into John's relationship with Melanie.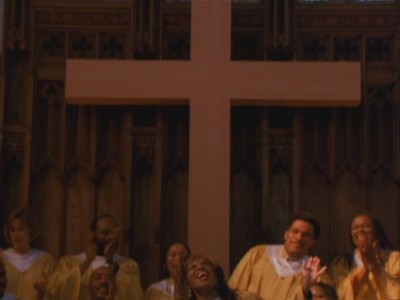 #15 - Boy to the World 7.86
Season 1 - Episode 10
Judge Whipper Cone asks Ally to take on a pro-bono case of a young prostitute up on her third solicitation charge. Fish, meanwhile, wants to sue his uncle's church for discrimination, due to his uncle's overt bigotry towards vertically challenged people (short people). The church's contention is that they cannot support bigotry of any kind and allowing the uncle a service and proper burial is tantamount to endorsing the appalling views. Fish promises he will not propagate the attitudes in his eulogy. Renee talks Ally into double dating with the salad-dressing-on-the-chin guy if the Biscuit is invited.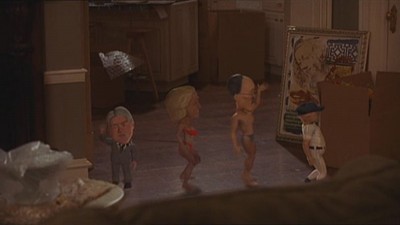 #16 - Bygones 7.86
Season 5 - Episode 22
After Maddie passes out Ally finds out she is suffering from a nervous reaction to all the changes in her life, so Ally decides that the only way she can help her daughter is to move back to New York. While the news come as a big shock to the firm, Richard anticipates his wedding with Liza so Ally can attend the ceremony. While spending her last hours in the town, Ally gets a visit from Renee, Georgia and afterwards, Billy as a ghost...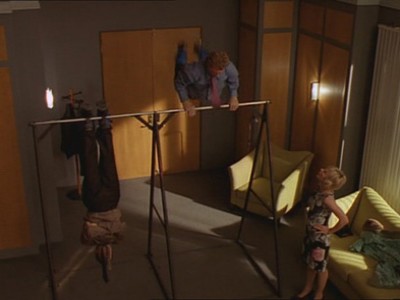 #17 - Reach Out And Touch 7.85
Season 4 - Episode 13
Ally has hallucinations with Barry Manilow. Richard assigns Ling to work with Jackson Duper, the firm's newest lawyer. When they meet, Ling discovers that Jackson slept with her in the past under a fake name. They have to handle a double case of a man who wants his marriage annulled because his wife is a nymphomaniac and cheated on him 106 times and is suing the minister for having a torrid affair with her. Between the unisex bathroom, Elaine's vibra and Melanie's Tourette, Jackson is going crazy with his new job and questions his future in the firm. Meanwhile, John proposes to Melanie. But Melanie doesn't want to be institutionalized (even if that institution is marriage)...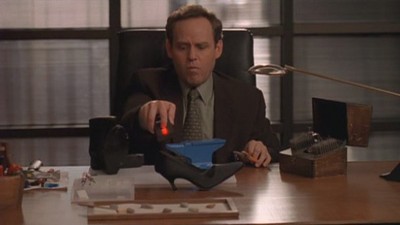 #18 - Just Friends 7.85
Season 3 - Episode 10
Ally has a romantic dream about Cage and wakes up thinking that he may be the one for her. When she finally gets up the courage to tell him, he admits that he often thought she might be the one for him also. Meanwhile, Elaine goes on a date with a great guy only to learn that he asked her out because his friend said she was easy.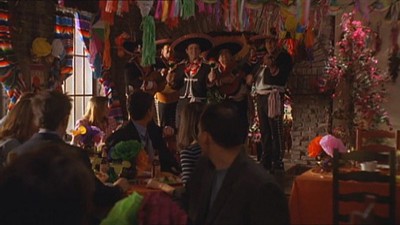 #19 - All of Me 7.85
Season 5 - Episode 21
The lawyers at Cage, Fish & McBeal split when both personalities of the same woman hires them to represent each in court. One of her personalities is a strong, decided and bitchy woman that goes by Helena Green. She wants to divorce her husband, who years ago married sweet, warm hearted but weak Helen Green. Helena has Liza and Richard on her side – a couple who is struggling with the imminent commitment – while Helen hires Ally and John – who but those two could represent a suppressed personality of a woman who has love as her life incentive?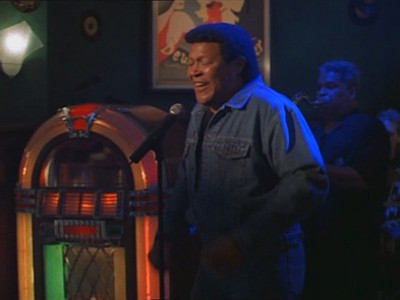 #20 - Mr. Bo 7.83
Season 4 - Episode 11
Melanie takes John to her tiny apartment (actually it's an old service elevator) and introduces him to Mr. Bo, a homeless man Melanie cares deeply for. Mr. Bo starts to stalk John around and he files a complaint against him. After Melanie convinces him to drop the charges, she reveals that Mr. Bo is in fact her father and John will have to wrestle him in order to go on seeing her. Meanwhile, Richard organizes a twist contest at the bar and while Elaine freaks with the possibility of losing to the babe lawyers, Nelle only enters the contest after Ling introduces her to a very hot twist instructor. And Ally takes a case of a woman who fired her secretary because she was slightly overweight and is shocked when she discovers that Cage & Fish only hire hot female lawyers.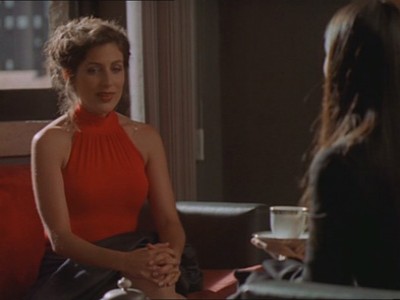 #21 - Girls' Night Out 7.81
Season 4 - Episode 2
Richard and Ling take Cindy McCauliff's case. She was fired for refusing to take a physical, afraid people would find out she's a man. Richard and Ling, although a bit sickened with that, win the case. Cindy meets Mark at the office and they go out. Richard feels Mark has to know the truth, but Cindy says he'll know in the right time. Meanwhile, Ally organizes a models night at the club to attract men. Brian walks into the bar and is hurt by the sight of Ally dancing surrounded by men. He takes the microphone and thanks Ally for moving on so quickly. John and Nelle handle a case about a woman being sued for sexually harassing a man. They're up against Georgia and Renee, and John wins. He sleeps with the client and is a bit disappointed to find out he was a one-time-only thing.
#22 - 'Tis the Season 7.81
Season 4 - Episode 6
The Christmas season is approaching, and while Ally is thrilled about it, Larry has nothing to celebrate. He confesses to her that he has a 7 year-old son who lives in Detroit with his mother, and ever since they split Larry finds Christmas sad and lonely. Meanwhile, Kimmie insists that John sings at the bar after he lies about his college band, and he doesn't do as bad as everyone thought he would. Elaine is lonely and performs at the bar to regain self esteem. Mark asks her out on a date. John and Ling handle a case about a news anchor who was fired for saying on TV that there's no Santa.
#23 - The Last Virgin 7.77
Season 4 - Episode 5
Kimmie comes to Cage & Fish looking to hire Ally. She's suing her old firm for wrongful termination. They fired her for being too puritan, and the opposite lawyer is Larry. Now Ally and Larry have to face each other in court. Meanwhile, Ally is nervous about her first kiss with Larry and seeks for advice with Ling, who demonstrate on John how a good kiss should go. This makes Richard insecure of himself, and Nelle tells him to find a theme song for himself. John loses the case to Larry, but he and Kimmie go out on a date.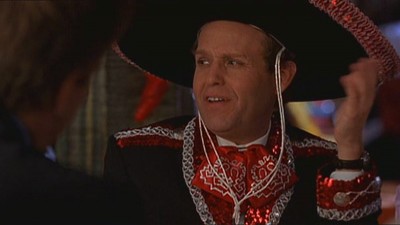 #24 - Love Is All Around (1) 7.77
Season 5 - Episode 16
Ally is about to go on her 3rd date, a.k.a. the "sex date", with Victor. Everybody knows about it, but Ally is nervous because on the 2nd date the tension was so high they couldn't even kiss. Meanwhile, Ally is interviewing for new hires, and meets with big shot attorney Todd Merrick, who gets on her nerves. Ally questions if she's dating Victor to fit hers or Maddie's demands. They finally go out, and when they come home they find Maddie's nanny dead in front of the TV, ruining the rest of the date. At the firm, Richard assigns Nelle to a very important case opposite court devil Liza "Lolita" Bump, a bitchy, young and feared attorney. So feared that Richard has to get John Cage for the case. He's been working at a Mexican restaurant as a mariachi player, and is quickly intimidated by Lisa's actions on and off court. She keeps trying to seduce John in order to settle the wrongful dismissal case, and John feels he must bring "The Biscuit" back to defeat her once and for all. Meanwhile,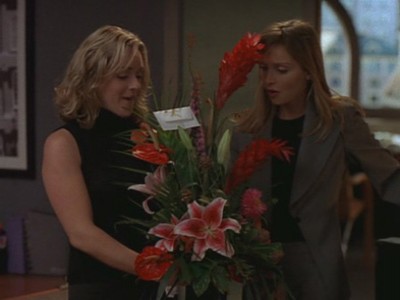 #25 - Two's a Crowd 7.77
Season 4 - Episode 3
Mark's girlfriend finally reveals "her" secret; Ling and Nelle represent a woman suing a relationship guru whose advice ruined the woman's marriage; Ally is dating two different men who end up being related.