Alaska: The Last Frontier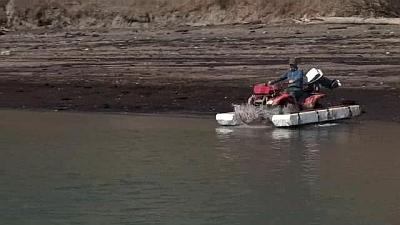 #1 - Spring Has Sprung 8.18
Season 3 - Episode 3
Springtime on the homestead; Atz and the family goes on a black bear hunt; Atz, Sr.'s confidence wavers; Otto gives CPR to calves; Eve plants the family garden.
#2 - Spring Delicacy 8.11
Season 3 - Episode 4
Atz Lee and Jane climb reefs to hunt for octopus. Jane must face her fear of heights or be trapped by the tide. Otto struggles to keep a newborn calf alive during the annual spring cattle drive. Eve gives Eivin news that will change the homestead forever.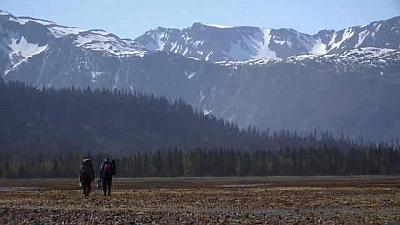 #3 - Parlors and Poop Chutes 8.05
Season 3 - Episode 5
Eivin and pregnant Eve decide to finally add running water to their home, but Eivin hits more than water during the installation. Otto builds Charlotte a milking parlor but takes a faceful of fuel in the process. Atz and Atz Lee head out to hunt bear.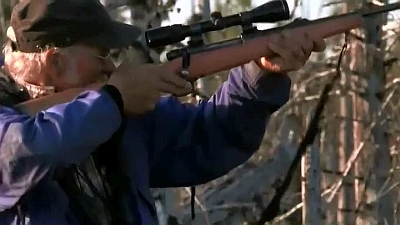 #4 - Marital Maintenance 8.02
Season 3 - Episode 13
With winter on their doorstep., the Kilchers race to finish their summer projects. Otto's enormous new project strains his marital bliss. Atz's horse strands him on the range. Eivin works some chicken magic. Atz Lee teaches Jane to fell a tree.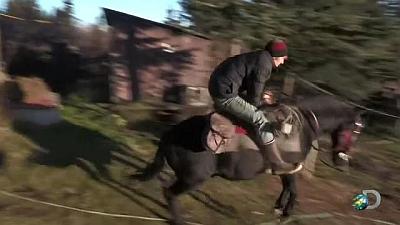 #5 - Of Moose and Men 8.02
Season 3 - Episode 10
Atz and Atz Lee swim their horses across a chilly lake to get to bull moose hunting grounds. Bad weather and feeling under the weather won't deter them from the prize. Eivin hunts clams while Eve collects wild mushrooms. Otto and Charlotte bury a friend.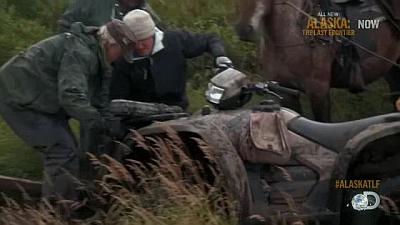 #6 - Outhouses, Cow Bras and Bears, Oh My! 8.00
Season 3 - Episode 6
Midsummer: the Kilchers scramble to make the most of 22 hrs of sunlight. Atz tracks down predators killing the herd. Otto gets creative to help a cow with an udder problem. Eivin builds an outhouse. Atz Lee and Jane are startled while fishing for salmon.
#7 - Shattered Shelter 7.99
Season 6 - Episode 2
Mother Nature continues her onslaught on the Kilcher homestead; Otto, Charlotte, Jane, Bonnie and August scramble to save a hay barn; Atz Lee and Sr. begin building Atz Lee's new cabin.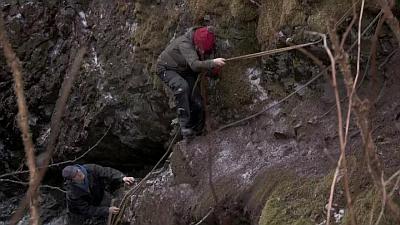 #8 - Cabin Fever 7.92
Season 3 - Episode 1
After 8 months of winter, the Kilchers have cabin fever. Eivin and Atz Lee get caught overnight in the backcountry hunting an Alaskan delicacy. Otto uses ingenuity to get an orphan calf to connect with an unwilling mother. And there's much to do with poo.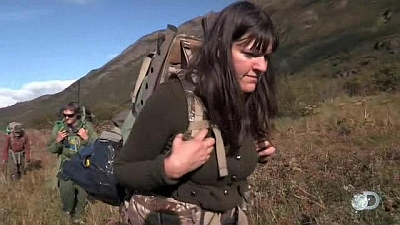 #9 - Hunt in the Clouds 7.87
Season 3 - Episode 7
Atz Sr, Atz Lee and Jane travel to the highest peaks to hunt for wild goat. A wasp infestation destroys Eivin and Eve's bee hive and summer honey harvest. Otto and Charlotte get creative to protect what's left of their hay crop so it will last the winter.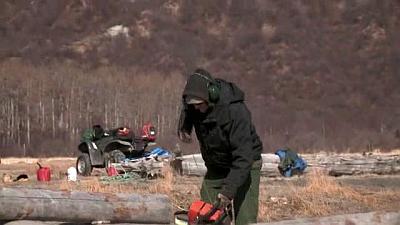 #10 - Father-Son Ingenuity 7.87
Season 3 - Episode 2
Family projects: Before the spring thaw floods the area, Atz Sr and his 3 sons build a bridge across a river using chainsaws and fallen logs. Otto and Eivin create two amphibious crafts from their ATVs. Meanwhile, Atz Lee and Jane build a new smokehouse.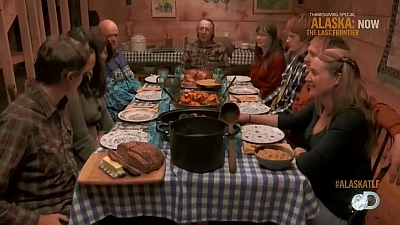 #11 - Thanksgiving 7.80
Season 3 - Episode 8
Thanksgiving on the homestead. The Kilchers come together to enjoy the fruits of their year-long labor and share each dish's story. From turkey and pumpkin pie to Yule's famous nettlebread and Homesteader pie, nothing comes easy when making this feast.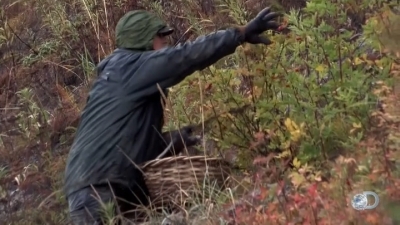 #12 - Fall Bear Fall 7.76
Season 4 - Episode 16
With bear season nearly over, the pressure is on Jane & Atz Lee as they set out for their last hunt of the year. While searching for berries, Atz Sr. & Bonnie encounter a black bear of their own. Otto & Charlotte transport precious cargo.
#13 - Under The Knife 7.71
Season 6 - Episode 5
After years of procrastination, Otto goes under the knife; Jane must take care of the farm and deliver her first calf alone; Eivin and Atz Lee scout the Head of the Bay, but their findings won't ease Otto's concerns.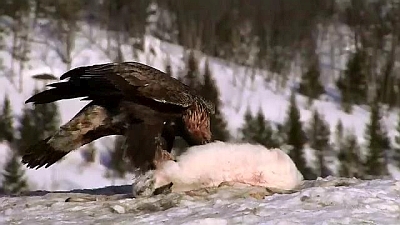 #14 - Predators and Prey 7.66
Season 3 - Episode 12
Grizzly bears, wolves, and coyotes remind the Kilchers that the humans aren't always the apex predator on the homestead, but threats to the Kilcher's food supplies and livelihood also come in many other shapes and sizes and from unexpected places.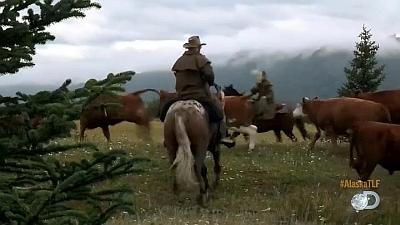 #15 - Loaded for Bear
Season 4 - Episode 5
Atz Lee and Jane venture out in a risky hunt for black bear, but instead come face to face with a massive grizzly. Using the constructor, Otto and Eivin race the tide to transport and introduce two new bulls into the family herd at the head of the bay.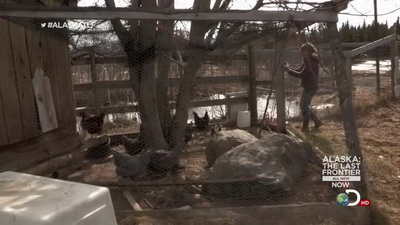 #16 - Spring Has Sprung
Season 2 - Episode 2
Spring finally arrives on the homestead. Atz Lee enlists his father, Atz, on an early spring black bear hunt, hoping to redeem his failed hunt last fall. Meanwhile, Atz Lee's wife, Jane, endures the open seas alone while fishing for king salmon. Eivin mills lumber and takes on the first build of the season, a large chicken coop to maintain their crucial food source, while also helping his wife, Eve, find a rogue cannibal hen.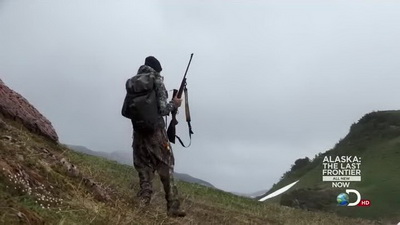 #17 - Legend of "Terrible Island"
Season 2 - Episode 7
Atz Lee and Eivin travel 160 miles and brave the bears of "Terrible Island" to hunt deer. Otto refuses to admit defeat and will use all the blackpowder he has to remove a pesky stump blocking his progress. Eve helps Charlotte solve a swarming bee problem.
#18 - The Great Kilcher Quake
Season 6 - Episode 1
A massive earthquake hits southern Alaska; the Kilcher family scrambles to recover and works to reopen vital access roads; Atz Lee races toward his dream of a new remote homestead to aid in recovery, creating waves with his wife, Jane.
#19 - Stranded
Season 6 - Episode 3
The Kilchers rush to make headway on time sensitive projects; Otto, Charlotte, and Eivin travel to rescue a family relic; the first fishing trip of the year leaves Eve and Jane lost at sea.
#20 - Snow, Cold and Darkness
Season 1 - Episode 3
The early winter storms have left the entire homestead unprepared. A desperate search for a newborn calf and its mother forces Otto's wife and their youngest son into a night snowstorm while Otto is away building shelter for his herd.
#21 - Olden Days, Olden Ways
Season 5 - Episode 7
The Kilchers pay tribute to the family's dearly departed patriarch and matriarch, Yule and Ruth, by preparing a feast using strictly old-fashioned methods.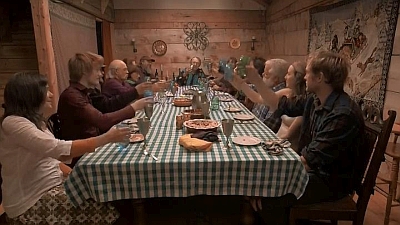 #22 - Thanksgiving On The Homestead
Season 4 - Episode 8
Homesteaders who work together, give thanks together. Join the Kilcher family as they celebrate Thanksgiving with the friends who helped prepare the homestead for winter.
#23 - Killer Repairs
Season 6 - Episode 4
The rush to complete projects intensifies as Otto's surgery looms; the herd's food supply is threatened; Atz Lee and Jane reunite after a month apart.
#24 - One Small Flush for Man
Season 5 - Episode 6
As spring draws to a close, Otto and August dig into a monumental plumbing project. Included: Eivin attempts to help, but loses control of his truck; Atz Sr. searches for two predators threatening the Kilcher property; Atz Lee and Jane give Shane a hand with his cabin.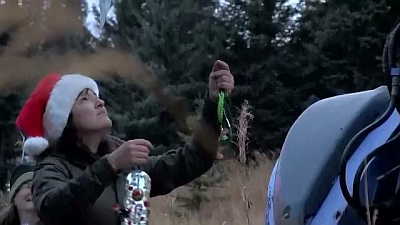 #25 - Homestead for the Holidays
Season 3 - Episode 11
Homestead holidays bring gifts of kindness: Otto decides to give his "Wacky Yak" to a friend, but the gift rejects the idea of being given. Atz Lee gathers lumps of coal--for the nice--as his gift. Atz deals with cows on ice to bring a friend's herd home.