Absolutely Fabulous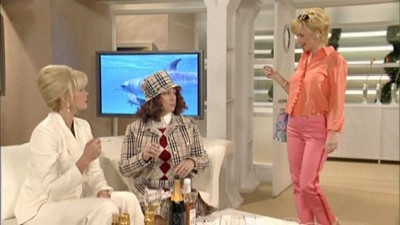 #1 - Parallox 8.30
Season 4 - Episode 1
Patsy has an injection to freeze her wrinkles; Edina is due to make an appearance on the TV show "This Morning With Richard & Judy"; Saffy is looking for a job with New Labour and Mother is finding out the delights of the internet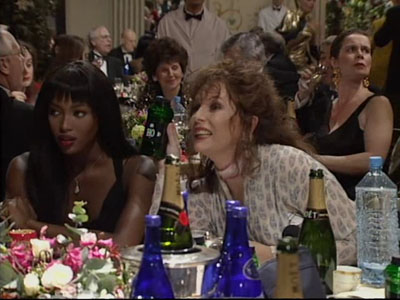 #2 - Jealous 8.22
Season 3 - Episode 4
Eddie gets very depressed that she doesn't win the PR Person of the Year Award and almost works herself to death trying to gain revenge. Saffy's psychology lecturer starts giving her some "extra special tuition" and Eddie comes to her daughter's aid for one of the few times in her life.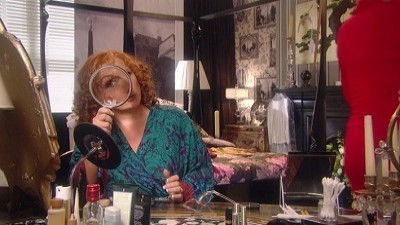 #3 - Olympics 8.19
Season 6 - Episode 3
The award-winning sitcom returns for a new episode. Edina forgets that the Olympics are on, until it gets her closer to her idol.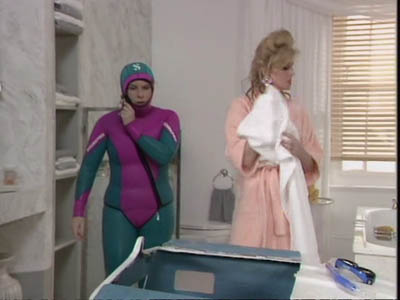 #4 - Iso Tank 8.15
Season 1 - Episode 4
Banned from attending Saffron's college open day, Edina sulks in her brand new isolation tank. But she's got a few tricks up her Lacroix sleeves yet.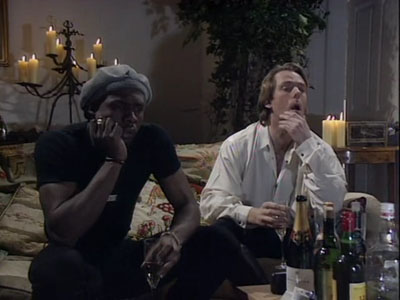 #5 - Sex 8.14
Season 3 - Episode 3
Eddie wants to have a bigger bedroom and debates which of the two walls to knock down; one leading to Saffy's room, the other to Serge's. Eddie and Patsy go into Serge's room to clear it out where Saffy discovers a copy of 'Razzle' amongst his magazines (thankfully not the one that Patsy appeared in!). Despite Saffy's objections about the magazine, Eddie leafs through it and realizes that it has been awhile since she has had sex. Patsy talks her into hiring two male prostitutes on the night that Saffy has a presentation at school, both of which don't go off as smoothly as they would have liked.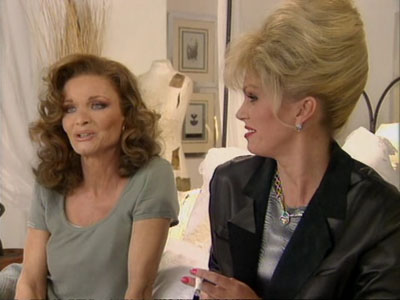 #6 - Happy New Year 8.10
Season 3 - Episode 2
While Saffy plans to spend a quiet New Years Eve with her Gran and Justin, Eddie and Patsy prepare to join a huge underground rave party to see in the new year, but things change when word comes of the visit from Patsy's long lost sister Jackie who is notorious for being a 60's party animal. Upon her arrival, Patsy is distressed to learn that her sister (unlike herself) has actually aged in the last 30 years.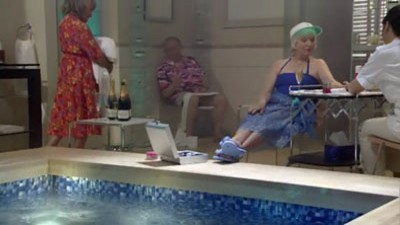 #7 - Exploitin' 8.08
Season 5 - Episode 7
Saffy grudgingly agrees to let Eddy babysit Jane while she and John go to lunch, but as soon as they're gone, Eddy whisks her off to the zoo where Patsy has arranged for her to be part of a photo shoot with famous photographer, Jean-Paul Gaultier. Saffy's anger at her mother is softened when Eddy confides she and Jane bonded; that is, until Saffy makes a shocking discovery.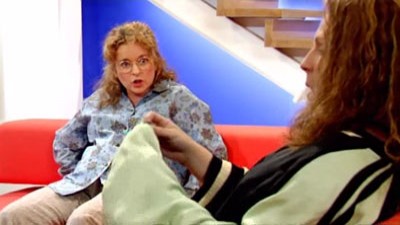 #8 - Book Clubbin' 8.06
Season 5 - Episode 2
Eddy and Patsy organize a book club to meet famous people, but no one is interested in reading anything except celebrity gossip magazines. Eddy has recurring nightmares about Saffy's midwife, who delights in teasing her about them. She's very unhappy about the expected grandbaby until she learns the father is black... after all, a mixed-race baby is the greatest accessory, the "Chanel of babies."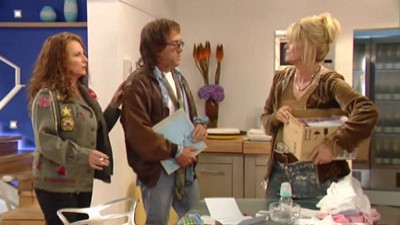 #9 - Schmoozin' 8.03
Season 5 - Episode 6
Edina's 'new' boyfriend Pete, who she and Patsy knew growing up, works at Abbey Road Studios and uncovered some "lost tapes" of the Beatles. They throw a party to play them in public for the first time and things don't quite go as planned. Elton John does a cameo.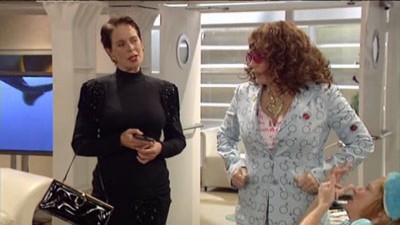 #10 - Menopause 8.02
Season 4 - Episode 6
After Patsy cracks her wrist and finds out she is has osteoporosis, Saffron sets up a menopause meeting for the pair. Edina's businesses are going under and it seems that everyone is undergoing change. Then Saffron starts having day-dreams about the possible future...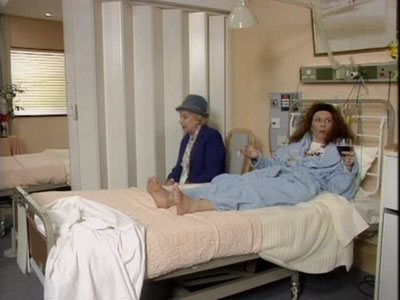 #11 - Hospital 8.01
Season 2 - Episode 1
Patsy is caught having an affair with a politician and is pushed into the tabloid spotlight which reveals her true age. Eddie stubs her toe and "requires" surgery. Patsy joins her in hospital for moral support - and a facelift.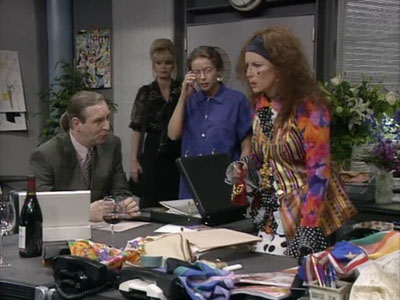 #12 - Poor 7.98
Season 2 - Episode 5
Edina discovers that the alimony payments from her ex-husbands, Justin and Marshall, have stopped. Does this mean she will be very poor? After consulting her accountant and much badgering from Saffy, Edina decides to make some sacrifices in her exuberant lifestyle to better herself, only to make matters worse by ending up in court.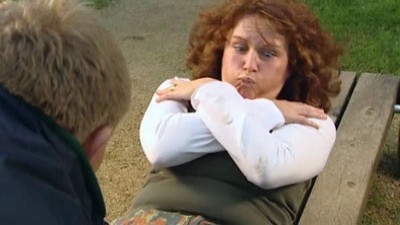 #13 - Donkey 7.97
Season 4 - Episode 4
Despite having tried every fad diet going, Eddie is still desperate to be thin, and decides to try detox. Spurred on by a Sex And The City-style lunch with her bitchy girlfriends, Eddie embarks on a strict regime of water and red meat and enrolls herself in a grueling military fitness program. Despite Patsy's best efforts, Eddie swears off champagne and begins to shed the pounds. But her nights are plagued with visits from God and the Devil, who have their own agendas. Meanwhile, budding playwright Saffy bumps into a pretentious old school friend, Taylor Johns, who attempts to use her in his bid to further his acting career, and Patsy decides to see what life is like without her trademark Sixties forelock.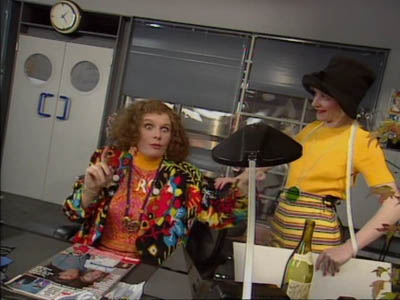 #14 - Fashion 7.95
Season 1 - Episode 1
Despite giving up coffee and alcohol, taking up colonic irrigation and Buddhist chanting, Edina is panicking about a fashion show she's organizing, Princess Diana has turned down an invite, and the only celebs who can be bothered to attend are Sinitta and Anne Robinson.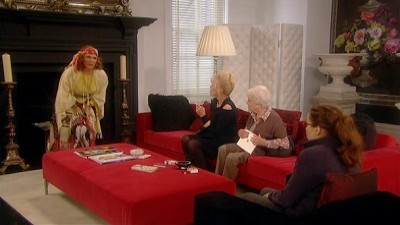 #15 - Identity 7.94
Season 6 - Episode 1
Absolutely Fabulous is back! In the first of three new episodes written by and starring Jennifer Saunders, with Joanna Lumley, Julia Sawalha, Jane Horrocks and June Whitfield, there's an awful lot of catching up to do. First of all there's a homecoming for one of them who's been 'away' for quite some time. She arrives at the Monsoon household with a new – slightly scary – best friend. Her presence could be either a blessing or a disaster, raising questions of identity that could even involve a certain person owning up to her real age … if she can remember it.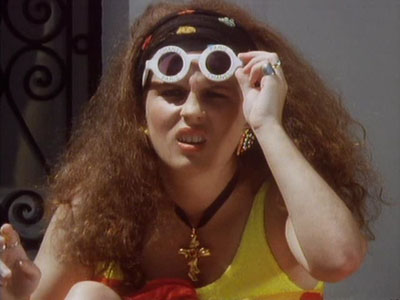 #16 - Morocco 7.92
Season 2 - Episode 3
Patsy agrees to put a Fashion spread in her magazine of the product Edina is promoting called "POPSPEX", and they both go to Marrakesh for the photo shoot. Saffron wants to go with them to help her university studies but Patsy ends up selling her to white slave traders.
#17 - Birthday 7.90
Season 1 - Episode 5
Eddie is turning 40 and Saffy organizes a quaint family get-together for her involving Mother, Justin (Saffy's father), Justin's lover Oliver, Marshall (Eddie's son Serge's father) and his new wife Bo. However, Eddie has developed a complex about her age and refuses to participate in the celebrations.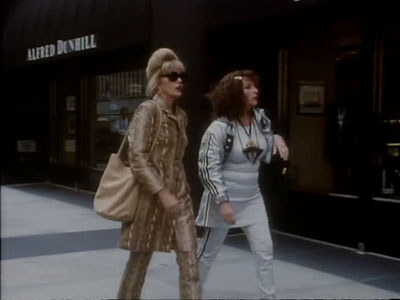 #18 - Door Handle 7.90
Season 3 - Episode 1
As the kitchen is being rebuilt after the fire in last series finale, Eddie is hell-bent on searching for the perfect door handle to match her decor, and she and Patsy take a day trip to New York on the concord to track one down.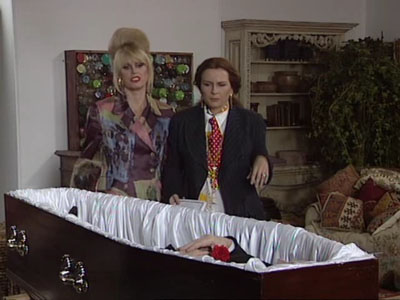 #19 - Death 7.89
Season 2 - Episode 2
Eddie's father passes away and she is more concerned about how much weight she has put on and Saffy is horrified at her mother's selfishness regarding the death. It soon makes Eddie realize that she is also going to die and she goes out and spends hundreds of thousands of pounds on art that she doesn't want, just so she can leave something behind when she dies.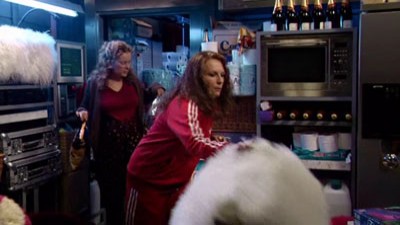 #20 - Panickin' 7.88
Season 5 - Episode 3
When Eddy converts her bomb shelter into a panic room, she and Patsy accidentally get locked in and, not knowing the access code, have to wait until the system resets and the door opens.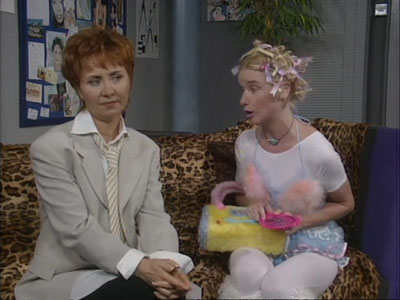 #21 - Fear 7.87
Season 3 - Episode 5
Patsy moves in to live with Edina when Saffy goes off to college. However it proves to be a turbulent arrangement, especially when they can't find the tin opener. Further trouble errupts when Lulu arrives at Edina's office to terminate her contract and sign with a high-powered American PR agency. Patsy loses her job when her magazine folds, leaving the high-living pair contemplating old age and a crossroads in their lives.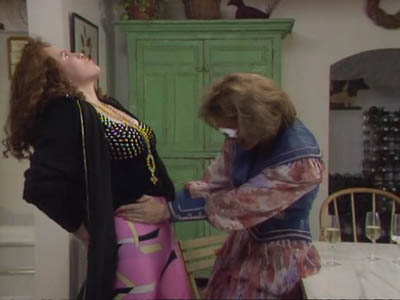 #22 - Fat 7.86
Season 1 - Episode 2
Edina needs to get slim quickly as she's expecting a visit from old friend, Penny Casper-Morse, who used to tease her about her weight. She contemplates a regular fitness routine, but then Patsy suggests something much easier... liposuction.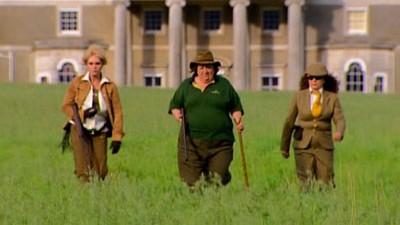 #23 - Huntin' Shootin' & Fishin' 7.86
Season 5 - Episode 4
Edina and Patsy spend the weekend at a snooty lodge in the country and become so bored, they create their own version of fun. Meanwhile, Saffy has her friends, Emma and Sarah, over for a baby shower and Sarah becomes obsessed with Emma. The weekend ends with Emma getting a restraining order and an unexpected turn of events for Sarah.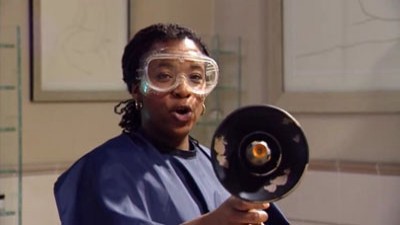 #24 - Cleanin' 7.85
Season 5 - Episode 1
Patsy and Eddy are forced to clean up the house in preparation of Saffy returning from Iraq. When Saffy returns, she has a big announcement.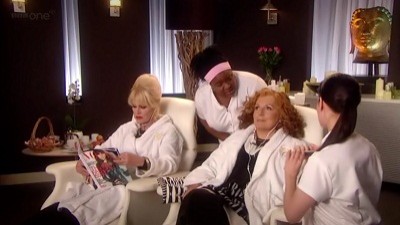 #25 - Job 7.82
Season 6 - Episode 2
Edina has some crucial questions to answer, including: Has she still got it? And could a new client destroy her relationship with Saffy or make it stronger? With fewer and fewer clients and a daughter who despises her, it's business as usual but, when Eddy and Patsy meet a famous French film star whom Saffy hugely admires, Eddy hopes that the job of taking her on as a client could bring a new-found respect, and some much-needed income. The problem is that her client's talents aren't everything they seem to be…