3rd Rock from the Sun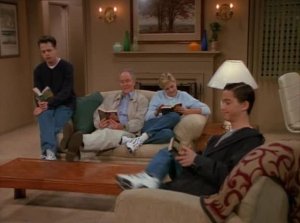 #1 - Just Your Average Dick 8.26
Season 3 - Episode 22
John Cleese puts his zaniness to good use in a two-part guest shot as a new professor who's even nuttier than Dick. And smarter. He's hotshot Dr. Liam Neesam, and he's a little too good at everything he does. He makes his first appearance in Part 1, as Albright (Curtin) is getting fed up with the fact that Dick -- and the rest of the Solomons, for that matter -- are ""weird."" ""It's like being around the Addams Family,"" she moans. So Dick sets out to make his brood ""average,"" and succeeds so completely that Albright finds him boring. Enter the off-kilter Dr. Neesam, who she thinks is kind of charming.
#2 - The Physics of Being Dick 8.18
Season 3 - Episode 21
Dick demands that Sally and Harry go to work, so she signs on as Albright's research assistant and he gets a job tending bar. Then Dick decides on a career change for himself (he wants to be a cop) after a disastrous Career Day at Tommy's school.
#3 - Dick vs. Strudwick 8.17
Season 4 - Episode 21
Dick's faculty nemesis, Dr. Vincent Strudwick, writes a physics book that's hailed as a work of genius. When Dick realizes that writing a better book would expose him as a superior alien being, he seeks another means of getting even, finally seizing on Strudwick's displeasure at learning that his teenage daughter Alissa is dating dreaded Solomon spawn Tommy. Dick manipulates Alissa to cause trouble between her and her father, and the conflict comes to a head at the taping of a TV panel show about Strudwick's book, which erupts into Jerry Springer-style fisticuffs. Meanwhile, Sally and Don, feeling ""lonely"" since their breakup, find themselves succumbing to ""ex sex."" Also, once Albright befriends a group of misfit Nobel laureates who are in town to hail the publication of Strudwick's book, she can't shake them -- they've imprinted on her like a litter of helpless kittens.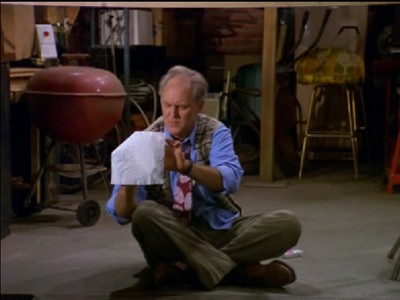 #4 - See Dick Continue to Run (2) 8.17
Season 2 - Episode 1
While Dick is trapped in the basement, Evil Dick begins a plan to impregnate all women in Ohio.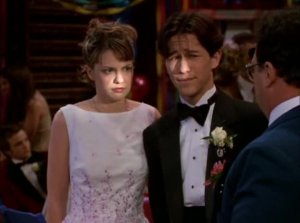 #5 - Dick's Giant Headache (2) 8.16
Season 4 - Episode 24
Reeling in the aftermath of his demotion, Dick has to get used to taking orders from everyone else in the crew -- even Harry -- a humiliating experience that makes it difficult for him to perform sexually. Even though she didn't want to believe the family's taunts about the reasons for her promotion, Sally finally realizes Stone only made her High Commander because of her looks. Stone makes a pass at Albright, who declines and tells Dick, who's psyched that Stone's changed his mind about Mary. Stone goes to the prom with Tommy and Alissa, where a drunken Stone dumps a punchbowl over Alissa's head, then serenades the promgoers -- including a bedazzled Vicki, who decided it was finally time to attend her junior prom -- with ""Close To You."" In the high school hallway, Stone encounters Vicki and ""beams"" her up to his ""bachelor pod"" for some lovin'. The next morning, Vicki turns up pregnant, and her pregnancy develops to full term in a matter of moments. Stone, who had been planning to make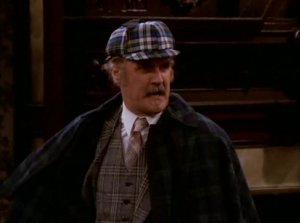 #6 - Dial M for Dick 8.15
Season 5 - Episode 4
The Solomons attend an interactive murder mystery at a mansion, but they don't have a clue that other guests are actors and that the action is scripted.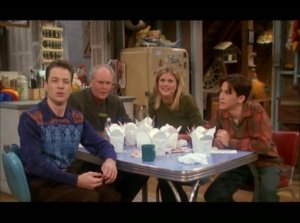 #7 - The Loud Solomon Family: A Dickumentary 8.15
Season 5 - Episode 9
Albright gets a grant to make a documentary about the Solomons, whom she admits she has been studying for the past four years and has concluded are ""the typical American family."" Taking this as the ultimate tribute to the success of their secret mission, Dick orders everyone to cooperate, but when the action begins, all sorts of dramatic revelations occur. To cover up their true secret, the aliens find themselves inventing escalating cover stories: Sally is really a lesbian, Tommy wets his bed (but only because Dick beats him), Harry is an alcoholic, and Dick -- well, Dick is a posturing, authoritarian fool. Who'd have thought it?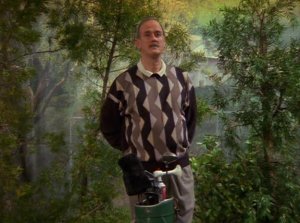 #8 - Dick and the Other Guy 8.15
Season 3 - Episode 23
Dick has a rival for the title of Pendelton's nuttiest professor -- and a rival for Albright's affections -- with the arrival of the mysterious Dr. Liam Neesam. Meanwhile, Sally feels that she's losing her touch with men after Don seems to lose interest in her.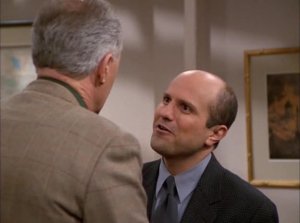 #9 - Frankie Goes to Rutherford 8.14
Season 5 - Episode 19
Frank, a former student of Mary's, returns for a lecture series and makes Dick (unaware Frank is gay) jealous. When Frank confesses he has a secret, Dick jumps to the conclusion that Frank is also an alien, ""comes out"" to Frank, and is soon cavorting in Rutherford's finest gay bar while thinking it is a hangout for other covert aliens. Meanwhile, the other Solomons plan a bank robbery, but fall prey to mutual suspicion.
#10 - The Tooth Harry 8.12
Season 3 - Episode 26
Mary is asked to appear in a new Pendelton University promotional video. Dick whines until he is also allowed to participate. Unfortunately, neither of them shares the director's vision of what their ""performances"" should be like, and they are unceremoniously replaced by other ""actors"" (including Tommy). Harry volunteers to drive Nina to the dentist. A romance develops, but fizzles when the money Harry leaves under Nina's pillow as a Tooth Fairy reward is misinterpreted, and Nina, highly offended, throws him out. Officer Don gives Sally a key to his apartment, but his glee soon turns to gloom when she starts seeing the place as less of a love nest and more of a one-woman party zone that she can trash whenever she wants to. When Don calls her attention to her inconsiderate behavior, she apologizes -- but he still takes back his key.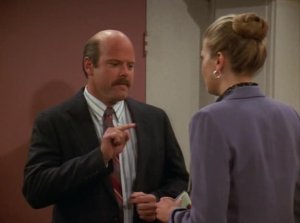 #11 - Tom, Dick and Mary 8.11
Season 3 - Episode 10
Tommy tells Dick he'd really like to meet a woman closer to his real age, say someone like Angie Dickinson. Sally says it's time for her to go out and look for a real job. Dick thinks Harry's watching far too much television and orders him to give it up for a week. Tommy goes to Mary's to return her magnifying glass that Dick has broken, and Mary observes how immature Dick is. They start talking and are immediately engrossed in a discussion about the Aztecs. Their mutual attraction is obvious. Sally is hired as an assistant by Webber, a man who's very impressed by her appearance and couldn't care less about her lack of typing skills. Dick is wild with curiosity when Mary has a lunch date with a mystery man named Tom. August tries to resume her relationship with Tommy, but he tells her he's seeing someone. Tommy asks Dick if he's still interested in Mary, and Dick pretends he couldn't care less; Tommy couldn't be happier. Sally likes her new job, but she's already been advised that she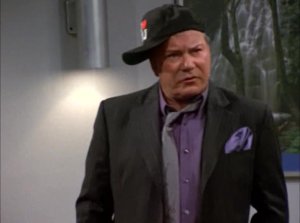 #12 - Dick's Giant Headache (1) 8.09
Season 4 - Episode 23
The Big Giant Head announces his plans to visit the Solomons in person to chastise them for their poor mission performance. Dick tells Sally to move back in, orders Harry to stop trying to father a baby with Vicki, and tries to prepare Mary for the arrival of his old ""college chum,"" worrying privately that the supreme leader might not find her to have been a suitable use of his time. The family goes to the airport to meet the Big Giant Head (William Shatner), a drunken good-time charlie who's taken the name of ""Stone Phillips,"" and who, in short order, moves in and takes over their lives. Dick quickly loses favor with Stone, who's unimpressed both by his choice of girlfriend and his leadership skills. Stone is, however, quite taken by everything about Sally, especially the length of her legs and the shape of her torso, and decides to make her the High Commander instead of Dick. Meanwhile, Harry keeps trying to avoid Vicki, but eventually he tells her that they need to cool the baby thi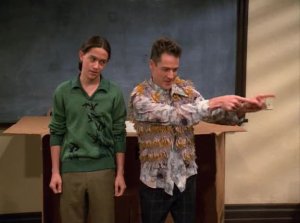 #13 - Eleven Angry Men and One Dick 8.08
Season 3 - Episode 7
Dick longs for the chance to administer his ""unique brand of jurisprudence"" when he's called for jury duty; Sally falls for an ""artist"" [ to Officer Don's chagrin ]; and Tommy and Harry help Albright with a ""preverbal"" project [ they must remain mute for five days ].
#14 - Rutherford Beauty 8.07
Season 5 - Episode 13
Dick gets in trouble with Mary when he shares with her his compulsive erotic fantasies about Nina. Sally tries everyone's patience when she becomes a fanatical follower of a lifestyle guru a la Marta Stewart, and Mary asks her to cater her dinner party.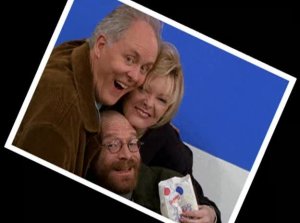 #15 - Dick Solomon's Day Off 8.06
Season 5 - Episode 20
While Dick discovers the pleasures of faking ""a sick day,"" the other Solomons find new kicks listening to cell-phone calls on Officer Don's misplaced scanner.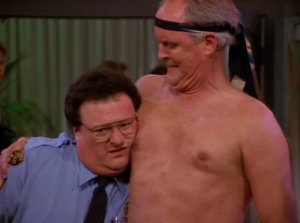 #16 - A Friend in Dick 8.04
Season 3 - Episode 8
Dick, friendless after his breakup with Albright, tries to shoehorn Officer Don into his life as best friend and constant companion... with mixed results. Sally shanghais the slickly popular dancer Peter Connelly (""King of the Jig"") to Johnny Foam's Cafe as a sacrificial lamb for her moody artist boyfriend Seth, and is horrified to learn that rather than the dark and tortured soul the fell for, Seth is a poseur... and a jig fan. Harry tries to get a job so he can buy Tommy some roller blades, but lacking the required diploma, he must first weather the indignities of night school.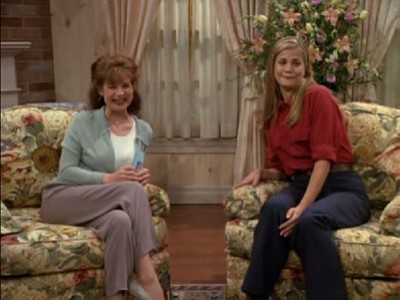 #17 - Fifteen Minutes of Dick 8.04
Season 2 - Episode 23
Sally becomes a pseudo celebrity when she beats up Mark Hamill in a restaurant, and Dick becomes jealous while Tommy's school life is affected by Sally's newfound fame. As Sally's assistant, Harry becomes obsessed with keeping Sally on top.
#18 - Stuck with Dick 8.02
Season 3 - Episode 19
Dick wants to get back together with Mary, so he's in luck when they find themselves locked in the school library overnight. Meanwhile, Sally, Harry and Tommy search for Dick. Their first (and only) stop: Mary's house.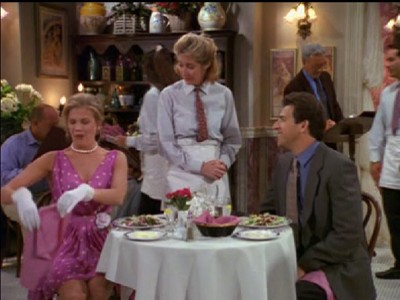 #19 - Big Angry Virgin From Outer Space 8.02
Season 2 - Episode 4
Relationships are in jeopardy: Sally and Mr. Randall are fighting, and Dick suggests that sex will solve their problem; Harry goes on a video blind date; and August tests Tommy's loyalty.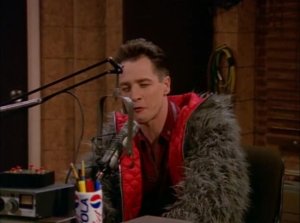 #20 - My Daddy's Little Girl 8.02
Season 3 - Episode 20
Albright's father walks out on his wife and into Sally's life, while Harry walks into Rutherford College's vacant radio studio and begins his career as a shock jock.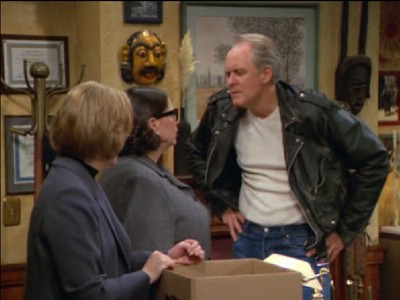 #21 - Dick Behaving Badly 8.01
Season 2 - Episode 19
When the family accuses Dick of being ""whipped"" by Albright, Harry helps him become his own man. Sally and Tommy have a showdown with the game Monopoly.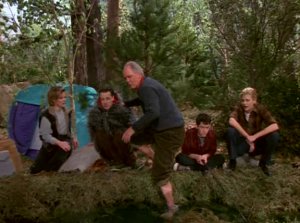 #22 - When Aliens Camp 8.01
Season 3 - Episode 25
Dick takes the family camping as a mission bonding activity. At the campsite, the family and Mary all become angry with Dick -- the family because he lies about bringing Mary along after he tells them it's ""family only,"" and Mary because he tells her the family doesn't mind she's coming along. After they all cast him out, Dick goes off by himself and attempts to form a new society with a troop of Beaver Scouts he encounters. The Solomons assume Dick is lost and set out to find him. They (especially Sally, who resents her command being usurped) initially reject Mary's offers of help in finding Dick... until they realize she knows a lot more about the outdoors than they do.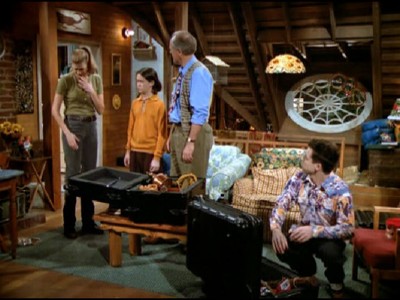 #23 - See Dick Run (1) 8.01
Season 1 - Episode 20
Dick cuts up at a Japanese restaurant, but the big news is that he's there with Dr. Albright, who has finally agreed to date him. But just as they finally consummate their attraction, Harry receives bad news from the home planet: Dick has been replaced by a less benign duplicate, who traps him in the basement and takes charge of Dr. Albright.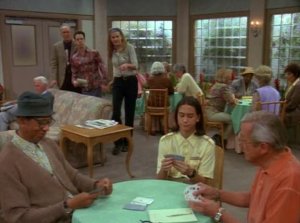 #24 - Portrait of Tommy as an Old Man 8.01
Season 3 - Episode 18
Tommy, tired of having to handle all of the ""kid"" duties [when in reality he's the oldest member of the mission], decides to retire. After he spends some time at a retirement home, he changes his mind, realizing that a big part of what makes you old is acting -- and being treated - like your old. Dick, thinking that Mary is anguished because she never got a chance to fulfill her fantasy of becoming a torch singer, tries to help her to realize that dream. He learns that sometimes the choices we make between two career paths can be right on the money. In a moment of weakness, Officer Don steals a pair of Sally's panties, and makes a series of vain attempts to return them without being caught in the act.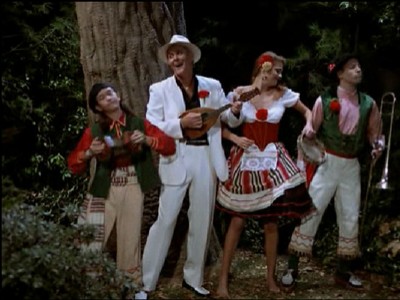 #25 - Dick Like Me 8.01
Season 1 - Episode 16
The Solomons discover that everyone on Earth has roots but them. During a chat with Tommy's teacher Mr. Randell, Dick learns that the teenage isn't ""fitting in"" at school. ""Of course I'm not fitting in,"" snaps Tommy, ""to fit in, you have to be something."" The question is, what to be? Dick grabs an anthropology book for the answer. ""It's loaded with every possible genre of human,"" he marvels. ""It's like a catalogue. We can take our pick."" Dick picks the Italians because, according to a swooning Dr. Albright, they're the sexist people on the planet. Meanwhile, Sally's swooning, too -- for Mr. Randell.